Childhood Games as TV Shows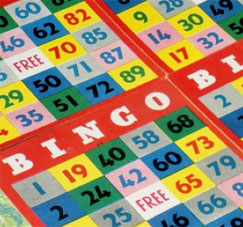 Kids love simple games - and let's face it, so do adults.
You may be aware that the child's game Tic Tac Toe was used as the basis for one of the longest running game shows of all time, Hollywood Squares. Card Sharks was basically the game of 21, played as it is in Las Vegas, only with an enormous set of playing cards, hosted by Wink Martindale in the 1970s and revived in the 1980s. Concentration, another game derived from cards, ran in one form or another from 1958-1991. Crossword aired as Cross-wits in the 1970s and '80s.
Musical chairs, another kid favorite, had a very short run on daytime TV in 1975. The timeless board game Monopoly likewise had a short run. Even Bowling for Dollars was popular for years on TV in the 1960s. So how come Bingo hasn't had the same success on television?
There was National Bingo Night and Bingo America from 2007-2009 but they failed to generate much action. And sure, today you can play Bingo and other popular games, and win big money at it, with free online slots available to you at any time.
But you'd have to go back to the 1960s to find a exciting game of Bingo on television - only with a twist! Players at home could win cash prizes by picking up a Bingo card from their favorite grocer, then tune in to the taped game at night and play along with the celebrities. If your card had the winning numbers you could win up to $100 in cash.
Didn't win the first week? There was always the next week when a new set of cards were given away at the grocery store with more chances to win.
Getting paid to watch TV? Those were the days!