Will Ferrell On The Anchorman:
The Legend Of Ron Burgundy
Adam McKay's 2004 comedy masterpiece Anchorman: The Legend of Ron Burgundy not only marked a significant milestone in the career of star Will Ferrell but also began a cultural shift in how comedy movies were created.
The movie's overall success has etched it into folklore as one of the modern-day comedy classics. Due to its popularity, everyone and their brother has been trying to jump on the Anchorman bandwagon since it was released.
The hype isn't going away anytime soon. Just this year a board game concept that allows players to play as one the eight different anchors from the movie was successfully Kickstart-ed. Plus, iGaming developers like Bally Technologies created an official Anchorman slot game that can be found at some of the best NJ casinos like Borgata, giving casino games fans a taste of the Ron Burgundy experience.
Anchorman's popularity escalated quickly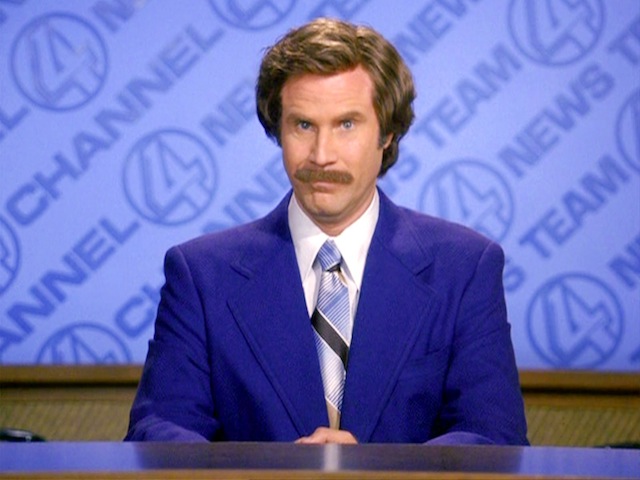 The film was such an instant success with moviegoers. Catchy one-liners were being repeated to raucous laughter before they even left the cinema. Ironically, the line "that escalated quickly" – about the spontaneous eruption of a fight during the film – became an overnight meme sensation and is still used to describe the quick progress of a situation to this day.
But, aside from being a side-splittingly hilarious comedy, Anchorman had such a big impact on the world because it began to change the way funny movies were made, seen, and consumed. Up to that point, comedies were brash and loud, with shock value and embarrassment carrying the film when the humor dried up.
Anchorman had many of these elements, but it also had a message and shone a light, albeit in a very unconventional way, on the glaring disparity between how men and women were treated in the media industry in the 1970s. Another one-liner from the movie perfectly illustrates this attitude, when Ron Burgundy is replaced as lead anchor by a woman: "It's anchorMAN, not anchorLADY, and that is a scientific fact!"
Comedies changed from the slapstick antics seen in the likes of Dumb and Dumber, starring Jim Carrey and Jeff Daniels, to Anchorman and other Will Ferrell films like Talladega Nights: The Ballad of Ricky Bobby, which touches on America's problematic relationship with big brands and advertising and the negative impact an absent parent can have on a child's upbringing.
The launch of Will Ferrell's career
Anchorman also marked a significant turning point in the career of Ferrell. He had been around for a while and made bit-part appearances in movies that weren't big when released but gained a cult following later on, such as A Night at the Roxbury and Jay and Silent Bob Strike Back.
In 2001, he grabbed a breakthrough role as Mugatu in Zoolander alongside Ben Stiller and made people sit up and take notice with his performance as Frank in Old School. But it wasn't until Anchorman that Ferrell became a global superstar in the comedy game.
It is no wonder the film, and Will Ferrell, continue to have a cultural impact to this day. The announcement of a sequel was met with glee and, even though it wasn't as good as the original, rumors of a third movie in the works has fans across the globe filled with giddy excitement.
We hope they learned some lessons from the second film, which fell a bit flat compared to the original because they relied on reusing jokes that landed well the first time around. Originality, good humor, and a message without being overly preachy are the things that won fans over the first time; maybe the third time will be the charm to replicating the magic formula.
Anchorman trailer link: https://www.youtube.com/watch?v=NJQ4qEWm9lU