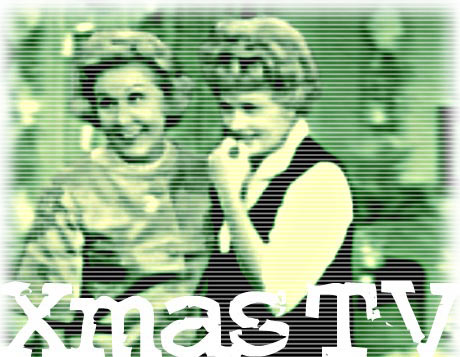 How Sitcoms Spent The Holidays in the 1960s and 1970s.
by Billy (ho-ho) Ingram
Families, not television, is what Christmas is all about. But can we help it as children growing up in America that many of our warmest family Christmas memories are wrapped around watching something on television?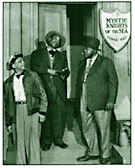 In that spirit, allow me to play the ghost of Christmas past and try to conjure up some of your previous family gatherings.
Amos and Andy is a television classic from the 1950s that is rarely seen today because the series was practically banned from broadcast. But few people who have seen the series' Christmas episode are likely to forget it.
'The Christmas Story' is a touching piece, with Andy playing Santa to earn money to buy a doll for his goddaughter, while Amos (in a rare leading role) teaches his own daughter the true meaning of Christmas.

There is a strong religious message at the heart of this story as Amos sensitively interprets the literal meaning of the Lord's prayer, line for line. I don't mind a religious message in a Christmas show (I mean, after all...) especially when it's handled as sensitively as it was here.
Jack Benny goes Christmas shopping in 1960, a yearly tradition on his show.
The Adventures of Ozzie and Harriet (1952-1966) proved a TV show could be wholesome, entertaining and a ratings winner.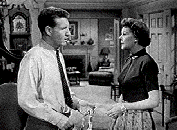 This series really got a bad rap as the Sixties were ending, it came to represent a way of life that was quickly vanishing. Television shows from the mid-sixties until the present strived to be everything the Ozzie and Harriet show wasn't.
By the Eighties, the mere mention of 'Ozzie and Harriet' brought
derisive laughter
. The fact is, there will never be another show like it - a quality series written, produced, directed and acted by an actual, real-life family - a show that drew impressive audience numbers for most of the 14 years it was on the air.

In 1956, the Nelson family presented a very special Christmas episode. The opening to the show found Ozzie reminicing about past family get-togethers and pontificating on what Christmas means to him. His thinking reflected what the holiday meant to most Americans at the time - there is probably no better example of how television (and Christmas) has changed over the years than this clip.
That episode was a real family affair, extended Nelson family members were featured in the supporting roles and introduced at the end of the program.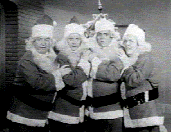 That same week in 1956, a special Holiday episode of 'I Love Lucy' found the Ricardo family and the Mertzes decorating the Christmas tree and reminiscing. I doing so, they introduced a new (but now familiar) concept to television - the retrospective 'flashback' episode, where clips from previous shows are interspersed with new footage. After Lucille Ball died, this episode was rerun several more times by CBS. (Colorized.) This was the original ending: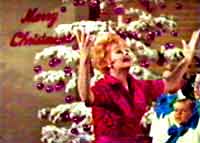 There haven't been many non-traditional families portrayed on television, but The Lucy Show in 1962 featured one. Christmas found Lucy Carmichael and Vivian Bagley struggling to raise their three kids (they have two Mommies!) and arguing over what kind of Christmas tree to get.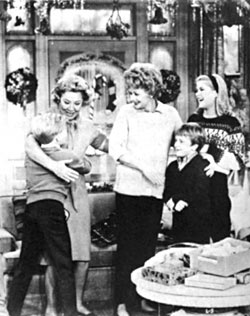 Lucy wants a traditional green tree and Viv wants a white flocked one, so they decide to have two separate trees in the living room. One thing leads to another until they start breaking ornaments and hacking limbs off of the other's tree. When carolers show up, the girls snap out of it and revive their Christmas spirit.

Was it a dispute over a Christmas tree that led Oliver Douglas to want to move to the country on Green Acres? Disgusted that he can't find an unflocked, natural Christmas tree in New York City, Mr. Douglas vows to one day own a farm - where he can cut down his own natural Christmas tree!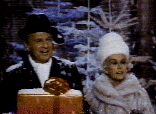 When Oliver finally did get that farm, he found that government regulations forbid him from cutting down his own trees. Typical.
Of course, these shows harken back to a bygone time, when a great deal of sentimentality would go into a sitcom's Christmas episode. It wasn't unusual to find the casts of these shows slowing down the pace to embrace a thoughtful moment by (gasp) singing a traditional Christmas Carol.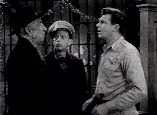 The very best example of this can be found on The Andy Griffith Show's 1960 (first season) Christmas program, where the Mayberry gang teach an old scrooge the true meaning of Christmas. His turnaround comes about after the geezer eavedrops on the celebration going on at the courthouse.
Andy Griffith and Elinore Donahue sing a lovely, acoustic guitar version of "Away in a Manger," sure to put you in a reflective Christmas mood.

From the sublime to the ridiculous - on the first season (1962) of The Beverly Hillbillies, the Clampetts gathered around to sing 'Jingle Bells,' with Jethro's sister Jethreen (played in drag by Max Baer, Jr.) playing the piano.
Here's part 2 of that Christmas story arc on The Beverly Hillbillies' second season Holiday celebration. The top rated show in the nation, you can bet more than 50% of Americans watched this episode when it first aired on December 26, 1963.

Afterwards, on the original CBS broadcast, they saw Jethro relaxing by the fire eating a big bowl of Kellogg's Corn Flakes (the show's sponsor), reading 'The Night Before Christmas.' Sounds like somebody needs to have a loooong talk with that boy!
Five years (and two spinoffs) later, the Clampett family joined with the cast of 'Petticoat Junction' to celebrate the holidays. Part one:
The casts of both shows gathered to sing "Deck the Halls" on the Cannonball train as the episode ended. Talk about family get-togethers - it was extremely rare for one TV show to cross over into another in the 60s, but it happened frequently on the trio of Paul Henning produced shows ('Green Acres' being the third).
NEXT: PART TWO: Christmas Sitcoms in the Seventies!
More Holiday moments with Classic TV Shows...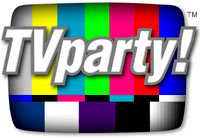 Christmas Specials
Classic TV Christmas Shows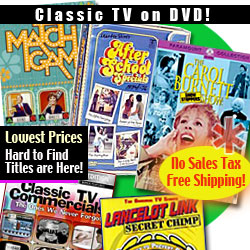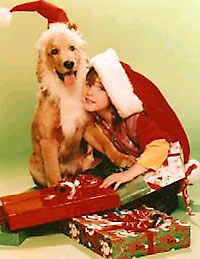 Punky Brewster
---
OOOOPS:
Christmas Eve is no longer a night when many people watch network television. NBC's dreadful 2.2 rating / 5 share for Dec. 24, 2000 was the lowest rated night ever for any network in the entire history of television.
---
"One truly classic Christmas television memory that merits your full inclusion in tvparty.com is "Sisters at Heart," the classic 1970 'Bewitched' episode where Tabitha confronts racism by having herself and a young African-American friend share their skin colors - Tabitha with large black polka dots, and her friend with large white polka dots. Samantha later tells the girls how true sisterhood transcends any difference in or sameness of skin color.

"To many folks today, this approach might sound pure sitcom-simplistic, but a month before 'All in the Family' forever transformed U.S. television, this unusual show was quite bold and courageous. Remember, only some 13 years before this, Nat King Cole's show was dropped due to its inability to get national advertisers, who feared threats of boycotts from racists in the South. (Nervous network executives, I'm sure, also played a role in the quick demise of Cole's landmark show.)

"With such rare exceptions as the still-remarkable 'East Side, West Side' and more trendy, self-conscious attempts at African-American inclusion as 'Julia', African-American faces and images were infinitely rarer on television than they are yet today.

"'Bewitched', much as such 1960s shows as 'Star Trek' did, often confronted prejudice, hypocrisy, and other barriers to human happiness through the prism of fantasy. However, "Sisters at Heart" was quite unusual in that the idea for the story originated with the students of an English class at an inner-city high-school in the Los Angeles area. With the help of screenwriter Barbara Avedon and producer William Asher (Elizabeth Montgomery's husband at the time), who co-wrote the episode, the students were able to make their idea truly "ready for prime time."

"The ending credits of the episode, in fact, individually named each of the students as well as their teacher. Think of what something like that, not to mention the media attention given the episode and its genesis, meant to those young people!"

- Scott Enk

TV on DVD / / Holiday Specials on DVD
TV Commercials on DVD / / TV Shows on BLU-RAY

What are your favorite
Christmas memories?