"In the early Seventies, somewhere around '71 or '72, Bobby Darin had a variety show in the summer called appropriately enough, "The Bobby Darin Amusement Company" on NBC. I wonder if you have any information on that show?
"I would love to get clips because I was in the show as Bobby's guitarist (I traveled with him until he passed away in '73). I've never seen it since, but I know that we worked two seasons on the show. It might have been a special summer replacement show. At any rate, do you have any information or someplace I could go for info?
"Regulars on the show included Geoff Edwards, Dick Bakalyan, and some of the guest stars were Sonny & Cher, Peggy Lee and Elke Summer. I would appreciate any info you might have..."
Thanks - TK Kellman
For three years (1968-1970), 'The Dean Martin Show' presented the Golddiggers as it's summer replacement series. In 1971, Vic Damone reruns did the honors, and in 1972 Dean Martin presents The Bobby Darin Amusement Company was the summer entry.
Darin had several big hits as a teen idol in the late-fifties, and 'Mack the Knife' gave him a new career as a Vegas headliner in the early-mid Sixties. (Naturally, 'Mack the Knife' was the TV show's theme song.) But health and personal problems caused Bobby Darin to drop out of show business in 1967. In 1970, when he attempted a comeback, he made his uncertain return to Las Vegas.
His triumphant Vegas comeback made Bobby Darin a hot property again, and a natural to replace Dean Martin, the ultimate TV lounge-lizard, for his show's 1972 hiatus. The summer series, The Bobby Darin Amusement Company produced by Saul Illson and Ernest Chambers ('The Smothers Brothers Comedy Hour'), had regulars Steve Landesburg, Dick Bakalyan and Rip Taylor, with George Burns, Bobbie Gentry and Burt Reynolds appearing as guests on the first show.
STORY CONTINUES - AFTER THIS AD FOR VIDEO DOWNLOADS:
---
---
Bobby Darin practically invented the smooth Las Vegas lounge-singer persona in the early sixties, and it translated well to television a decade later. This consummate performer could put over a song with a tightly controlled enthusiasm that nobody before or since has matched, he's regarded by many to be one of the greatest entertainers of all time. Every swinging nightclub singer impression you'll ever see harkens back to Bobby Darin. He was funny and easy-going on camera too, having spent most of his adult life performing in front of audiences.
The emphasis of the TV show was on both comedy and music, with Bobby playing characters like 'Dusty John' the hippie and 'the Godmother' in comedy skits, in addition to doing his Groucho impression. 'Angie and Carmine' was another regular feature starring Bobby and comic Dick Bakalyan - two regular guys from the Bronx talking on their front stoop, the dialogue partly improvisational. One bizarre (but original) semi-regular feature had Bobby explaining tricky chess moves.
The summer series was so successful that the show was ordered back into production to use as a midseason replacement. NBC was hoping for a variety show to appeal to the Sonny and Cher crowd, and to pick up some of the audience that Dean Martin was bleeding each year. They felt Bobby Darin might be the man to do it.
The second series, called 'The Bobby Darin Show,' debuted on January 19, 1973, replacing the poorly performing 'Banyon' on Friday nights at ten. The emphasis was more on the music this time, regulars included Tommy Amato, Geoff Edwards and Dick Bakalyan. In addition to presenting long music sets, every week a different city was profiled in musical-comedy blackout sketches.
What viewers didn't know at the time was that Bobby Darin was very, very sick - suffering from a heart defect that was supposed to have killed him decades earlier. Perhaps if he was at full strength, 'The Bobby Darin Show' might have had a better chance.
For whatever reason, the new series failed to catch on. It was no match for the other networks' unbeatable Friday night line-ups - Sonny and Cher and the 'Friday Night Movie' on CBS, and 'Love American Style' on ABC. 'The Bobby Darin Show' was dropped by NBC on April 27, 1973, the last show was shot concert-style with Peggy Lee as the only guest.
"From the onset the Darin show was blessed with solid production and very good guests and a number of funny bits", TV critic Don Freeman wrote in 1973, "In the final show the atmosphere was virtually all nightclub - Bobby and the band pouring it on. Brash Bobby and Peggy with the richly sensuous, smoky tunes - it was a good way to go."
There was a rousing standing ovation from the studio audience after this performance. Tragically, Bobby Darin died just a few months later (December 20th, 1973) following a heart operation - one of his final public performances thankfully preserved in the last episode of his remarkable television series.
NEXT: part two:
TK Kellman, Bobby's guitarist,
gives us an rare, intimate glimpse into
Bobby Darin's last days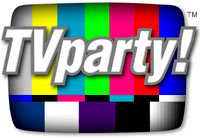 THE BOBBY DARIN SHOW
Patrick Duffy of Dallas Interviewed!
Bobby Darin was
one of the most
exciting performers
of all time -
and he had his own
variety show in
the Seventies
"My goal is to be
remembered as a
human being and as a great performer"
- Bobby Darin
TV on DVD
Hard-to-find classic TV
Shows on DVD!
1970's TV shows on DVD / 1960's TV Shows on DVD
Questar has released (on DVD and video) the last recorded Bobby Darin concert mentioned in this article - uncut and in color! Also on the DVD - some of Bobby Darin's greatest television appearances on other variety shows.
One of the most incredible concert videos ever filmed, this package is HIGHLY recommended by TVparty!
Click to order!
TV on DVD / / /Holiday Specials on DVD
TV Commercials on DVD