by your pal, Billy Ingram
During the first three decades of television, there was a crowded slate of network variety shows and they would all go on hiatus for the summer.
As an alternative to reruns (which began in spring), original programs showcasing other talents were produced for the off months. This practice ended with the '70s, when the entire musical-comedy genre was laid to rest. Still, the polyester decade began with great promise.
Hit records ran out for the musical duo years earlier, their movies flopped as well, but Sonny and Cher scored on CBS in 1971 as the summer replacement for The Ed Sullivan Show. Ratings were so high, they re-appeared with their own regular series that December. Top ten ratings, number-one records, and sold-out concert dates followed.
After the Sonny and Cher phenomenon, all three networks stopped developing variety shows primarily around comedians and started looking to the top-40 charts for the next wave of musical-variety stars. Every summer season for the next six years, the nets mounted shows starring established pop groups and one-hit-wonders, hoping that lightning would strike again. Here is a look at just a few of them:
The Carpenters were riding high on the pop charts in 1971 and they took their act to NBC with Make Your Own Kind of Music, a sunny musical hour with a star-studded regular cast that included trumpeter Al Hirt, comics (and future hit TV producers) Tom Patchett and Jay Tarses, Mark Lindsay, and the New Doodletown Pipers. Special guests during the eight-week run included The 5th Dimension, Dusty Springfield, Helen Reddy, Jack Jones, and Jose Feliciano.
Audience numbers were good but unfortunately for NBC, the duo didn't need a regular series, they already had lucrative concert dates and peaking record sales filling their coffers. In 1971 alone, The Carpenters received two Grammy awards and scored 4 top ten hits (For All We Know, Rainy Days and Mondays, Superstar, and Bless the Beasts and Children).
Sanford and Son debuted on NBC in January of 1972 and suddenly shows with blacks in prominent roles were hot. CBS went shopping for a black Sonny and Cher and found them.
The Melba Moore–Clifton Davis Show was a superlative five-week replacement for The Carol Burnett Show in 1972, starring real-life couple Melba Moore (Tony Award winning star of Purlie) and Clifton Davis, (he wrote the song Never Can Say Goodbye).
The set resembled a ghetto apartment building (think Sesame Street only grittier) with the skits and musical numbers taking place in various exposed units, on the steps, and up on the roof. Guests "checking into" the building included the immortal Moms Mabley, Jean Stapleton, and Arte Johnson.
Of course, there was lots of Sonny and Cher style squabbling between the couple and old-school nightclub comedian Timmie Rogers ("Oh Yeeaaah!") gained a forum for his hilarious bits.
Also featured were regulars Liz Torres, Ron Carrey, and Dick Libertini. It was widely reported that CBS was going bring this show back as a mid-season replacement in 1973, but this was not to be.
The couple split soon after but Clifton Davis turned up in a sitcom called That's My Mama in 1974. Melba Moore went on to star in Melba, a sitcom that was cancelled after the first episode in 1986 just as her ex began a long run with Amen that same year.
Here's another of Roger's routines that he did variations on for years - 'Everything's Going Up' from the Moore / Davis show.
Jerry Reed, When You're Hot You're Hot was the name of a quirky, five-week 1972 CBS variety hour, capitalizing on the country/novelty hit song by the same name. This show was the summer substitute for the Glen Campbell Goodtime Hour, which was canceled that year. Reed was best known for his late-seventies' movies Smokey And The Bandit and Gator.
Helen Reddy kicked off her 1972 NBC summer series (in Flip Wilson's timeslot) with guests Seals and Croft, Flip Wilson, Lee Grant and the Pointer Sisters.
Ken Berry (F-Troop) was shocked when his series Mayberry RFD was cancelled on CBS in 1971... it was still in the top twenty and he was expecting a longer run than 3 years. The Ken Berry WOW Show was a four-week series in July and August of 1972 that attempted to give the likable performer another shot and provide ABC with an idea of Berry's star power.
Produced by Alan Blye and Chris Bearde (Sonny and Cher Comedy Hour) and featuring many of the Sonny and Cher regular players like Terri Garr, Ted Zeigler, Steve Martin, Billy Van, and a young Cheryl Ladd, this variety hour was chock full of old-fashioned song and dance numbers, the kind Ken Berry was famous for in his Kinney Shoes commercials and his yearly Carol Burnett Show appearances. It didn't fly.
Ken Berry was unable to find regular series work again until Mama's Family rescued his TV career in 1983, if you want to call that a rescue.
If television revived supposed has-beens Sonny and Cher, could it do the same for former teen idol Bobby Darin? NBC hoped so. A triumphant Las Vegas comeback made Bobby Darin a hot property again and a natural to replace Dean Martin during his 1972 summer hiatus.
The Bobby Darin Amusement Company was produced by Saul Illson and Ernest Chambers (original producers of The Smothers Brothers Comedy Hour), with regulars Steve Landesburg, Dick Bakalyan, and Rip Taylor. George Burns, Bobbie Gentry, and Burt Reynolds appeared as special guests on the first episode.
The emphasis was on both comedy and music, with Bobby playing characters like "Dusty John the hippie" and "the Godmother" in comedy skits. "Angie and Carmine" was another regular feature with Bobby and comic Dick Bakalyan portraying two regular guys from the Bronx talking on their front stoop, the dialogue partly improvisational. One bizarre (but original) semi-regular feature had Bobby explaining tricky chess moves.
The program was a top-notch production and was brought back in 1973, but the star was gravely ill by that time so the revival only lasted a few short months. Tragically, Bobby Darin died later that same year.
The networks were shooting blanks in an effort to clone Sonny and Cher, the eighth most watched show on the tube by 1974. Then the unthinkable happened—Sonny and Cher called it quits. Tony Orlando and Dawn was the summer show shoved into the Wednesday night timeslot left unexpectedly empty by the couple's divorce and subsequent cancellation of television's top-rated variety show.
Produced by Illson and Chambers, the opening of each episode mimicked exactly the S&C Comedy Hour formula: a musical number, followed by put-downs all around, then back into the musical number. It lacked originality but was a hit with viewers, a show carefully crafted to fill the void left by the battling Bonos.
The series was so successful it was brought back in December, 1974 (in the same time slot) to replace the low-rated teen drama Sons and Daughters. Ratings were high the first season, but the overall quality of the show was not so great and viewership dropped steadily against Little House on the Prairie and That's My Mama on the other networks.
The emphasis of Tony Orlando and Dawn was on getting guest-stars like Carroll O'Connor, Jack Albertson, and Art Carne to sing and dance. The results were decidedly mixed and the novelty wore off quickly. In the fall of 1976, producers shifted the focus to comedy. George Carlin, Edie McClurg, and others were brought on as regulars but the re-titled Tony Orlando and Dawn Rainbow Hour was scuttled three months later.
After Tony Orlando and Dawn ended their initial summer run in 1974, the Hudson Brothers also had a successful (but short) stint subbing for Sonny and Cher, with the advantage of having the S&C producers and writers on board.
Featured on the The Hudson Brothers Show were Gary Owens, Ronnie Graham, Stephanie Edwards, and Australian Rod Hull and his Amazing Emu.
That "emu" was actually a hand puppet that would attack poor Rod and throw him (or anyone else) to the floor at the slightest provocation. A remarkable, world-renowned, one-joke comic, Hull was killed in 1999 when he fell from his roof trying to fix his TV antennae.
The Hudson Brothers Show clicked with youngsters, which led to the Hudson Brothers Razzle Dazzle Show, an unusual half-hour Saturday morning CBS variety program that debuted in the fall.
With country music going mainstream, Mac Davis attracted huge ratings for his summer of '74 NBC entry, The Mac Davis Show. Brought back in December as a mid-season replacement, Davis started strong but was all tuckered out by March.
Because those initial summer numbers were so high, NBC made another failed attempt in 1976. They just couldn't believe Mac Davis wasn't able to recapture that audience.
Joey and Dad from July, 1975 was an unusual concept, showing just how far CBS was willing to go to get another variety show duo off the ground—but it worked very well thanks in part to the obvious affection the co-stars had for one another.
Produced by Allan Blye and Bob Einstein, Joey and Dad starred Las Vegas showgirl / sexpot Joey Heatherton and her father Ray Heatherton, who was known to 1950s juvenile audiences as "The Merry Mailman."
Opening dialogues were along familiar lines, but with a generation-gap twist:
DAD: "What's wrong with this tie? I think it's very nice."
JOEY: "Well, uh, I don't want to hurt your feelings, but it would look better on Bozo the Clown."
DAD: "Does that mean you don't like it?"
JOEY: "Daddy, it just doesn't suit you. It's a bad color, it's too loud and it really looks cheap."
DAD: "But it has a sentimental value."
JOEY: "What kind of sentimental value could that ugly, loud, tasteless tie have?"
DAD: "You gave it to me for Father's Day."
Joey and Dad regularly featured comedians Henny Youngman, Pat Proft, and Pat Paulsen and employed many of the writers from previous Blye and Einstein shows.
Joey And Dad ran for four weeks in July, 1975 as the summer substitute for Cher and guest stars included Captain and Tennille, Frankie Valli, and Sherman Hemsley. One bizarre low point was the "dead parrot" routine lifted from Monty Python and performed almost verbatim by Pat Paulsen and Sherman Hemsley.
After Joey and Dad's four episode run, The Manhattan Transfer took over the Cher timeslot for the four weeks in August, 1975.
This nostalgically musical program concentrated on elaborate production numbers hearkening back to various time periods in order to showcase the vocal versatility of the four hosts and some of the numbers were stunning.
Bob Marley and the Wailers were the musical guests on the last show singing 'Kinky Reggae.' One regular comedy feature was Archie Hahn as "Doughie Duck;" other guests included Sha Na Na, Gabe Kaplan and Steve Landsberg.
The group closed their first three shows with a little ditty called 'Sunday' originally recorded by Jean Goldkette & His Orchestra. If you were watching in 1976 the next sound you would have heard would have been the opening to the Bicentennial Minute.
Cher blamed these two lightweight replacement shows for eroding her audience that summer, diminishing the return for her show in the fall which in turn forced a Sonny and Cher reunion a year later.

Part Two: The Jacksons Score A Summer Hit
- and the lasts gasps of the variety show -
For Embedded Video
& Audio clips:

---
In the Nineties,
everyone got a talk show -
In the Seventies,
everybody got a variety show.
A partial list of hosts for these mostly short-lived shows includes:
Tim Conway, Tony Orlando and Dawn, Marilyn McCoo and Billy Davis, Captain and Tennille, Donny and Marie, Melba Moore and Clifton Davis, Burns and Schreiber, The Brady Bunch, Ken Berry, Jim Stafford, Julie Andrews, Mac Davis, Glen Campbell, Barbara McNair, Ray Stevens, Ken Berry, David Steinberg, Dick Clark, Dick Cavett, Leslie Uggams, Donna Fargo, Don Knotts, McLean Stevenson, Rich Little, Chuck Barris, Lola Falana, Mary Tyler Moore, Tom Jones, Carol Burnett, Liberace, Sonny and Cher, Dinah Shore, The Hudson Brothers, The Smothers Brothers, The Carpenters, Barbara Mandrell and the Mandrell Sisters, Sheilds and Yarnell, The Manhattan Transfer, The Starland Vocal Band, Peter Marshall, Kenny Rogers, Pat Paulsen, The Jacksons, John Byner, Johnny Cash, Jerry Reed, Helen Reddy, Andy Williams, Sammy Davis, Jr., Dinah Shore, Kelly Monteith, Sha Na Na, Bill Cosby, Ben Vereen, Bobby Darin, Bobby Goldsboro, Bobby Vinton, Dolly Parton, Richard Pryor, Burt Convy, Frankie Avalon, Howard Coselland of course The Muppets.
(Did we miss any?)

Melba Moore
---
You won't be gambling with this new book
filled with amazing stories about Dean, Frank,
Louis Prima, Jerry Vale and Las Vegas in the 1970s!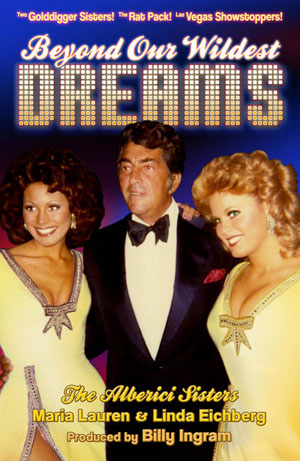 TV on DVD / / Holiday Specials on DVD
TV Commercials on DVD