'TVparty is hands down the best site on the Web for classic TV.'
- Discovery Channel
Classic TV
shows on DVD

Rare Audio of Bette Davis' Flop Broadway-Bound Musical 'Miss Moffat'
By Billy Ingram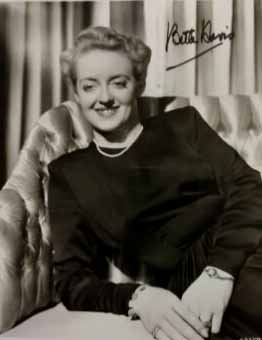 This is the rare, complete live audio of what is probably the first preview of the notorious 1974 flop 'Miss Moffat,' which closed out of town before making it to Broadway. The musical starred Bette Davis, Nell Carter ('Gimme A Break'), Dorian Harewood, Anne Francine, Dody Goodman, and Lee Goodman. An incredible cast all the way around.
This musical production was based on 'The Corn is Green' by that book's author Emlyn Williams in collaboration with composer Albert Hague who, with Dr. Seuss, wrote the songs for the iconic animated special, 'How the Grinch Stole Christmas.' Joshua Logan directed
'The Corn Is Green' is a 1945 American dramatic film starring Bette Davis as a "schoolteacher determined to bring education to a Welsh coal mining town despite great opposition." It was adapted from the 1938 play of the same name by Emlyn Williams, which starred Ethel Barrymore.
Although she couldn't really sing very well, by her own admission, it made sense that Bette Davis was offered the titular role. After all, she starred in the motion picture 'Miss Moffat' was based on, 'The Corn Is Green,' in 1945 as a schoolteacher determined to bring education to a Welsh coal mining town despite great opposition.
Davis was initally thrilled to be 'on the boards' saying, "Thank God for this play! It's going to save me from those flea-bitten films. The last one I read, they had me hanging in a closet." However, on opening night, she berated one of the child actors for whispering her line to Davis when she seemed to be fumbling for the words.
'Miss Moffat' opened October 7th, 1974 at Philadelphia's Shubert Theater and closed two weeks later on October 17th, thereby canceling its nine month tour before the production's scheduled Broadway opening.
After Bette Davis left the show due to illness, a second unsuccessful attempt was made to mount the show on Broadway with Ginger Rogers in the starring role.
In 1979, the play was adapted once again for the made-for-television film 'The Corn Is Green' starring Katharine Hepburn.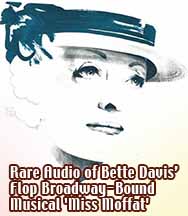 See Also: Bette Davis On TV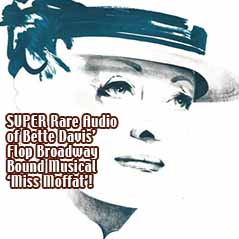 In 2019, Jane Fonda, who starred in Logan's 1960 film Tall Story, claimed both she and Logan were in love with lead actor Anthony Perkins at the time of filming, causing tension during an already difficult shoot.
Amazon Prime - unlimited streaming
of your fave TV shows and movies!
Get your FREE 30 Day Trial!
PR4 & PR5 Pages for Advertising