TOM BOSLEY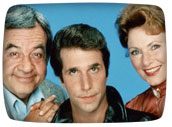 Every time one of these classic TV greats passes it makes me feel older. Kevin Butler writes: Sadly, TV sitcoms and cartoons has suffered another loss.
Actor/singer and cartoon voice over performer Tom Bosley yesterday at his home in Palm Springs, Cal. He was 83 years old and he had been suffering from a Staph Infection.
Born in Chicago on October 1, 1927 Bosley began his career as a stage performer, singing and acting in local productions.
He would later come to NYC where he appeared in some stage shows until 1959 when he made his Broadway debut in the musical "Fiorello" (based upon the life and career of former NYC mayor Fiorello H. Laguardia).
"Fiorello", which also starred Nathaniel Frey, Howard Da Silva and actor/singer Bob Holiday (who would star in the original Broadway production of "It's A Bird, It's A Plane, It's Superman" a decade later) became a hit and went onto win the Pulitzer prize for Best Broadway Musical.
Mr. Bosley also appeared in many films Including "Yours,Mine & Ours" (The Lucille Ball/ Henry Fonda version) and "Divorce American Style" with Dick Van Dyke, Debbie Reynolds, Jason Robards, Shelly Berman and Joe Flynn.
He also did voice overs for cartoons "David The Gnome", "Wait Till Your Father Gets Home" with Jack Burns, "Pinocchio & The Emperor Of The Night" (in which Mr. Bosley was the voice of Pinocchio's father Gepetto) and the animated remake of the 1950's live action musical version of "A Christmas Carol / The Stingiest Man In Town" for NBC TV and Rankin/Bass in 1978 (Mr. Bosley was the voice of the show's narrator "I.A.M.Humbug")
Tom Bosley also appeared as Debbie Reynolds' next door neighbor on "The Debbie Reynolds Show" but he is best remembered for his role as Howard Cunningham, the hardware store owner and patriarch of the Cunningham family on the Gary Marshall/ABC sitcom "Happy Days".
Mr. Bosley also served as the off camera host/narrator of the old movies documentary series "That's Hollywood" in 1977.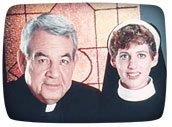 After "Happy Days" went off the air he starred in one more TV series "The Father Dowling Mysteries" where he played a Chicago based priest who, with the aide of nun "Sister Steve" (Tracy Nelson), solved baffling murders.
After the cancellation of "The Father Dowling Mysteries" Mr. Bosley's TV appearances were mostly limited to appearing on talk shows, nostalgia specials, TV Movies and Award Shows. He hosted the CBS TV educational kid's special "Make Em' Laugh, A Young People's Comedy Concert" which was taped at Santa Monica's "Mayfair Music Hall" and featured performances by mime Bob Shields, The Hudson Brothers, Soupy Sales, Rip Taylor, Pamela Myers and Jim MacGeorge & Chuck McCann)
His last TV appearance was on this year's "TV Land Awards" with Marion Ross (who played his wife on "Happy Days").