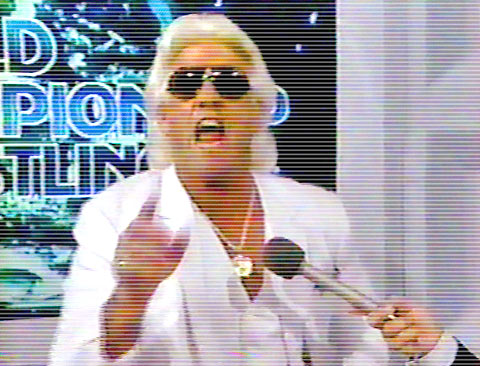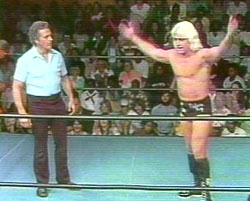 The Nature Boy
There are great pleasures in my life - my friends, my family, my comic book and art collection and watching wrestling for the last 36 years.
That is right folks, I have been watching wrestling live and on television forever. I have seen every major pay-for-view in this country and I am not blind yet. Even though now-a-days I wonder why not...
I have seen every major wrestler during that span and Ric Flair is the greatest I have ever seen. Only Terry Funk can be mentioned in the same sentence as the best.
And that is the goddamn truth.
I remember seeing Flair's first match on TV when he tag teamed with Rip Hawk to destroy a couple of jobbers. Back then if you dropped an elbow on an opponent that was the finish of the match. This new fat kid with a bad blond dye job dropped about five on this one guy - and yelled WHOOOO! every time he did it.
The television announcer, Charlie Harville, exclaimed that this kid Flair was a sadist and really loved to punish his opponents.
After the match came a ringside interview with Rip and Flair and Rip Hawk did all the talking, introducing this new guy as his cousin. Suddenly, this kid Flair jumped in front of the microphone and started yelling that, with Uncle Rip's guidance, his future would be bright and then let loose with another "Whoooo!"
Who was this guy?
Well, he became the greatest of them all.
Flair learned a lot in a very short time at the side of Johnny Valentine. I remember an interview where Flair asked Johnny the Champ to teach him a great finishing hold and asked if he could get him a date with Joey Heatherton! (I am I dating my self or what?) The finisher was the Brain Buster suplex, a move that Flair used long before the figure-four leg lock.
Then came the plane crash.
The crash was front page news in the Mid Atlantic Territory, it took place in Wilmington, NC just short of the airport. Tim Woods, Ric Flair, David Crockett, Bob Bruggers and Johnny Valentine were all on board. Bruggers, an ex-football player never wrestled after the crash. Tim Woods was a good guy but he was riding with a bunch of heels so they changed the report to read Tim Woodin as a passenger, Woods real name. Woods returned to wrestle and so did Flair, of course. David Crockett went on to become a shill babyface announcer.
The pilot died a month later from his injuries. Johnny Valentine was sitting next to the pilot and had his back broken. He never walked again. I always hoped that he would make a comeback because he was so damn tough. He never did. Sadly, he died twenty years later, broke living in Texas.
Crockett quickly brought in Greg Valentine to replace Johnny; he was billed as Johnny's brother but he was really his son. Greg became a huge deal in the Mid-Atlantic, soon taging with Flair. (Greg still wrestles to this day in the small world of the independents.)
I often think that wrestling history would have changed if Johnny Valentine had returned to wrestling, he probably would have won the World Title before Flair.
I did send Flair and Valentine a homemade get well card that weekend and to this day I vividly recall Flair's first return interview where he kept Joey Heatherton and Rachel Welch's card and tore mine to shreds.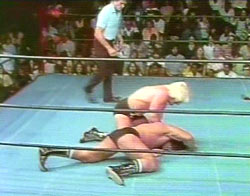 After his return, Flair jumped to the top of the wrestling world during a classic feud with Wahoo McDaniel. People still talk about that hard-hitting feud. Anyone in the building could hear those chops and I am sure they are still echoing somewhere in conversation today.
The Feud of the Seventies started when Flair ripped a leg off of a ringside table and hit Wahoo in the head for the finish of a match. Wahoo received multiple stitches that night and Flair called the hospital repeatedly to check on the Chief.
Another great feud of that time happened when, in an interview, Flair told Blackjack Mulligan it was time for him to retire because the big cowboy was "washed up."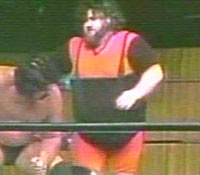 That feud was a classic, Flair ran and bumped forever for Blackjack that night; it was one of those images one can never forget when Flair suplexed Blackjack. Like Atlas holding up the earth, it was very similar to what Kurt Angle looks like holding the Big Show today. No special effects folks, Flair just jacked up Blackjack's 320 pounds and held him up in the air for as long as he cared to.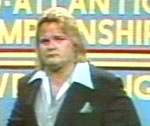 I was in attendance the night that Flair and a young punk named Greg Valentine took on the Anderson Brothers for the World Tag Title. I knew the Andersons, at that time, were the toughest bastards in the world and would shut these young punks up.
The fans didn't buy into Greg as a tough guy because they had witnessed his father Jimmy not selling for anyone. Greg sold a lot for his opponents and it made him look like a pussy in comparison. This was billed as the family feud and it turned out to be a changing of the guard with Flair and Valentine sending Gene Anderson to the hospital and winning the title.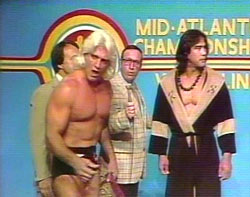 Then along came Ricky Steamboat and the whole wrestling world took notice. Here were two guys in their prime and just blowing everyone away with their athletic bumping. And Flair had the perfect guy to play off of. The straight handsome, good guy and the playboy jet set bad boy.
It was the feud that all feuds will be measured against forever.
It's very hard to properly explain why these two clicked so well but I always felt that instead of two middle aged pot-bellied wrestlers, we suddenly were given two young vibrant ones.
And Flair could talk for both. Man, could he talk! You could love him or hate him all in the same interview.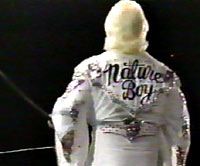 Personally, I was shocked when Flair won his first World Title. I could not believe that he was ready for that kind of challenge. He soon lost it to Harley Race, however.
I was ringside when Flair won the title back at the first Starrcade at the Greensboro Coliseum in 1983. At the end of that match, Flair asked for his children to be brought to the ring while he was covered in blood. It was an amazing thing to watch.
Speaking of blood, Flair bled so much that I began to wonder just when he would run out. He gushed every night for years and he did it so often that I could see the blade coming before he did it. Even now the old fans of the Mid-Atlantic days can see a blade job coming for miles because of Flair. They didn't call it the 'Bloody Mid-Atlantic' for nothing, with Flair's signature blond hair turning bright red when it was drenched in blood.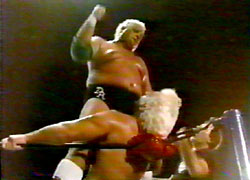 Then came Dusty Rhodes and my wrestling world began to fall apart. 'The American Dream' was one of the best talkers in the business but his Ego was unmatched in the civilized world. Flair proved just how strong he was by carrying that over rated tub of goo for years.
Dusty was ultimately the downfall of the mighty Mid-Atlantic, with his sad attempts to keep himself on top at the expense of the promotion.
Rhodes was, in my book, a screaming asshole that attempted to ruin the career of Ric Flair - the true fans knew what was going on.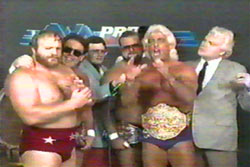 One thing Dusty did that was intended to damage Flair's career - but helped it instead - was the forming of The Four Horsemen.
What Rhodes did was take the four best heels in the Mid-Atlantic and band them together in order to show Flair as a coward that needed a mob to protect him and the World title.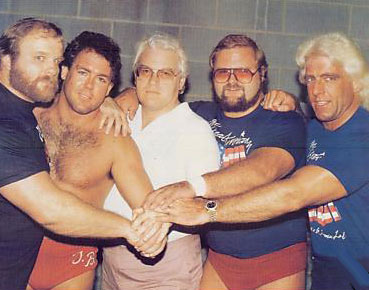 Nothing was further than the truth. The Four Horsemen were - Ole Anderson, Arn Anderson, Tully Blanchard and Flair. To Dusty's shock, these guys became cool with the fans no matter what terrible things they did. And portraying them as chick magnets didn't hurt either.

There was one famous angle where Rhodes was jumped in a parking lot by the Horsemen and had his hand broken. (The real question for me was not that the Horsemen were so ruthless, but why Rhodes was alone and had no friends to help him.)
The Four Horsemen became a lighting rod for every smart fan to cheer for. This was against what the promotion was trying to accomplish. Why cheer for the fat guy when you had the Horsemen to cheer for?
Suddenly, the heels became cool.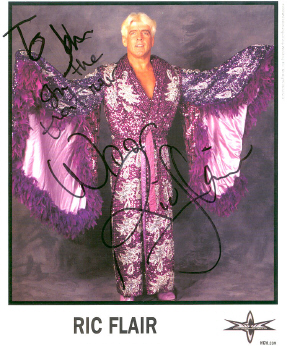 I was in attendance when the bottom started to drop out and this amazing athlete performed in front of a mere 1700 people. And he still gave 100% every night.
On the first occasion that attendance fell to around 5000, Flair looked at me on the front row and said, "Where is everybody?"
I was totally shocked because Flair never talked to me before.
I told him I didn't know - probably that Dusty's booking sucked.
The Nature Boy just shrugged his shoulders and went back into character and gave us another terrific match.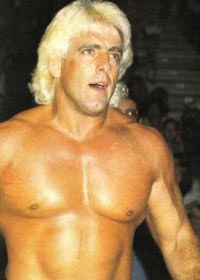 Not just any match but my all time favorite Flair match. One that you would not even find in the wrestling record books.
His opponent this night was the Junk Yard Dog. The Dog was a sad crippled man by his time in his life but he had a title shot - we really could not figure out why.
Anyway, this match lasted about 12 minutes and at the end Flair grabbed his belt and ran away from the JYD - in turn being ruled disqualified in the process. Tony Shavonie was at ringside that night and heard me say, "That's incredible!"
Tony turned to me and asked why?
I told him, "Tony, the Dog did not take more than six steps in that entire match and Flair has made this whole Coliseum believe he was running for his life!"
Tony just looked at me shocked and said, "You know, I never thought about it like that."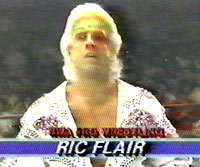 If you were there that night you saw an artist at work. Flair did all the bumps and all the spots were set up for the JYD to get all the glory. Flair even ran into his arms to take a slam to help put this guy over. Every move was executed so the Dog would not have to move very much because, well, he just couldn't. I learned a lot about wrestling that night. I'm still awed by that performance to this day.
You know...
I never saw Picasso paint. I never saw The Beatles live. I never saw Bill Russell at the Boston Garden.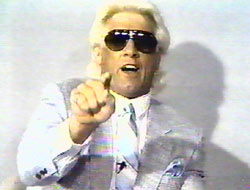 But...
For over twenty years I observed a true artist from the front row and his name is...
Ric Flair.