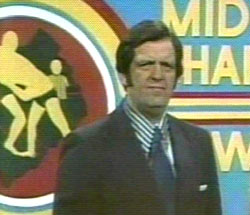 Johnny Weaver
You know what? Johnny Weaver has always been there.
Ever since I started watching TV as a kid, Johnny Weaver was on the first show and I guess he always was. Weaver was tagging with George Becker and they were feuding with Rip Hawk and Swede Hanson.
And I guess, he always was.
Weaver was the top face for a long, long time in the Mid-Atlantic. He always got the big title shot against Lou Thesz, Gene Kiniski and then Dory Funk Jr. The matches always went an hour time limit to a draw with Weaver at the brink of victory, holding his own against the best and leaving with his pride in tact.
After a short while, I began to hate his baby face act. Humble, thoughtful and respectful of the promotion. Weaver became a sap in my eyes and it was not his fault. He just looked so bland in comparison to the Infernos or the Bolos.
Those guys seemed much more cool but Weaver had the tough job. He had to play the good guy and really never could get that cheap heat that the heels always could get with a glance or a smart remark. I bet he wished he could have smarted off to Skull Murphy or Brute Bernard.
I bet he would have liked to slap the taste out of J C Dykes or Homer O'Dell's mouth. But he was the good guy. He was a clean slate to create heat with. The guy you had to play off of to create a story. And it wasnít an easy thing to do. One night at the Greensboro Coliseum , they announced that all the wrestlers would be out front signing autographs for all the fans.
This turned out to not be totally true.
There was not a table for the heels. I was hoping to get Brute Bernard to bite or drool on my program. Now my friends, That would be a great collectable! But there was a table for the faces and there was a small group signing for the fans.
Les Thatcher was there. So was a really green black guy called the Night Train. He was a large strong looking guy but he only lasted about a month and was gone. Art Nelson was there too.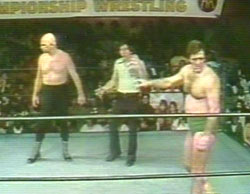 And of course Johnny Weaver was there talking to this flock of old ladies. Weaver was very patient with these folks. He was showing them all the scars he had on his head. "This one came from Homer O'Dell hitting me his cane."
This went on and on. When Weaver became an announcer, I really could not stand him. But he was a lot better than David "Homer" Crockett.
One night, Weaver called Barry Windom's flying clothesline finisher, The Flying Thing Off The Ropes. I fell off the couch laughing at that one.
And one day I really pissed Weaver off. It was a Starcade where half the action was in Atlanta. We all got dressed up in really bad clashing suits and I brought a dozen pair of 3-D glasses.
We were sitting about ten rows up in the orange seats so we could see the big screen above the ring. I told everyone to put on the glasses and whenever a wrestler would bounce off the rope in front of us, we would sell it by jumping back into our seats. It was a real attention grabber that was for sure.
I decided to have a little fun so I yelled down at Johnny Weaver and said, "Hey Weave! Why don't you paint one of your ears red and the other one blue so I can get a real Three- D effect with your ears! Come on Weave!"
That did not go over very well with Johnny Weaver that much is true. Weaver got up from his announcing table, threw down his headphones and stalked off really pissed. Jim Ross was sitting with him and he was really pissed too.
Hey, can't ya take a joke?