Dear John;
I read your comments on Ditko with interest. Knowing Steve, and his philosophy, well, I can't help but agree with your conclusion. The Question was definitely giving Steve's position on the issue of credit . . and other things. I envy him, and I can't agree with him . . I want the credit (and the money) for
everything I do! And I resent guys like Stan Lee more than I can say! He's my one reason for living... I want to see that no-talent bum get his...
Ah, tell your friend Billy that the worst guy I ever inked was Maurice Gutwoth... never heard of him, right? (probably before your time . . was an artist who drew for Fox when I was just starting.)
Of the current crop, I find it hard to choose. I guess Rick Estrada's given me the most trouble. The only way to make an Estrada page look like anything would be to erase the pencils and start all over. You know, I did a panel without ANY pencils once? Professionally, that is.. I never knew you had to pencil the stuff first when I was a kid. Come to think of it, Jerry Grandinetti comes a close second.. Why do you care?
Does it matter? What am I doing writing this shit
at 3 in the morning? I should be working . . or sleeping . . What's this about being a novelist? Are you really? And what does "one-handedness" mean? And what's this about an art show? What's the Big Time?
Write . . best,
Woody
Wood inks Rick Estrada

.

Wood inks Jerry Grandenetti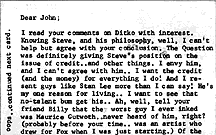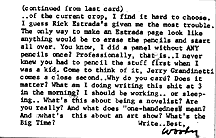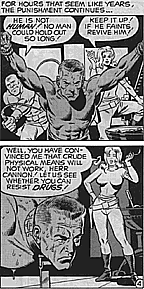 Wood inks Ditko