#14 April 24, 1979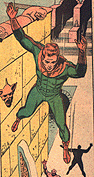 I was taking art classes in college at this time, and mentioned it to Wood.
He was interested in seeing my work, so I did a little watercolor for him - actually an Alex Toth swipe to be honest with you, maybe that's why he liked it so much.
The character shown here is Wood's great 'Earthman' from Harvey's Unearthly Spectaculars.