Dear John;
No, I didn't have those books - - THANK YOU!!
You shouldn't have - - I hope you didn't spend too much money. I'll look around and see if there is something I can send in return . . Do you have all the Witzends? I have some doubles of the first four issues left... Let me know.
Thank you for the kind words . . it really means a lot to me,
and especially now that I'm through with comic books. Thirty years! I started in 1948. And you're right, I wasn't concerned with originals, or even keeping copies of my stuff when I started. I'm sure the originals on that stuff don't exist any more. They were either destroyed or left
to rot in some warehouse . . anything but give them back to the artist!
Keep in touch,
Wally Wood


Click here to continue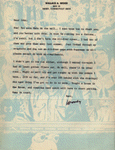 1970's TV shows on DVD
1960's TV Shows on DVD