Dear John;
Don't worry about my quitting comics... if all goes well I'll be doing some stories for Heavy Metal.
When I last looked, I did have Capt. Science #1,
Fu Manchu, Earthman on Venus. . . I don't have any of the EC's, though (I tore my stories out and threw the rest away, fool that I was!)
Please accept this page. . . it's not much, but I don't have a hell of a lot of originals left . . .
Who is Anti-Man? Did you mean Animan? Or did you just invent a new comic book character? Anyway, I like it. With your permission, I'll use it one of these days. .
Keep in touch, best,
Wally Wood
The page of original art that Wood sent was one that Rick Estrada penciled and Wood inked from All-Star number 59, page 19, but to be honest with you, it wasn't very good.


Click here to continue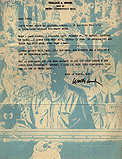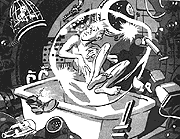 Animan &copy 1968 Wally Wood, Captain Science &copy 1950 Youthful Magazines
1970's TV shows on DVD
1960's TV Shows on DVD