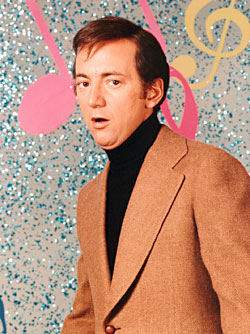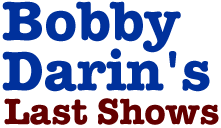 PART TWO:
BOBBY DARIN'S LAST DAYS
by TK Kellman:
I was a regular on screen as well, but technically I was only shown when Bobby Darin played in front of the band and he occasionally introduced me. Tommy Amato was also part of the band, but Bobby had a particular affection for Tommy (we all did) and included him as a spaced-out hippie percussionist in a recurring skit each week.
Actually, we DID perform after the TV show was cancelled; at the Las Vegas Hilton. Bobby, who was unquestionably the consummate performer, would incorporate false exits and "bows" in the show so he could duck briefly backstage and suck on an oxygen mask for a few seconds before returning to the stage. This, understandably, lasted only a short time until he had to cut back his performance schedule drastically.
I remember we were all sitting in the living room one night at Tommy Amato's house. Bobby, Tommy, myself, Bill McCubbin (bass) and interestingly enough, Telma Hopkins who was living with Tommy at the time. Bobby said "Guys, I think this is it . . It feels like I'm gonna die this year."
Although we all poo-poohed him, it was painfully obvious from his weakened condition and gray color that he was seriously ill. If today's heart bypass operation had been around then, Bobby most assuredly would be performing today.
STORY CONTINUES - AFTER THIS AD FOR VIDEO DOWNLOADS:
---
---
Back then, they used plastic valves which were rejected by the body eventually. That unfortunately, is exactly what happened to Bobby and resulted in his death on the operating table.
When Bobby cut back his schedule, most of us went to work for Tony Orlando who idolized Bobby and did a tribute to him in his act. He was very excited about using members of his band and to this day we are good friends.
Regarding Bobby's reputation for being hard to work with. He was. He had good days and bad days but for the most part, he treated us (the band) like gold. We hung together like musketeers and we still talk about how great those days were.
However, when it came to getting his show and the stage EXACTLY how he wanted it . . . he would be extra demanding. For the most part, it seemed to me he HAD to be that way because he had to overcome what everyone else (sound men, stage production crew, etc.) thought he SHOULD be doing as opposed to what he WANTED to do. After all, he used to say, "If people go out of here dissatisfied, they don't say 'gee the lighting was bad' or 'the sound stunk' . . they say; 'Man, Bobby Darin's show SUCKS!!'"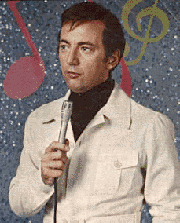 A quick personal anecdote: When my father had his first heart attack, Bobby arranged to have his doctors flown in immediately to consult with our own in Las Vegas. He personally called my mother and counseled her through the entire crisis telling her he knew what my dad was going through because he had gone through it himself.
He became, in effect, part of the family, even sleeping over at my house with his son Dodd (nicknamed "moose" at the time). We would wake up early and go work on an old dilapidated boat he bought that was docked on Lake Mead. All the years he had that boat, he never could get it to run. But he loved working on it with the band members and Dodd. Dodd was ten at the time, so I don't know if he even remembers. Mostly, it was just an excuse to hang out.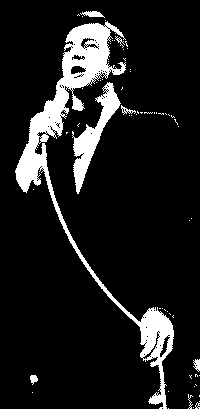 I never saw Bobby impolite or even distant from any fan. He was always unfailingly gracious and accommodating even to people I would consider pesky and some on the edge of reality. Bobby never slighted any of them, sometimes even inviting them backstage to his dressing room and talking to them in his underwear while he was changing clothes.
He was an exceptional man and the finest performer I've ever worked with bar none, and I've worked with many of the greats. Impeccable comedy timing, singer par excellence, and an unfailing musicality that always earned him a standing ovation. I wish you could have seen him.
- TK Kellman