"I think the only way we can be big in America is by accident"
- Andy Partridge, XTC
"Accidents will happen."
- Elvis Costello
Billy Eye here. I had great expectations before the XTC, Wall of Voodoo, Hazel O'Connor concert at the Hollywood Paladium Saturday, April 4. Many of those expectations were fulfilled, some were not. Let's go with that . . .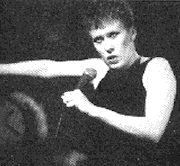 I missed Hazel O'Connor's set, which is a shame because she is very popular in Europe. Of course, so is Jerry Lewis. The posters plastered all over Hollywood read, "introducing Hazel O'Connor' - that's inacurate because many Angelinos are familiar with her name. Hazel O'Connor can be seen in the film "Breaking Glass", a pseudo punk rock 'Star is Born' that's been playing around the West LA area late at night. I haven't seen the film myself, I confess, so I guess Eye am destined to continue missing Miss O'Connor, but perhaps I can make up for it by mentioning her name four times in one paragraph.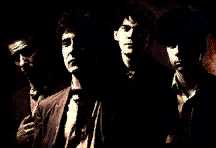 Wall of Voodoo delivered a technopunk performance that far exceeded anything I had envisioned. A common criticism of many rock bands by fans is that the live performances of songs rarely sound like the studio versions. (I prefer live tracks, myself.)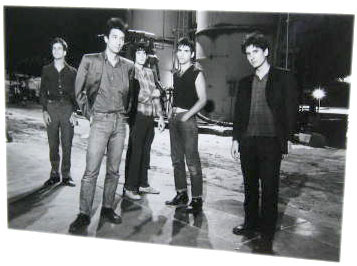 This is one complaint that can't be leveled at this group. I thought it would be too much to ask of this new LA band to come up with renditions as good as those heard on their excellent EP now on sale from IRS records. I was wrong. The songs, flawlessly performed; embellished by the fact that they were being performed live so fully. This band has obviously found its distinctive sound, has meticulously arranged their tunes and deviates very little from them. No sound, no instrument was missing, even songs as complex as Wall of Voodoo's version of the Johnny Cash hit "Ring of Fire' and their own "Can't Make Love", the band's lament to bi-sexuality.
Lead singer Stanard Ridgeway's banter with the audience was uncalled for- provocative, entertaining, occasionally awkward, somewhat Las Vegas-y, often right on target, a welcome addition to the set, a respite from the intricate and intense musical barrage. Ridgeway even made a sarcastic reference to the fact that XTC would be showing films on a screen behind the band during their show. (Wall of Voodoo was recently lambasted by a local critic for showing obscure, unrelated films before the group's set. Sounded like a good idea to me.) Wall of Voodoo quite simply have their shit together; if you like their recorded music, you will love them live.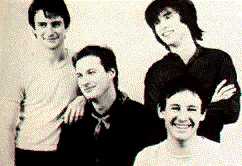 XTC
Not so, unfortunately, for XTC, the night's headliner. Quite a bit of XTC's music I find very pleasing, energetic new wave pop. But what sounds good on vinyl, sounds sloppy and looks pretentious live on stage. Dressed like Paul Revere and the Raiders throwbacks, XTC came on stage to a thunderous ovation, a thunder that dissipated like all short spring showers. While Wall of Voodoo has obviously made great investments of time and resources to make their concerts as polished as possible, XTC has taken the road of least resistance. Weak, bare, sloppy arrangements and performances prevailed. I really wish I could say something good, I suppose their take on the new single "Respectable Street" almost worked.
Even hearing that the band was back onstage for an encore didn't bring most people back from the lobby. Of course, not everyone was put off by this lackluster performance, but then you can fool some of the people some of the time...
I could write another six paragraphs just on the audience, a mixed bag of different types- surfers, punks, pre-teens - 80% boys - that helped make this evening the fragmented event it was. That's the influence of heavy rotation on KROQ I guess. KROQ is dominating the young radio audience in LA, or starting to anyway, and airplay on K-ROCK will pack the clubs at night with, well, the kind of people who listen to K-ROCK.
I'll just wrap up with this advice. If you like XTC buy their albums, you will most likely be disappointed by them in concert. On the other hand, if you haven't seen Wall of Voodoo, you are in for a treat.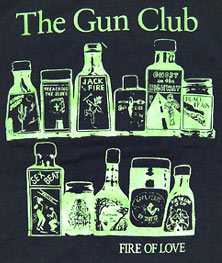 Frantic lead singer Gerardo Velasquez with his quirky band Nervous Gender and the always fantastic, straight ahead and textural Gun Club will play the Brave Dog Saturday, April 18.
The Decline of Western Civilization has finally opened in the Valley and can be seen at the Sherman Theatre on Ventura Blvd. in Sherman Oaks. This superb documentary chronicles the lives of the people who helped created the punk scene as it came to be - it's Germination if you will - along with a lot of degenerate activity on dispay.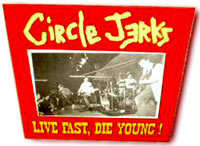 Filmed in 1979 and 1980, concert footage of The Germs, Circle Jerks, Black Flag, X and more LA greats makes this film unmissable.
And now I'm pleased to re-introduce the provocative and ever evocative Judy Zee. . .

The Pop is one of those bands that you feel is going to give the audience a good time. I recall how very relaxed and 'at home' they were on the stage last summer. Growing up as spuds in the LA scene, they've been popular for three albums worth of material, and I just recently viewed them at Mme. Wongs West on Wilshire in West LA.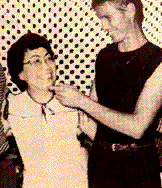 Madame (Ester)
Wong and friend
MMW's upstairs audience react rock-joyfully to this new wave macho-funk. The Pop can follow the basic meanings. This is club music, 4/4-blue collar- with lyrics sung of their image, and experiences 'on the scene'. The Pop plays barroom, in-town music.
Cross Van Halen with The Knack's PR; add Tom Petty's song styling with a lot of volume and non-sensical sounds and you've got The Pop. No snap, no crackle. Da kids are all right now, and can be packaged so neatly as to receive the General Mills Seal of Approval. As on a box of Rice Krispies, for the children that were out on this Saturday night seem to be enjoying them. All in all a good show for a dead lifestyle.
The show at Mme. Wongs West was well-balanced and the music was well-coordinated. Their arrangements are just enough which, surprisingly is much of their formula. The precise, logical arrangements move complimentary to each other to build up that full pop crescendo. Before lead singer Roger Prescott finishes off each tune, the crowd rejoices.
The Pop look and sound happy together, which spreads to the audience who love them, but what could they be celebrating? Just love the way they make so many songs out of the same three cords with different timing. The influences on style are respectably funk, such as Otis Redding and Tufs Stufs Roots, quite apparent in "Still Waiting" which stirred a humming dancefloor.
The bass player plays his blond Fender precision bass through an acoustic research amp. The guitarist (they lost original guitarist Tim McGovern to The Motels) plays both a 12-string and g-string Richenbacher. Drumming strong, jazzy; bass study-almost black.