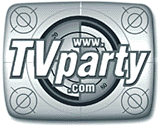 TV on DVD/ /Holiday Specials on DVD
TV Commercials on DVD
TV Shows on BLU-RAY
---
"I was pleased to find your article on The Paul Dixon Show. I grew up in Dayton, living there from '62-70.

"My mom was a big fan of Paul, Baby and I spent many a morning during summer vacation watching the show with her--me absolutely HATING it! "It's the same show every day," I'd complain to her, not getting that that was the entire point of it. Can't explain the show to anyone who hasn't seen it.

"The song I remember Paul doing was "I don't know why I love you like I do," which developed into a periodic bit that included his inviting a lady from the studio audience to share a love seat with while he sang to her, I think in a hokey French accent. I think after a while, he took to pasting on a mustache to enhance his role as lady-killer.

"Also "Everybody in the studio audience today gets a free bag of Lay's [?] potato chips!" BIG CHEER FROM THE AUDIENCE. "This is the size of the bag," he'd continue, holding up a tiny snack back and tossing it over his shoulder to land behind him on the floor (Letterman is indeed in his debt.)

- DDM41
---
"I still have the knee tickler Paul put on me. That was a big part of the show.
"Also he called nurses "Reargunners", and my girlfriend and I took him a nurses cap, so he chose us for the knee ticklers that day, and we were thrilled. It's a pin with a small chain and small ball on the chain that would tickle your knee when you walked.
"Hot Pants were popular, as well as Mini Skirts. so Paul loved putting them on, and we loved getting them. It was a great show!
- Nancy Thacker
"I wrote to WCPO in Cin'ti and they said Paul Dixon died several years ago but Dottie Mack was living in New York and was in Cin'ti not long ago to receive a local award."
- a reader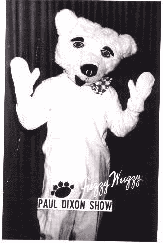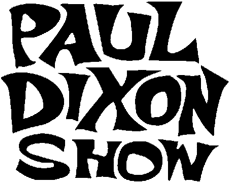 WHEN UNCLE AL WENT
OFF THE AIR FOR THE DAY...
by Michael Shaver :: PART TWO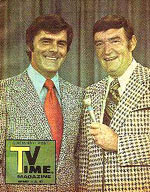 The stunt that I think would really raise N.O.W.'s ire today is one I think Paul Baby took from Steve Allen (or maybe the other way around. I'm not sure.). At the risk of sounding somewhat pornographic, on several occasions Paul would chat with a lady and then award her with a giant salami from Oscherwitz Kosher, which was not too much unlike the canned hams David Letterman gives away on his show, which I recenly found out was inspired by Paul Dixon himself.
In retrospect, I believe the main reason he did get away with what he did was largely because the word "sexist" had not yet entered the sociological vocabulary, and to many women, being a housewife was still a point of pride. Moreover, Paul Baby's fans knew he wasn't really leering at ladies legs, but merely taking a vaudevillian approach and going after the laughs generated from the illusion that he was. Hey! It worked!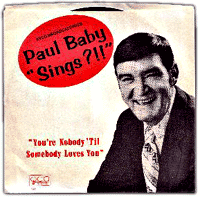 AND NOW A FEW WORDS
FROM ONE OF OUR SPONSORS...
In my opinion, one of the most appealing things about "The Paul Dixon Show" was the fact that it was broadcast live. Except for station breaks and an occasional recorded portion or two, everything was done live, right down to the commercials, though they were the only aspect of the show that might have been relegated to script. But anything scripted was quickly turned to hash under Paul.
The result: A better commercial. And the audiences delighted in it. Any product plugged by Paul became the product to use. Here are my memories of some of his commercials:
- Once or twice a show, during a shampoo or hair spray commercial, or some other instance that might require Paul to take off his jacket, Paul would strike a pose and the band would play "glamour" music.
- The show quickly got on the bandwagon when Pringles' Potato Chips were brand new. I remember Colleen and Bonnie making duck bills out of them.
- Whenever he did commercials for Bounty Paper Towels he would mention they were made in Green Bay, Wisconsin, at which point the band would launch into "On Wisconsin".
- The clearest vision for me was when they did commercials for Libby's canned fruits and vegetables. Bruce Brownfield and the band sang the jingle: "If it says Libby's Libby's Libby's on the label, label, label, you will like it, like it, like it on your table, table, table, If it's Libby's Libby's Libby's on the label, label, label!"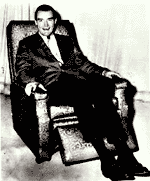 "AND THE ANGELS
LIT THE CANDLES..."
When you do a live 90-minute show, things have a tendency to leap from the borderline to the sublime to the downright incredible... all in less than a single bound! Case in point, Author Mary Ann Kelly expounded on one particular incident in her book "The Trouble Is Not In Your Set", a book about Cincinnati's television history.
On a suggestion from upper management, Paul decided to have a "Mystery Voice Contest" in which Paul would call people at random and they would win a considerable prize if they identified who the Mystery Voice was. The first voice was Ralph Lazarus, CEO of Federated Department Stores (now known simply as Lazarus). After a huge promotion and heavy build up to the start of the contest, the very first contestant Paul called- remember he chose the phone numbers at random from the local phone book- and played the voice for, guessed Ralph Lazarus without so much as batting an eyelash! Neither Paul nor the audience (nor anyone else, for that matter) could believe it.
When asked how she could possibly have known his voice, she laughingly explained she used to be his private secretary!! It goes without saying there is no mathematician dead or alive (well, maybe dead) who could compute the completely incredible odds on that happening, but sure enough...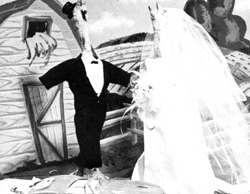 "WELL, WE PULLED IT OFF, DIDN'T WE?"
The one incident that gave "The Paul Dixon Show" the most fame- and notoriety, for that matter- was without a doubt the legendary "rubber chicken wedding". Paul decided to marry off the two rubber chickens that had been long-time props on the show (Paul had taken to calling them Harry and Pauline).
For this stunt, Paul decided to go all out, sending wedding invitations to agencies, press people, sponsors and numerous others. The wedding was televised on his show in March 1969. Paul officiated over the wedding as Kneesville's mayor (completely decked out in a tattered and torn coat and matching top hat), with Bonnie and Colleen as Matrons of Honor, and with Bob Braun as Best Man.
There was even a huge reception held at the Lookout House, a now-defunct classy restaurant and nightclub near Covington, Kentucky (just across the Ohio River from Cincinnati) complete with all the trimmings right down to the wedding cake. And though I have no memory of it, I actually got a piece of the cake through a friend of my mother.
The chicken wedding turned out to be the highest-rated episode of the show's near 20-year run. The wedding was a quasi-holiday for many people- they adjusted their work schedules or simply stayed home from work while many kids wanted to stay home from school just to see the wedding. (Believe it or not, you can actually order a copy of the wedding on video if you visit the VME Web Site at "http://www.vmevideo.com")
If there was one aspect about "The Paul Dixon Show" that made it so appealing not just to housewives, but to people in all walks of life, I think it can be spelled out in one word- consistency. It didn't really matter when you tuned in to see the show. You always saw the same thing. The same commercials; the same house band and singers; the same Paul! You never really missed much of anything if you missed a day or two- and the viewers knew it. Nonetheless, they came to love Paul like a trusted friend and continued to tune in day after day- and they loved every damned minute of it.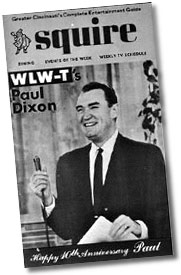 "HOW DID I DO?"
Like Oscar Wilde, if great comedy stemmed from great tragedy, then, sad to say, Paul Dixon was the epitome of such an adage. In 1970 Dixon suffered his first heart attack shortly after his 19-year-old son Greg was killed in a auto accident. Paul almost never recovered from it (in fact, at one point Dixon was so grief-stricken he had to be helped onto the stage for his show).
Four years later, on December 28, 1974 (the day before my eighth birthday), Paul died suddenly of a ruptured aneurysm at the age of 56. I remember that day very well. That morning WLWT ran clips of his most memorable moments. The same evening then-WLWT news anchor Tom Atkins hosted a special tribute to Paul. Even rival TV stations in the Tri-State area made mention of his passing. Following his death, WLWT, realizing that Paul Dixon's shoes were impossible to fill, had no choice but to bring the show to an abrupt, and therefore a sad conclusion.
If you were one of those who loved Paul Dixon- and there were many, or if you were one of those who disliked him- and there were many, news of his death was a personal as a slap in the face. For all of Cincinnati, all of Dayton, all of Indianapolis and Columbus, all of the people who knew him, it was like a death in the family, but no one missed him more than the thousands upon thousands of women for whom he a more than welcome rest from their daily routines.
"I play to that one woman who is sitting at home watching me," Paul once said. "Sure, I play to the studio audience, but it's that one girl who knows I care for her."
The most fitting end for this article (at least from my point of view) doesn't come from me, nor could it. In 1970, Dick Perry wrote a book about the history of WLW radio and television called "Not Just A Sound-- The Story of WLW" in which he dedicated an entire chapter to Paul Dixon, who was a close friend. Here is an except from that chapter:
"He wanted... to please those people out there watching him on the tube. He wanted... to please those sponsors who shell[ed] out hard cash to advertise products on his show. And in some lonely way he... always wanted to please himself but because he [was] Paul Dixon he... never quite figured out how. I mean this seriously. Paul Dixon, I suggest,... tried so hard over the years and given so much of himself to please all those [people] that when it [came] to pleasing himself he [was] at loose ends and [did] not honestly know how. "'How did I do?' "He... asked me that question many times. 'How did I do?'"
"I said nothing. I mean, what can you say to a friend you love? How can you tell him he's good? For one thing, he won't believe you. He does not believe that of himself. Since Iowa, Dixon [had] been running real fast, grabbing for the brass ring, hoping for success. He [had] acquired brass rings by the dozens but he is not aware of it. He [had] had more success in this business than any ten men I know but he doesn't believe it.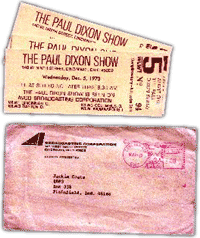 "Yes, I could have gone on and on, but he wouldn't have believed me. So pretty soon we parted. He went one way and I went another. As I watched him walk, alone, down Sixth street, headed back to the station, head down, tired, perhaps the loneliest man in the world right then, I could hear him say in my imagination, 'How did I do? How did I do?' I didn't answer you then, Paul. But I'll answer you here. "You did fine. You did just fine."
Bottom line- it was all done in the spirit of fun. That's all there was to it. God Love Ya, Paul!