by Dr. Billy Ingram / noted Cher-ologist
PART TWO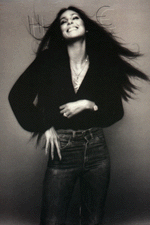 After Stars flopped, Warners backpedalled a bit. The follow-up LP, I'd Rather Believe in You (1976) had a few bright moments, but was ultimately an unsuccessful attempt to merge the new Earth-mother with her trashy past.
Gone were the lush orchestral arrangements found on Stars, replaced instead by the generic "L.A. sound" of the mid-Seventies (as typified by Linda Ronstadt and The Eagles). The majority of the songs on I'd Rather Believe in You were closer to the 'Cher as victim' tunes that worked so well for her a few years earlier, just toned down a bit.
In early 1976, Sonny Bono and Cher returned to television and to the recording studio. During the divorce, it was decided that Cher owed Sonny one more recording; she returned to the studio for one last Sonny and Cher album that was never released.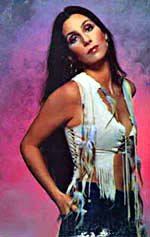 A year later The Sonny & Cher Show was ending (again) and Cher was coming off a long dry period with no hit records. She reluctantly turned again to producer Snuff Garrett in 1977 for an album of sheer tripe entitled Cherished - in my opinion, the artist's worst album to date and that's saying a lot!
On the striking cover shot by Harry Langdon, Cher was back in Native American garb (glittering beads replaced by soft leather and denim) with her ice-cream princess look intact. "I'm back, folks," she seemed to be saying, "and I haven't changed that much!"
The LP was a torturous string of silly storylines put to music - an actress who turns tricks to make ends meet ('Send the Man Right Over'), a woman in love with a pirate who's son becomes a pirate (the album's single) and other Cher-tragic tales of being an outcast, poor white-trash, half-breed; songs seemingly written for trampy fourteen year-old girls (not as big a market then as it is today).
From You Tube - amateur video to Pirate.
Every commercial consideration was made for this vinyl miscarriage - there's a song about a painted Apache and a blue eyed Cherokee, "doing what the tribal laws forbid," and a long-suffering music company secretary who sleeps with the rock stars, "but she always wakes up alone."
Amateur video to War Paint and Soft Feathers.
It's hard to pin down just who Cher is in this recording - in LA Plane she sings about, "Southern California... where I was born" - in the very next cut she's longing to be back, "in the land of cotton, there's a man waitin' there who'll never be forgotten."
'Cherished' was the first of two album releases by Cher in 1977, but with sorry tunes like these, this LP rose quickly to the top - of the discount bins.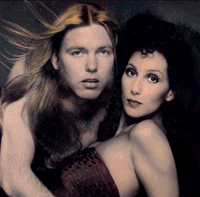 Cher married southern rocker Greg Allman in 1976 and somehow they found time in their very brief, troubled union of just a few months to record an album together. Allman and Woman, also released by Warner Bros in 1977, was produced (mostly) by Johnny Sandlin (who was responsible for many of the hits by The Allman Brothers Band) and Greg Allman.
Maybe it was the stress of working with the hackneyed, redneck flavored material - tired numbers like You've Really Got a Hold on Me and Move Me - that busted Cher and Greg up. It's telling that the best cuts on the album are the two artist's solo numbers. Cher's blues-tinged solo, Island, was arguably the best tune she'd recorded since Stars.
The timing of the release was lousy, that's for sure. Cher and Greg were on the cover of High Times magazine in 1977 billed as the 'Narc Couple of the Year' because Allman ratted out some of his best buddies and band mates to avoid going to prison on drug possession charges (and it was all Cher's fault, the story went).
Not all publicity is good publicity, Allman and Woman was D.O.A. in record stores.
BACK ON TOP
After four commercial flops, Cher's contract at Warner's was terminated in 1978. Soon after, she signed with Casablanca Records, home of disco queen Donna Summer.
Cher's first single for super-hot Casablanca in 1979 brought the top-10 smash she was looking for - Take Me Home, a pristinely produced dance tune that became her first hit single in five years, her first since leaving Sonny - and her last for nearly another decade.
Here's Cher on The Mike Douglas Show performing 'Take Me Home':

For the Take Me Home single, Cher got the full-blown mirror ball makeover and the result was spectacular even if the rest of the album was largely state of the art filler - Casablanca generally concentrated on singles and little else.
An excellently produced follow-up dance single (Hell on Wheels) was released the next year, hoping to cash in on the disco-roller skating craze that was sweeping the nation in 1979.
The second single didn't chart, but holds the distinction of being one of the first rock videos ever produced in the MTV style - years before MTV began. The video was a tough one for Cher to shoot, she was required to skate down steep, mountainous roads being chased by a semi-truck while sporting a broken arm!
As with Take Me Home, there was a super funky extended remix of Hell on Wheels released.
NEW WAVE CHER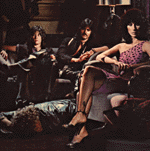 Disco was dead by 1980, Punk and New Wave music was hot. In an unexpected move, Cher joined with guitarist / boyfriend Les Dudek to form Black Rose, a straight ahead rock band that would start out playing the small clubs around LA and try to make it without trading on Cher's celebrity (at least that was the way Casablanca's publicity releases went).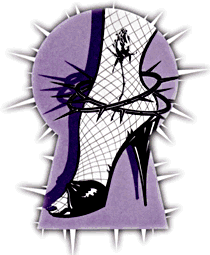 Her name never appeared on the album cover and Cher's face was only seen in a band shot on the back cover.
"We were the forerunners of a certain kind of music that's happening today and a certain kind of attitude and dress and shit like that," Cher told the press in 1980. "But the image of me in beaded gowns on the cover of the National Enquirer was very heavy to fight. People forget that there weren't bell-bottom jeans before I started wearing them."

Black Rose live.

There were some surprisingly good numbers on Black Rose, which sound as crisp today as they did in 1980. Cher's voice was at its strongest, complimented with stripped bare, guitar heavy arrangements; Black Rose was one of the most enjoyable LPs in the New Wave genre.
Here is a sample called Young and Pretty and another one of the better cuts, 88 Degrees.

Cher with Black Rose - Never Should Have Started.
The music was hardly punk and credibility was strained somewhat when Cher made appearances in Bob Mackie designed leather/safety pin outfits sporting a mohawk - still Black Rose deserves a listen.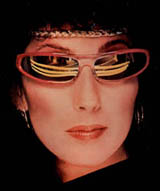 Determined to have a New Wave hit (even pal Linda Ronstadt scored one), Cher tried again in 1982 as part of her new deal with Columbia Records - this time with slicker production and more superficial material.
I Paralyze was the name of both the album and the single - and it was paralyzingly bad. There were two or three decent cuts, (like Do I Ever Cross Your Mind, written by new wave/rockabilly artist Billy Burnett), but overall this was another unfortunate pastiche of would-be singles that covered almost every pop music genre.
I Paralyze stiffed in the record stores and marked the end of Cher's recording career for a period. It was time for her to concentrate on a career as a serious actress.

Cher in 1983
In 1987, Cher (again signed to Geffen Records) teamed with Desmond Child, Michael Bolton and rockers Jon Bon Jovi and Richie Sambora to hit the popular charts again with an album simply called Cher. Geffen finally got his investment back as Cher racked up several top forty singles and sold millions of albums over the next five years.
After another lull, Cher jumped onto the techno/rave bandwagon with 'Believe' in 1999, a number-one hit in the US and the best-selling single by a solo female artist in British history. Cher had achieved number-one recordings in the Sixties, Seventies, Eighties and Nineties.
What's next for Cher? Depends on the next trend in music, I guess.
---
"Your page about Cher's lost recording is a treasure, till now I always felt I was the only person who ever bought STARS, RATHER BELIEVE and CHERISHED... But I have to disagree when you say 'Cherished' is the worst album to date, there are a few tunes there that are just as good as any vintage CHER... especially 'Dixie', the arrangements and vocals are awesome... I can understand that it might have been a let down for people to hear her go back to the catchy tunes after she had ventured into more serious music as she did in 'Stars'... but I think that she has recorded worst stuff that some of the songs in 'Cherished'...

"By the way, I find 'Bittersweet White Light' a more embarrassing album than 'Cherished' :)

"Thank you for the gift of your page..."

- Enrique

---
"Loved your overview of Cher's rich, ultra-varied recording career. I have (or had!) almost all of recordings you review and some of them have recently been re-released on CD.

"I disagree with your take on the "I Paralyze" single - it's a well-crafted, unique piece of pop with a killer bass and drums sound crafted by genius-producer John Farrar (Olivia Newton-John). It's a shame Cher never did a complete LP with him.

"You also left out Cher's only collaboration with producer Georgio Moroder, "Bad Love" from the "Foxes" soundtrack. It's an o.k. song, sort of a reworking of Donna Summer's "Hot Stuff".

"Rhino recently released another old Cher album on CD - "8367 Jackson Highway" recorded around '69 down at Muscle Schoals with Arif Mardin & Tom Dowd. Cher has long been underrated as a vocalist and it seems people are finally getting some of the stuff she did.

"Have you checked out "It's A Man's World" the album before "Believe?" Has some great stuff and she actually uses her upper range on some of it."

- tempo30