Your favorite classic television shows from the golden age of TV!
New in the TVparty TV Blog
In the NEW TVparty! Blog: In 1973 Lost In Space was re-imagined by Hanna-Barbera as an animated pilot for a possible Saturday Morning series, it was broadcast on ABC's Saturday Superstar Movie. Jonathan Harris provided the voice of Dr. Smith, the only original cast member to be involved and the only recognizable character other that the 'robon' which looks kinda-sorta similar to the Robinson's pet robot. Why adapt a much loved TV series and eliminate almost every element of the original that made it so popular in the first place?
Since 20th Century Fox and Irwin Allen owned the property they could have created likenesses of the rest of the cast without paying them (as they almost did with Uhura in the animated Star Trek) but why redesign the iconic space ship? It was a sloppy poorly produced effort that deserved to be passed over, with no redeeming qualities other than a few decent Jonathan Harris moments.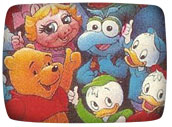 Cartoon All-Stars To The Rescue
Cartoon All-Stars to the Rescue would combine the talents of television's top animation studios, the money of the McDonald's corporation and the Academy of Television Arts and Sciences, a team of entertainment industry copyright lawyers and the technical facilities of the Disney Corporation to create a half hour that they anticipated would help effectively and entertainingly explain to children the perils of substance abuse. The project had what seemed to be a sure fire hook - a cast of nearly 20 familiar characters from Saturday morning cartoons of the late-1980s.
Read and watch more...

It's no secret that no other gambling event gets more TV coverage than World Series of Poker. Online sites like CarbonPoker.ag offers WSOP satellite tournaments that give you an entry directly into the WSOP. Learn more at CarbonPoker.ag.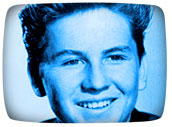 Billy Gray Interview
Billy Gray, who played teen Bud Anderson on the 1954-1960 sitcom "Father Knows Best" (FKB) told me, while discussing the DVD release of the series' fourth season, that a 1962 arrest for possessing "marijuana seed and residue" ruined his career.
Read and watch more...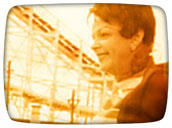 Judy Garland's Rollercoaster Ride
She was bred to be an entertainer; like Tarzan raised by the Great Apes, hers was an almost impossibly insular existence. Frances Gumm, rechristened Judy Garland, was a wholly manufactured product of a stage mother that pushed her relentlessly and a movie studio that programmed her, sheltered her from reality, then coldly spat her out into a world she knew little about.
Read and watch more...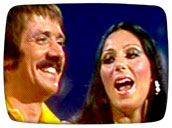 The Sonny and Cher Shows
A lot of press was generated about Cher's exposed belly-button, it had never been done on television before. "There were so many things that were censored - ideas and words," Cher said looking back on the show. "All I know is I got in trouble for showing my belly button, and every time I turned around after I went off the air, all you saw were Cheryl Ladd's boobs."
Read and watch more...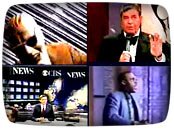 TV Terrorists
Ripped from the headlines! On Nov. 22, 1987, video hackers managed to override the Chicago PBS station's broadcast of Dr. Who and replace it with a signal beamed from their secret location. Drunk with mad power, this dastardly duo also hacked into a major Chicago commercial station that night for several moments. With one of the world's largest broadcast markets now firmly in their control, what diabolical message would they send?
Read and watch more...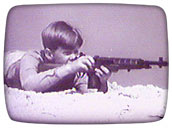 Kids With Guns!
BONUS VIDEO CLIP! A selection of classic toy gun commercials from the sixties, kicked off with a bit from Romper Room.
See it now - in Real Player Format
Classic TV Shows on DVD?
An extensive catalogue of every classic program available on DVD! See what's available today - with big discounts for you!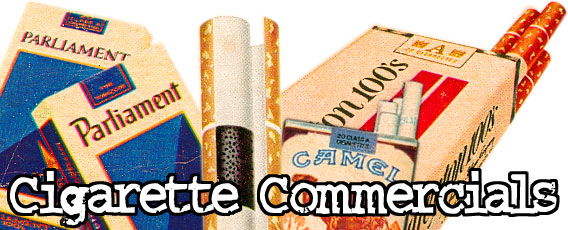 ---
---
'TVparty is hands down the
best site on the Web for classic TV.'
- Discovery Channel
| | |
| --- | --- |
| OF INTEREST TO CLASSIC TELEVISION LOVERS! | |
DON'T MISS THIS: 7 Outrageous Commercial Fails!
Book Reviews: Encyclopedia of Television / The Complete Encyclopedia of Television Programming
TV on DVD / / TV Shows on DVD Reviews
Holiday Specials on DVD / / TV Commercials on DVD
TVparty! is CLASSIC TV

Your #1 source for
Classic Shows & TV Series on DVD! In our 17th year!
NEW! TVparty Classic Television Blog!
Welcome to TVparty.com the internet's premier classic TV Web site featuring your favorite television shows from the golden age of entertainment!
---
MORE CLASSIC TELEVISION:
Gene Roddenberry
1950's TV Shows
1960's Classic Television
1970's Variety Shows
Classic Local TV Shows
Saturday Morning TV
TVparty.com can recommend all the best ways to play bingo online but why not play online bingo yourself for free or for real money on your mobile where you can avail of excellent bingo bonuses and promotions.
Our huge catalog of
Classic TV Shows on DVD
Now you can own your favorite classic television programs!
---
Classic TV on DVD!
- I'm Dickens He's Fenster
- Designing Women Season 5

---
TV's Greatest Games! Remember the game show boom of the 1970s? We have all your favorite shows!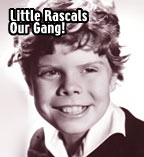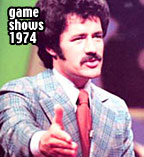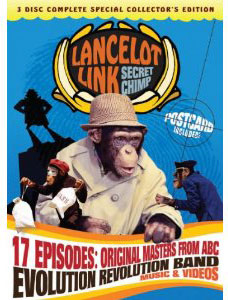 TV Shows on Blu-Ray
TV never looked so great!
DVD - Thriller: The Complete Series
DVD - Lost - The Complete Collection
DVD - Phil Silvers Show - Season 1
Las Vegas & TV greats
Wayland Flowers & Madame
---
TV Blog: Will Ferrell Old Milwaukee Beer Commercials / Classic TV Promos / Ed Wynn / Silent Star Marion Mack / Rudy Ray Moore / Natalie Wood Mystery / What I'm Watching / Auditioning For Game Shows / Louie / George Reeves Suicide / Dark Shadows / Tommy Bond / Discovered George Carlin Routine / John Wayne Loves America / Kenneth Williams / Filthy Rich /2 Questions with Kathy Bates / Sonny & Cher Outakes / My Mother the Car / 1973 CBS Fall Shows /1970's TV Game Show Fails / Vivian Vance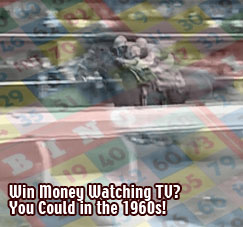 TVparty! Advertising
Privacy Policy
---
- Voyage to the
Bottom of the Sea
- Leave it to Beaver: The Complete Series
---
---
---
OTHER TV ODDITIES
Saturday Morning Serials
1970s TV Shows
Gene Roddenberry
After Star Trek
Camp Runamuck
---
Movies on DVD &
Blu-Ray Reviews
---
COMIC BOOKS ON TV
---
FEATURED CLASSIC
TV SHOWS:
Chuck McCann
Shenanigans
The Lucy Show
Andy Griffith Show
Richard Pryor Show
The Gong Show
---
"A twisted walk
down memory lane!"
- Sharon Edry, TV Guide
"Top Five Sites! Interviews and articles... are must reads."
- London Sunday Times
"It's too good to be true. Put together by Billy Ingram, TVparty.com has gossip, scandal, sex, singing, dancing, action, drama and celebrities with their 'original parts.''
- LA Times
"An ingenious tribute that elevates the TV past to artlike proportions. Site guru Billy Ingram has compiled features both over-the-top and museum worthy, blissful nostalgia for those born in the '40s or the '80s." A+
- Entertainment Weekly
"Get the inside scoop on all your favorite classic TV shows at TVParty."
- USA Today