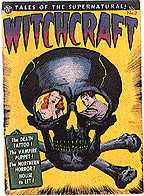 In the early 1950's, a Senate committee was convened to look into the possibility that the comic book industry could be corrupting the minds of the young people of the nation. Some senators and psychiatrists argued that the lurid content of the comic books of the day was directly linked to the supposed rash of juvenile delinquency among teenagers.
The usual witchunt ensued when elected officials started getting media attention, the magazine distributors started getting nervous and parents stopped buying comics for their children. All of the major comic book publishers (except E.C. Comics) got together and formed the Comics Code Authority to specifically regulate what can and can't appear in their comic books, and this action took some of the heat off of the industry.
The code was full of restrictions designed to make comics wholesome for kids again. Some sample guidelines: 'Policemen, judges, government officials, and respected institutions shall not be presented in such a way as to create disrespect for established authority.' and 'No comics magazine shall use the word horror or terror in it's title.'
The longest passage in the comic's code governs the depiction of drug use, since comic books were presented to the Senate committee that contained scenes of people shooting up drugs and hypodermic needles going into people's eyes, stuff like that. Comics that passed the code carried a stamp of approval printed in the upper right hand corner, a symbol that you still see on comic books today.
Here are some comic book covers that were published in the late forties and early fifties, before the inception of the Comic's Code.