Rare Reed Crandall
by John Hitchcock
Reed Crandall started in comics in 1940 on Hit Comics no. 10. He quickly became one of the all time great artists of the comic book industry, creating beautifully detailed illustrated stories until the 1970s. Crandall is the anatomy guy that others will swipe from forever. Reed Crandall inks with fearless line work and thatching that can be traced back to Franklin Boothe and Charles Dana Gibson. Here are some tough books to find that contain superb artwork from this genuine genius.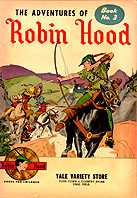 Adventures of Robin Hood 1-4
Store Giveaway / Date unknown
These books were given away by the Robin Hood shoe store chain to its customers. Crandall is inked by someone named Ray Milner and he does an good job, but an artist of this calibre should always pencil and ink his own work. They layouts are dynamic throughout and the book is filled with grand images of jousts and knights on steeds, a Crandall specialty.

The cover shown here is to issue number 3,
check out the cool shoe store ad
on the back cover below!