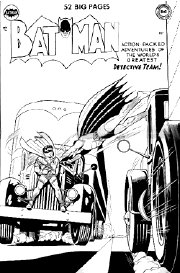 Batman Comics &copy DC Comics 1950's
Comic Book Covers that were never used
This completed cover drawn by Dick Sprang was rejected for whatever reasons in the Fifties. Sprang was THE Batman artist of the Fifties, especially good with ugly aliens and Two Face.
Blue Beetle no. 6 &copyCharlton Comics jan 1967
The entire issue was ready for press, but the book was cancelled with issue no. 5. Great Ditko cover, story and art, if you're one of the lucky ones to have seen it, it was printed in a fanzine called Charlton Bullseye..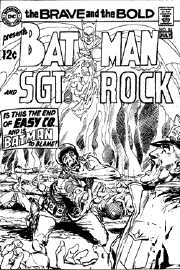 Brave and Bold no. 75 &copyDC Comics june 1968
This great Neal Adams cover almost made it to press, but it was decided Batman wasn't prominent enough, so a new illustration was ordered and used. This was part of a great year long run of Brave and Bold that featured strong stories by Bob Haney and art by Neal Adams, who was then relatively new to the field and would, over time, change the look of comic books forever.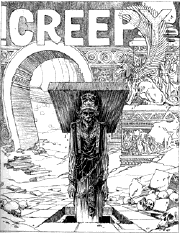 Creepy Magazine &copyWarren Publications
Roy Krenkel submitted this sketch for a possible Creepy magazine cover. Krenkel was a master fantasy Illustrator and he created some beautiful covers for Warren, in addition to illustrating Ace paperbacks' Edgar Rice Burroughs series of the sixties.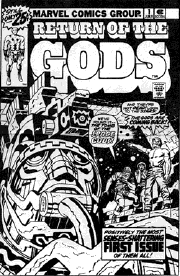 Return of the Gods no.1 &copyMarvel Comics
Marvel had to change the title of this book created by Jack Kirby to 'The Eternals' to avoid confusion with DC's revival of Kirby's 'New Gods'. Which they decided to revive after New Gods' creator Kirby left DC to go back to Marvel. The same cover Illustration shown here (penciled by creator Jack Kirby) was used on the re-titled book.
Mister Miracle no.7 &copyDC Comics
Rejected cover for Mister Miracle no. 7, again by the master Jack Kirby. It seems that a lot of the covers that Kirby submitted to DC during his tenure were rejected by the publisher.