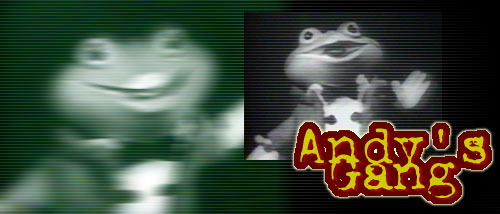 PLUNK YOUR MAGIC TWANGER!
by Billy Ingram and the TVparty faithful
"Can't remember much about Andy's Gang, except that it could be melodramatic at times. It was on in the Seattle area around 1956. Andy Devine was always pitching Buster Brown shoes, and Kellogg's Sugar Pops ("Sugar Pops are tops!").
"There was a character that hung out in a clock called Mr. Froggy, the Magic Gremlin, and they used to say to him - "Plunk your Magic Twanger, Froggy". There was something about the character that bothered me, and I can recall having some "weird" dreams because of this. Or did I just dream the whole thing?"
- Tom Johnson
"I dearly remember what must have been the lowest budget network kid show, Andy's Gang! Yep, that's Andy Devine, doing his endearing, big-hearted best with a bleacher full of kids, a table, some smoke bombs, hand puppets, and live animals dressed up and jerked around with wires!
"Maybe somewhere there are some kinescopes?! How I would love to hear Andy call out, "Froggy, plunk your Magic Twanger!" (that he said that with a straight face shows what a professional he was!). How I would thrill to see Midnight the cat and Squeeky the mouse dressed up as Gypsy violinist and dancer, meowing and squeaking plaintively as obvious strings jerk them around spasmodically! They don't make TV like that anymore.
"Even some history would be interesting. How did Andy get stuck doing the show? How many Squeekys did they run through? DID Andy keep a straight face? Does anyone but me remember this? Was it as bizarre as I remember? Did it really exist? After all, I was really young when I saw it. And then I did the '60s, and well, you know... And NO ONE I have ever mentioned it to remembers it! Thanx!"
- Jerry
To tell the story of 'Andy's Gang', we have to start with The Buster Brown TV Show with Smilin' Ed McConnell and his Buster Brown Gang (later the title was mercifully shortened to 'Smilin' Ed McConnell and his Gang').
This NBC Saturday evening children's series was sponsored by Buster Brown shoes starting in 1950, and was basically a TV version of McConnell's popular and long-running radio program (1944-1952).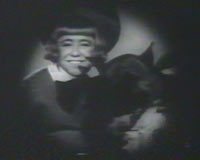 The backdrop was a clubhouse, with kids in the studio audience. Produced on a very small budget, the show was a success - bringing the Buster Brown advertising characters to life and helping to sell millions of shoes based on icons that had existed for decades. It was also one of the first kid shows filmed in Hollywood.
The folksy broadcast was hosted by old-timer Smilin' Ed McConnell; music and stories from Smilin' Ed's Storybook were regular features. The show also featured "Gunga, the East India Boy," a serial set in India. Led by The Maharajah, Gunga Ram and his pal Rama set out on great adventures around the village of Bakore in filmed segments.
The most popular segment was the visit from Froggy the Gremlin who would appear when Smilin' Ed yelled his famous catch-phrase, "Plunk your Magic Twanger, Froggy!" Don't ask me what a 'Magic Twanger' was!
STORY CONTINUES - AFTER THIS AD FOR VIDEO DOWNLOADS:
---
---
The Smilin' Ed Show was moved to Saturday mornings in 1951, where it ran on CBS and ABC (as 'Smilin' Ed's Gang') until 1954 when the Ed McConnell died suddenly of a heart attack.
Andy Devine was well-known to TV audiences as the raspy-voiced sidekick in a torrent of western movies from the forties. These films made up the bulk of local programming in the early days of television. Devine was also seen as 'Jingles' on the syndicated TV series, The Adventures of Wild Bill Hickock.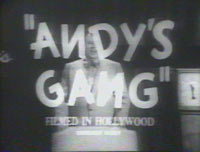 Devine was brought on as McConnell's replacement in 1955 and the show ran for several more years as 'Andy's Gang' on the New York City NBC affiliate.
In addition to Froggy and Gunga, the show featured two other holdovers from the Smilin' Ed days - Midnight the Cat and Squeaky the Mouse.
"I remember that these were real animals and they were often posed in some artificial manner," one TVparty viewer remembers. "The cat could talk. If asked how she liked something she would say 'Nice' in a sort of meow voice.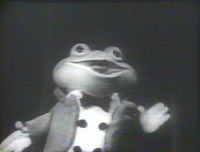 "Froggy the Gremlin lived in a clock. He would always be up to something and the kids would sometimes see what it was and try to alert the host to no avail. As for Gunga Din, his main exploit seemed to be crawling about beneath herds of elephants and putting chains on their legs to prevent stampedes."
TVparty-er Jeff tells us, "I am looking for a newspaper editorial - it could've also been in a magazine - written about the kid's TV show Andy's Gang in which the writer blames Froggy for causing the protest movement of the '60s. He claimed Froggy's disrespectful behavior towards adults, which he demonstrated on every show, influenced the kids who were watching him and those kids grew up to become the protesting college students of the sixties who likewise showed disrespect towards their elders."
Robbins Mitchell adds, "Actually his full name was 'Froggy the Gremlin,' he truly was prompting Andy to have to correct his outlandish behavior from time to time... to which he invariably replied in all insincerity, "I'll be good, I will, I will, I will." Then lying in wait to toss his next verbal hand grenade into the mix... usually as events turned more and more ridiculous with the guest 'expert,' and tension and irritation mounted, the audience of kids would also grow more and more agitated, howling with delight, until finally froggy would begin suddenly vibrating furiously left to right and suddenly disappearing with a loud bang and a huge puff of smoke, returning to whatever nether realm he inhabited only to return the following week to stir up yet more mayhem. Undoubtedly the most outrageous side character ever to appear on any kids' TV show, Froggy the Gremlin pushed the envelope in a way not seen again until Soupy Sales a few years later."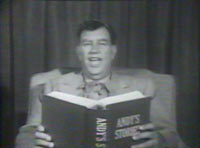 'Andy's Gang' ran until 1960, with a brief network run during the 1957-58 season. That's when most kids watched the series. A new feature that year was Uncle fishface and his dog Puddles.
Andy Devine turned up as a regular on Flipper during the 1964-65 season, and as a guest on dozens of sitcoms and western series over the years. In 1969 and 1970, he costarred in two popular TV-movies as one of the 'Over-The-Hill Gang'; one of his last guest appearances was on an episode of Alias Smith and Jones in 1972. Andy Devine died in 1977.
:VIDEO CLIPS:
Andy Devine calls out Froggy
with "Plunk your Magic Twanger, Froggy!"
Andy reads a story from
one of the later episodes
---
"I didn't see where anyone mentioned Froggy's line when he materialized from the puff of smoke: "Hiya kids, Hiya, Hiya!". (This was delivered in a low raspy voice.)
"Froggy was the original agent provocateur who would thoroughly confuse and befuddle the "experts" who were supposed to teach us how to do something. If the chef was to bake a cake, Froggy would start out with helpful suggestions which the chef would follow. Finally Froggy would turn mean and have tell the chef to dump the batter on his head. The chef would proceed to do this and then turn on Froggy who would disappear.
"It's a considerable stretch to correlate the behavior of the first Baby Boom Wave and our opposition to the War in Vietnam as one letter suggests, but if it were true, I believe Froggy would be proud."
- Al Evans
---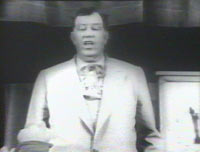 "Thank you, thank you for proving that I'm NOT nuts! I've been telling my husband and kids for years about this "horror" called "Froggy". My husband, who has a superb memory of everything TV, couldn't recall the show when he was a kid so he thought I was making it up or was having some sort of weird 50's hallucination. My kids just thought it was too bizarre to be real!
"Yes! It was as weird as we all imagined. The "Froggy" voice has been the subject of my kiddie nightmares. It was an absolutely frightening and disconcerting show for children to watch....Interesting that no one seems to remember it well, unlike the fact that I have vivid memories of Ding Dong School, Lone Ranger or Rin Tin Tin, among others.
"Was it an early attempt at brainwashing....was it a cult....all I know is that it was so weird and frightening to me that I must have blocked it out. Glad to hear I wasn't alone.
"And for that matter, what is a "Magic Twanger" anyway? Sounds obscene to me!"
- C Martin
---
"Vito Scotti who played Rama, one of the two boys in the "Gunga" segments, went on to play numerous comic immigrants, usually of Italian or Hispanic origin. I remember him best as the police captain in The Flying Nun. He was a true talent and appeared in literally dozens of TV comedy programs, as well as a few dramas, in the Fifties and Sixties."
"Alan Reed, aka The Poet, went on to provide Hanna-Barbera with the voice of Fred Flintstone. June Foray ("Midnight, the cat") was perhaps the busiest female voice in cartoon history, equaled only by Mel Blanc in her versatility. TV viewers may remember her as the voice of both Rocky J. Squirrel and Natasha Fatale in the Bullwinkle Show. I remember her too as the voice of "Granny" who protected "Tweety Bird" from the misguided machinations of Sylvester the Cat. ("Thufferin' Thuccotash!")."
"Andy's Gang was a great children's program from an innocent time that some of us will remember fondly for the rest of our lives."
- Bob Dumont
---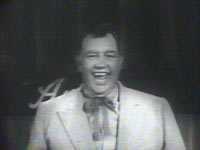 "There I was walking down the isle of an antique mall when I passed a creature that lured me back to the locked display case. I gazed into the case and almost hidden in the corner was "froggy". It must have been a subliminal message sent out by the frog who only can be remembered by someone who's birthday is in the 40s. I walked away saying 'Plunk that Magic Twanger, Froggy'... and the next thing that occurred was suppressed memories poured out of being captivated by the old frog with Andy Devine.

"I walked away a mature man not letting that frog lure me back. I checked out the rest of the displays and was drawn back to Mr. Froggy's temporary home. No way was that frog going to tell me what to do and being an empty nester, had no intentions what so ever to take the responsibility of bringing home another pet. I survived the United States Marine Corps, Thirty years as a police detective, and no friggen way was this frog coming back into my life...........I am now the proud owner of a rubber froggy who by the way is looking over my shoulder as I write this confession....."

- Ed Duvall