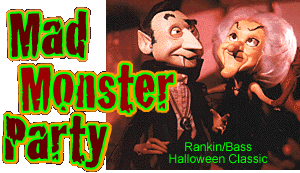 Rapidly growing in Ghoulish popularity!
by Rick Goldschmidt
(Written in 2001)
What is Mad Monster Party you ask?
It is the most popular animated Monster project in the entertainment world. Mad Monster Party was a feature film Produced by Arthur Rankin, Jr. and Jules Bass and released in 1967 theatrically. It included all of the classic monsters such as, Dracula, Werewolf, Dracula, Frankenstein ('Fang'), The Creature of The Black Lagoon, The Hunchback, Dr. Jekyll & Mr. Hyde, IT (King Kong) and many more.
What other monster animation project could say it had 'THE' Boris Karloff as the star?! His appearance validates this film as a true monster classic. I can only think of one other film that is as much fun to watch at Halloween and that is ABBOTT & COSTELLO MEET FRANKENSTEIN. Phyllis Diller also brings her RARE comedy talent to this project and is captured perfectly by the 'ANIMAGIC' technicians. This is one of her very favorite projects as well.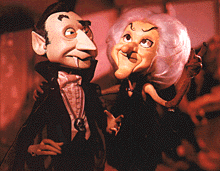 Why are we talking about a feature film on TVPARTY.com? Because, it gained it's popularity primarily on television. After it's limited feature release, thanks to the film's associate producer Joseph E. Levine, Mad Monster Party was picked up by local television stations. It aired regularly during the early seventies, usually on weekend Movie matinees.
After writing my book THE ENCHANTED WORLD OF RANKIN/BASS (Tiger Mountain Press), I have had many people tell me that they remember seeing that film on TV as a child BUT couldn't remember the name. Some fans even thought they might have mixed the shows premise up with something else or imagined it.
The problem with Mad Monster Party was it was unduly neglected for years. It's full potential was never entirely explored until only recently. The HUGE success of Tim Burton's NIGHTMARE BEFORE CHRISTMAS was reason enough to focus attention on the original stop-motion animated classic.
EMBASSY Pictures had a very poor video copy on the video shelves for years. It was a very washed out, dirty print that didn't portray the film in the best light. The film all but disappeared from the television airwaves as well, with the exception of a RARE airing on cable's TNT.
The recent RANKIN/BASS resurgence of popularity has changed all that. The film is once again available on home video in a beautifully re-mastered print from DELUXO/BLACK BEAR PRESS. This is perhaps the BEST video release of a RANKIN/BASS production to date and it is the only one that actually has the RANKIN/BASS name and logo on the front of the box!
The Mad Monster Party Soundtrack CD has also finally been released by PERCEPTO/RETROGRADE RECORDS. This soundtrack was never issued and was the most highly sought after soundtrack in the R/B catalog. The quality is Excellent and I have never seen a better packaging on a CD release of this kind before or after. Jules Bass and Maury Laws did some unbelievable "Jazzy" things with this score and the world of animation has never heard a score like this since.
If I sound like I am excited by the things that have been happening with this film as of late....I am!
Next to RUDOLPH THE RED-NOSED REINDEER, this is my all time favorite R/B project.
This film has a lot going for it:
1. Boris Karloff
2. Phyllis Diller
3. an Excellent score
4. Jack Davis (MAD, TIME, EC illustrator, etc.) character designs
5. 'Animagic'
6. The RANKIN/BASS creation of Francesca (voiced by Gale Garnett) RANKIN/BASS' version of Jessica Rabbit 20 years before
7. The voice talent of Allen Swift
8. The wonderful direction of Jules Bass
9. the wonderful writing of Len Korobkin (assisted by MAD's Harvey Kurtzman)
10. Wonderful Poster art by Frank Frazetta. A full color painting by Frazetta will be appearing for the first time in the upcoming book LEGENDS by Arnie & Cathy Fenner!
11. Storyboards by Don Duga
2. Overall supervision by Arthur Rankin, Jr.! and this list goes on and on!!!!!
If you don't believe me... take a look at the re-stored film this Halloween and make your own decision. True, there are a few slow scenes inserted in the film by Joseph E. Levine to pad it for the theaters but overall you can't dispute the quality of this wonderful family film! This is a great way to introduce children to the wonderful world of classic monsters and if the networks were smart, they would get this running every Halloween.
Since becoming the RANKIN/BASS historian, I can't think of a single project that RANKIN/BASS has done with so much untapped potential. Anyone who has ever seen it, includes it in their most treasured memories of RANKIN/BASS productions. Unlicensed garage model kits are coming out by the cartloads and there is always interest in this property. There was even a comic book series in the nineties!
Mad Monster Party deserves a more prominent spot in the entertainment world and it is well on the way to getting there!
Rick Goldschmidt
Author of THE ENCHANTED WORLD OF RANKIN/BASS
www.rankinbass.com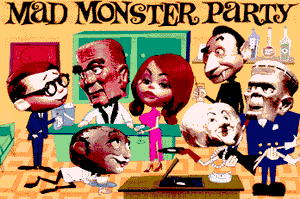 (You can order this poster from the Rankin/Bass Website)
---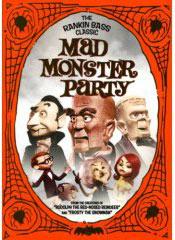 UPDATE: The long-awaited MAD MONSTER PARTY DVD is here!
It features a gorgeous 35mm print of the film.
DVD Features:
Available Audio Tracks: English (Dolby Digital 2.0 Mono)
Production Art Gallery
Theatrical trailer
Poster and still gallery