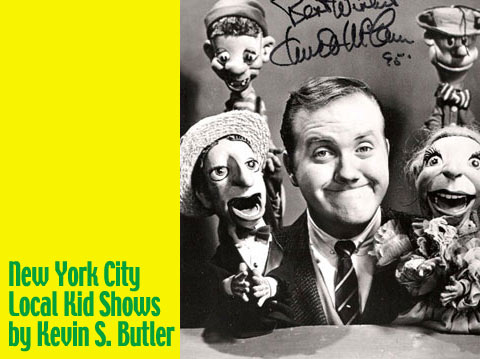 Chuck McCann / Career Overview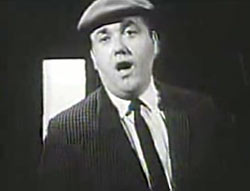 On Sunday afternoon, April 8, 2018 clown/mimic/pantomimist/puppeteer/voice over performer/former NYC based kid's TV host/performer and co-founder of "The Sons Of The Desert" (The Laurel & Hardy Film Appreciation Society) Chuck McCann died in a Southern California hospital. He was 83, having lost his battle with heart disease.
Born into a show biz family in Brooklyn, New York on September 2, 1934, he began his career as a kid actor in local radio programs. He also watched the films and stage shows at the Roxy movie theater in Times Square where Chuck's father Val McCann worked with the Paul Ash Orchestra providing musical accompaniment for live acts appearing between the films.
Chuck would go home after the show and recreate the performances he saw. He later worked with actor/playwright and film & TV historian Ronn Lackman in recorded recreations of popular radio shows for NYC high schools. In his teens and into his young adult years, he performed at many nightclubs in NYC, in New Jersey and on Long Island.
Chuck with take a brief hiatus from the clubs to study with The Pasadena Playhouse where he took lessons in stage and theater craft, playwriting and he performed in some of the Playhouse's productions including a memorable turn as Sir Toby Blech in "Twelfth Night".
He returned to NYC where he performed in the clubs he also found the time to make guest appearances on many TV variety shows. But he soon became involved with an aspect of the arts for which he is best remembered.
Chuck was invited to work with puppeteer Skip Boylan on the pilot for a kids TV puppet show "Hop, Skip & Jump" (the show's plot centered on the misadventures of a frog, flea and a grasshopper). The show never made it to the air but his desire to work with puppets soon came to the attention of singer Jimmy Borell and puppeteer and puppet-maker Paul Ashley.
Ashley was working with Steve Carlin on a new kids puppet show for the NBC TV network, "Rootie Kazootie". In 1950, Ashley needed an assistant to work his puppets. Paul gave the young fellow an audition and when he saw that he had a natural gift for voices and for working with puppets he was hired.
"Rootie Kazootie" became a popular series on NBC's weekday evening and Saturday morning schedule. The show later moved to ABC TV where it continued to entertain viewers and studio audiences until it was cancelled in May of 1954.
Following the cancellation of "Rootie Kazootie" Chuck and Paul utilized their puppetry talents on the very first broadcast of "Wonderama" on WABD TV Ch.5 in NYC on Sunday afternoon, September 25,1955.
The pair created and presented a tv puppet version of The Gilbert & Sullivan comic opera "H.M.S.Pinafore" the performance was so successful that they did an encore telecast on WABD TV Ch. 5 the following April, 1956.
They used their puppets on a daily show "Uncle Paul's Lunchtime" (seen on WABD TV during the summer of 1956), on NBC TV's late night news magazine "Tonight: America After Dark", on Johnny Andrews three NYC based kid's TV shows: "Family", "Sunday Schedule" on WRCA 4; "The Johnny Andrews Show" on WOR TV 9; and on the Pinky Lee NBC version of Art Clokey, Muir and Nicholson's "Gumby Show".
It was during the late 1950's that Chuck McCann finally got a chance to appear on camera as a host/performer when another famous NYC kid's TV legend Sandy Becker asked him to sub for Becker's weekday morning show. Becker was leaving for a vacation in Brazil and he needed someone to emcee the show while he was away. On a Friday evening Sandy asked Chuck to host his show that coming Monday. Chuck was hesitant but accepted; so on Monday morning he began hosting the show for the next two weeks.
With the success of his guest hosting stint on "The Sandy Becker Morning Show" McCann was invited to do appearances on "The Peter Linn Hayes Show" on ABC and Bob Keeshan's pioneering education children's program "Captain Kangaroo" on CBS in 1959.
In the late fall of 1959, Chuck began emceeing his own saturday morning kid's comedy show "The Puppet Hotel" on WNTA TV 13 in the Newark, N.J./NYC viewing area. Set against the backdrop of a hotel, he served as the 'assistant manager' who tried to surpress the antics of the inn's zany staff and eccentric residents. That show lasted until 1960 but his next series became his most popular when the heads of WPIX TV 11 invited him to host a daily cartoon show.
Chuck balked at the idea of hosting a cartoon show. He knew that the station had been screening Laurel & Hardy films but they were poorly edited and usually shown during rainouts of the station's telecasts of the New York Yankees' baseball games.
Chuck suggested that he host a show where he could use the L&H puppets that he and Paul Ashley created in serialized wraparound to introduce the films on a daily basis. The station execs liked the idea so, on Wednesday afternoon September 7,1960, "Laurel & Hardy & Chuck" debuted to the delight of NYC's young viewers. The show became a hit and Chuck was invited to host a Sunday morning comedy/variety program where McCann would play many live comedic characters and perform puppet skits and interview guest performers and personalities between reruns of Ch.11's popular films and TV series.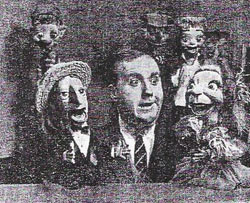 "Let's Have Fun!" premiered on Sunday, September 18, 1960 and was also a successful show. Paul Ashley helped in manipulating and voicing the puppets and portraying the many characters that appeared in the sketches. During NYC's famed newspaper strike of 1962 Chuck was asked to read the comics to the kids on camera. Seeing that this concept would not work, he created a series of skits where he portrayed live interpretations of "Little Orphan Annie", "Dick Tracy", "Dondi", "Ace Jackson"(a parody of "Smiling Jack") and "Dragon Lady's Mama". He read the comics as those popular comic strip counterparts.
In the fall of 1963, Chuck also hosted a weekday afternoon comedy/variety series "The Chuck McCann Show" where he performed more character comedy and puppet skits and interviewed guests between reruns of the "Barney Google & Snuffy Smith", "Krazy Kat" and "Beatle Bailey" cartoons and "Flash Gordon" and "Buck Rogers" movie serials.
He also hosted numerous kid's TV specials including co-hosting "The WPIX TV Christmas Parties", "The Visit To Freedomland", "The Shari-Go Round", "A Children's Halloween Party", "A Children's Halloween Party At Freedomland" and "A Saulute To Mr. Laurel & Mr. Hardy".
The beloved clown also found the time to make guest appearances on "The Clay Cole Show" and began an side career doing TV commercials and voice overs for cartoons as well as recording several comedy LP's.
Chuck & Paul continued to work at Ch.11 until the summer of 1965 when they were forced to leave the station following creative disputes with the station management. The pair returned to Ch.5 (at that time they became WNEW TV) where they hosted a Monday-Saturday version of "The Chuck McCann Show" and another series featuring his comedic character "The Great Bombo's Magic Cartoon Circus Lunchtime Show".
McCann and Ashley also did guest appearances on "Just For Fun" (Ch.5's Saturday morning kid's game show) and on Sonny Fox's version of "Wonderama!". Chuck also co-hosted a holiday special with Sandy Becker, "The Sandy Becker / Chuck McCann Thanksgiving Day Special".
They also did personal appearances at many venues: Amusement parks, schools, churches, a jewish center in Queens, NYC and at Madison Sq. Garden with "Captain Kangaroo" and many of NYC's most popular kid's TV hosts/performers as part of a charity fund raiser for emotionally disabled kids - "The Fun Rally".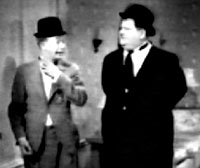 In the fall of 1966, Chuck and Paul would host their last NYC based kiddie TV show "Chuck McCann's Laurel & Hardy Show" set against the backdrop of "The Laurel & Hardy Fix It Shop". The pair tried to successfully complete their assigned tasks, engaged their viewers in a telephone quiz "Dialing For Dollars" and have visits from guests between reruns of the L&H TV cartoons (created by Hanna/Barbera, David L. Wolper and Metromedia TV, featuring the voices of Larry Harmon as Stan and Jim MacGeorge as Ollie).
The show was on the air weekday afternoons until the start of the summer of 1967. After the cancellation of their last series, Chuck went on to a solo career doing voiceovers for cartoons and commercials.
He also appeared on numerous TV shows (usually playing villains on crime dramas) and he performed in many movies (his most notable cinematic efforts were "The Heart Is A Lonely Hunter" with Alan Arkin, Ciciley Tyson and Stacy Keatch) and "The Projectionist" (with Ina Ballin, Rodney Dangerfield and Harry Hurwitz).
He attempted other network series: "Happy Days" (not the ABC sitcom but a nostalgic variety program for CBS during the summer of 1970), "Turn On" (a spinoff of sorts from NBC's "Rowan And Martin's Laugh-In" but for ABC), "Far Out Space Nuts" (for the Kroft Brothers and CBS with Bob Denver and Ms. Paddy Mallony), and "A New Kind Of Family" (with Eileen Brennan). None of these programs were successful and had brief runs.
In the 1980s, Paul Ashley and Chuck McCann were going to reunite for two new series', "Tiny TV" (a satirical puppet series aimed at adults for cable television) and "LBS Children's Theater" (a syndicated cartoon program hosted by McCann and the Paul Ashley Puppets).
A pilot for "Tiny TV" was taped but was never picked up. "LBS Children's Theater"was slated for the fall of 1983 but Paul Ashley was forced to leave the project due to failing health. Chuck hosted the show for one season.
His last regularly scheduled TV show was "Chuck McCann's Fun Stuff" seen weekday mornings in the fall of 1989 on KHJ (now KCAL TV 9) in the Southern California viewing area. He would go on to do guest appearances on many shows and TV specials and appeared at many conventions.
He also helped to co-found The Sons Of The Desert, the international Laurel & Hardy Film Appreciation Club with Dr. John McCabe, Al Kilgore, John Muncino and Orson Bean.
Chuck was present at early meetings of "The Sons" and also appeared at some of the club's conventions. He also attended meetings of SPERDVAC (an old-time radio history club), The Pacific Pioneer's Club and The Friends Of Old Time Radio Conventions.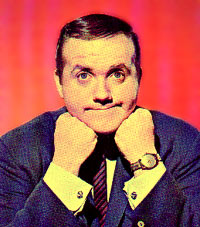 Chuck McCann was even honored - along with Sonny Fox, Soupy Sales, John Zacherle(y) and "Captain Jack" McCarthy - by The Museum Of TV & Radio (now The Paley Center For Media) in a tribute to NYC's most popular kid's TV shows called "First Kids On The Block" in the fall of 1994.
One of McCann's last's projects was writing a book, "The Let's Have Fun Scrapbook". I was lucky enough to do a two-part interview with Chuck in the late 1980s, he was gracious to share knowledge of his career on NYC kid's television with this young researcher and writer.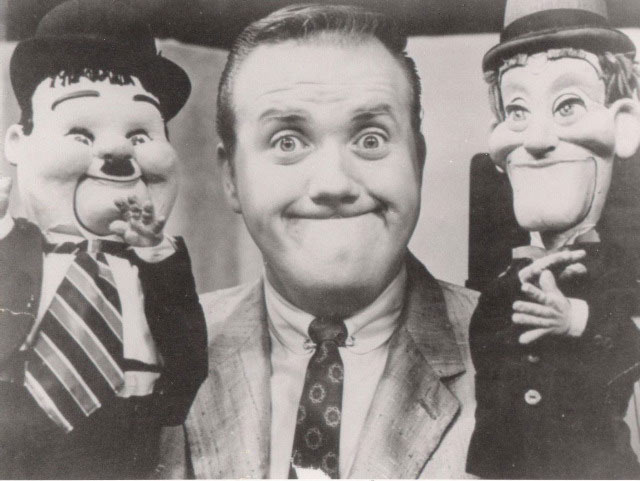 Read and listen to a conversation with Chuck McCann