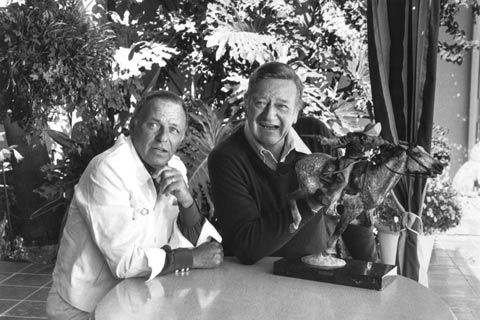 PART SIX: THE FINAL YEARS -- by Billy Ingram
JOHN WAYNE - PART 1 / 2 / 3 / 4 / 5 / 6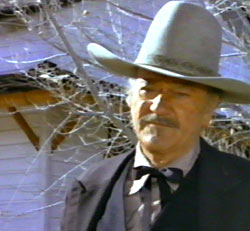 "I won't be wronged, I won't be insulted, I won't be laid a hand on. I don't do these things to other people and I require the same from them."
- John Wayne in The Shootist

In 1976, John Wayne dropped out of the box-office top ten for the first time in 25 years while at the same time generating tabloid headlines that screamed - 'John Wayne Madly In Love With His Secretary!' In fact, Wayne had spilt with his wife Pilar and was dating his much younger assistant, Pat Stacy.
His health failing, Wayne limited his TV appearances mostly to narrations and tributes like Chesty: A Tribute to a Legend, a 1976 documentary partially directed by John Ford (before he died in 1973), celebrating the life of General Lewis B. "Chesty" Puller, the most decorated man in the US Marines. He also released a patriotic recitation of The Pledge of Allegiance as a 45 single to celebrate the bicentennial.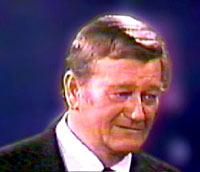 ABC mounted an All-star Tribute to John Wayne with a litany of major celebrities saluting the legendary actor. Frank Sinatra, Maureen O'Hara, Glen Campbell, Jimmy Stewart, Ron Howard, Lee Marvin, Bob Hope and others gathered at the Warner Bros Burbank studio on November sixth to hear Wayne deliver a special message to his fans - "And to all you folks out there, I want to thank you for the last fifty years of my career. And I hope I can keep at it another fifty years - or at least until I can get it right."
As for what Duke thought of all of these trophies and tributes he claimed somewhat facetiously, "You can't eat awards. Nor, more to the point, drink 'em."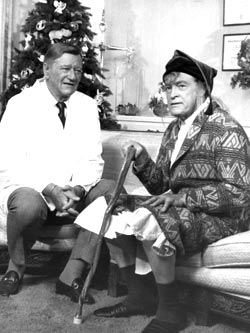 In 1976, John Wayne starred in his last motion picture. The plot closely mirrored his current situation - both he and his character in The Shootist were dying of cancer, only Wayne didn't know it yet. (Or maybe he did subconsciously - he insisted the screenwriter be more graphic about what would happen to his character when the cancer took over.)
To support The Shootist, Wayne was interviewed on Backlot USA, a 1976 summer show hosted by Dick Cavett, the Donahue show, and the film was the subject of an episode of NBC's Big Event. The movie stiffed at the box office despite glowing reviews.
More tribute show appearances followed like America Salutes Richard Rodgers: The Sound of His Music and CBS Salutes Lucy: The First 25 Years airing November 28, 1976. A few weeks later he traded jokes on Bob Hope's Comedy Christmas Special.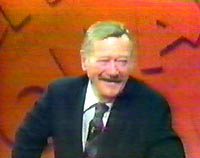 Although he actively supported Ronald Reagan's failed presidential bid in 1976, Duke paid a visit to the White House as a guest of President Jimmy Carter for his inauguration. "I'm pleased to be present and accounted for in this capital of freedom to witness history as it happens - to watch a common man accept the uncommon responsibility he won 'fair and square' by stating his case to the American people - not by bloodshed, beheadings, and riots at the palace gates. I know I'm a member of the loyal opposition - accent on the loyal. I'd have it no other way."
Putting partisan politics aside again, he adopted a controversial stance on the Panama Canal Treaty. He favored the turnover of the canal to the Panamanian people, an issue that Ronald Reagan used as a political wedge against the incumbent in his successful run for the presidency in 1979. As with Vietnam, it came down to the nation giving its word.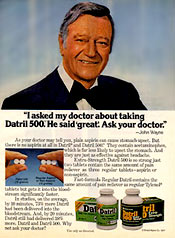 John Wayne filmed some TV commercials in the Monument Valley (site of Fort Apache and The Searchers) for a 1978 product launch - Datril 500 pain reliever. He didn't particularly enjoy the experience and offered up his own concept for a future campaign - "We'll show the meetings, the discussions with the attorneys and ad executives, all the chaos I went through. And then I'll step before the cameras and say, 'This really gives you a headache. Take Datril 500. It's strong medicine!'"
In August, 1978, Wayne rode up on horseback in full western garb to film the first of several 30-second commercials for Great Western Bank. Filmed in Grants Pass, Oregon, the spots were broadcast in the California TV market. A magnificent, full sized bronze statue of the actor still stands on Wilshire Boulevard in front of the bank's former Beverly Hills branch.
In 1978 a TV-movie, True Grit: A Further Adventure, aired with Warren Oates cast as Rooster Cogburn with Lee Meriwether (Time Tunnel) as Annie Sumner. This was a pilot for a weekly series that didn't sell, Wayne was not involved.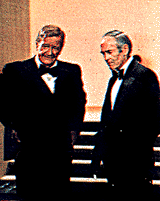 Duke delivered a testimonial for the American Film Institute Salute to Henry Fonda in 1978 then, after recovering from heart surgery, hosted General Electric's All-star Anniversary special, which featured luminaries like Jimmy Stewart, Lucille Ball, Penny Marshall and Bob Hope saluting the venerable corporation with a long history in broadcasting (GE owns NBC).
Henry Fonda also taped a segment for that special and candidly stated, "He seemed to be the same old Duke. He was thinner, which isn't bad except he hadn't got his clothes to fit his new weight yet, sort of loose at the collar. But he was in marvelous spirits."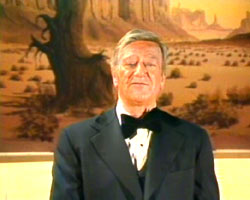 Wayne was on hand to salute another network in 1978; on ABC's Silver Anniversary program, he looked back on the alphabet net's western series from the past twenty-five years and posed for an historic picture with the lead actors from Maverick, Kung Fu, Big Valley, Cheyenne, Rin Tin Tin and other shows.
Thanks in part to thirty years of constant TV exposure, John Wayne scored number one in the 1978 Performer Q rating which measures the popularity of well-known people.
THE END
On November, 4, 1978 Wayne filmed a Perry Como Christmas Special in historic Old Williamsburg. He was experiencing severe stomach problems throughout the shoot; after the holidays, doctors discovered cancer once again. The day before he was to undergo a major operation to remove his tumor-ridden stomach, John Wayne appeared on a Barbara Walters Special on March 13, 1979.
Walters had a habit of catching major celebrities for their last interviews. Duke touched briefly on his mortality, "Listen, I spoke to the man up there on many occasions and I have what I always had; deep faith that there is a Supreme Being. There has to be, you know; it's just to me, that's just a normal thing, to have that kind of faith. The fact that He's let me stick around a little longer, certainly goes great with me, and I want to hang around as long as I'm healthy and not in anybody's way."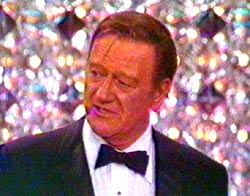 Three months after the nine-hour operation, Duke made his last public appearance on the April 9, 1979 Oscar telecast. Before announcing the Best Picture winner, Duke spoke to the assembled, "Believe me when I tell you I'm mighty pleased that I can amble down here tonight. Oscar and I have something in common. Oscar first came to the Hollywood scene in 1928. So did I. We're both a little weather beaten, but we're still here and plan to be around a whole lot longer."
With that Oscar appearance and the Barbra Walters interview (recorded before the procedure but broadcast immediately after the awards show), the viewing public could believe that John Wayne was on his way to beating the 'Big C' one more time. It was not to be. Desperately ill at the Oscar ceremony, he barely made it through the experience.
He died just weeks later, on June 11, 1979.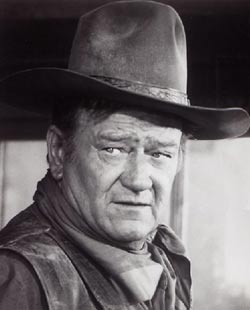 John Wayne was eulogized by President Jimmy Carter. "He was bigger than life. In an age of few heroes, he was the genuine article. But he was more than a hero. He was a symbol of so many of the qualities that made America great. The ruggedness, the tough independence, the sense of personal courage - on and off screen - reflected the best of our national character."
---
JOHN WAYNE: PART 1
JOHN WAYNE: IN THE 1960's
JOHN WAYNE: MID-SIXTIES
JOHN WAYNE: LATE-1960's
JOHN WAYNE: THE SEVENTIES
JOHN WAYNE: DEATH OF A LEGEND