Della Reese's Tough TV Career / PART TWO
PART ONE HERE
Poor Della. Five short runs in series television and lord knows how many pilots - it wasn't her fault the shows were failures, after all she had never been given her own network series, a primetime show created specifically for Della Reese that would sink or swim on its own merits.
It wasn't until 1991 that the star would get her chance, when Eddie Murphy revived the careers of Della Reese and Redd Foxx (and Richard Pryor) with his movie Harlem Nights. Murphy was so impressed after working with his childhood idols that he had a television show developed for Reese and Foxx as part of his deal with CBS.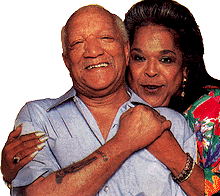 The Royal Family debuted September 18, 1991 and was a modest success, with ratings climbing each week. Della played Victoria Royal, long suffering wife of Al Royal (Redd Foxx), mother to three kids and neighbor to obnoxious Willis Tillis (Shabaka).
Things were finally going Della's way. The Royal Family wasn't great, but it was a pretty decent show, audiences enjoyed the bantering between Della and her longtime friend and costar Redd Foxx - these two old pros more than overcame the tepid material.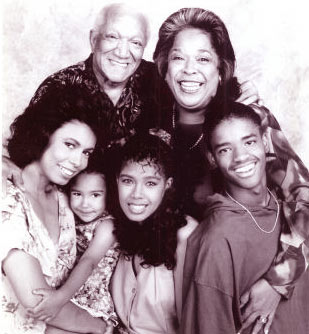 But just a month after The Royal Family debuted, Redd Foxx suffered a critical heart attack during rehearsals. At first, everyone thought it was just a joke - that he was doing his 'I'm Coming, Elizabeth' routine.
As he lay dying, it became horrifyingly clear that this was no joke. Della Reese knelt down, held Redd Foxx and prayed - begging him "Don't Die Redd, Don't Die!"
He did.

(The death of Redd Foxx on the set)
Redd's death was written into the show, while Jackee (227) joined the series as Victoria's half-sister who comes to help out after the funeral. The show lost its footing - to viewers at home it looked like Victoria Royal had been yelling at her husband for four weeks and he finally had a heart attack and died. Not very funny except to someone like myself, so CBS put the show on hiatus in November.
In April of 1992, The Royal Family returned with Jackee now re-cast as Della's over-sexed eldest daughter. The show only ran for two more months. Again Della's hope for a steady gig vanished.
Della was furious with The Royal Family producers over the way Redd Foxx and his wife were treated during that difficult time and became understandably turned off by episodic television.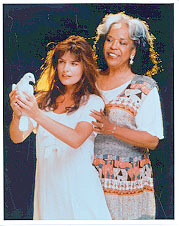 All of that changed in 1994 when she was cast in Touched by an Angel on CBS. Ratings were sluggish at first, but the show eventually became a runaway top-ten hit, guaranteed to give Della Reese the huge residuals that will take care of this hardworking veteran for the rest of her life.
As it should be!