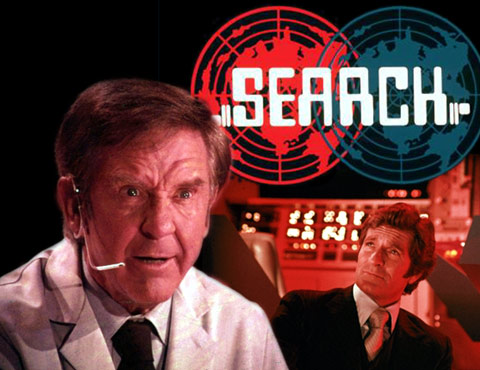 by Don Harden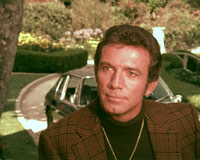 Search, which premiered Sept. 13, 1972, lasted only a single season on NBC-TV. Difficult to believe, but there was a notable lack of sci-fi on the tube and in the movies back then.
While comparing Search to shows of today is unfair, the concept still has a contemporary ring to it. Yes, the computers appear bulky and the graphics seem crude, but the technology is basically sound. Comparable to classics like Star Trek or The Wild Wild West, this series is both anachronistic and futuristic at the same time.
The series centered on three revolving characters: Hugh Lockwood (played by Hugh O'Brian, seen above right), Nick Bianco (Tony Franciosa), and C. R. Grover (Doug McClure). They were agents who worked for the Probe Division of World Securities, specializing in the search and recovery of "that which is missing."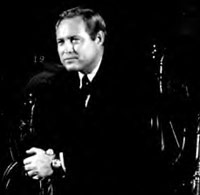 Each week, one of these Probe agents would be the star of the episode. This revolving format was successful for The Name of the Game, a previous NBC series produced by the late Leslie Stevens (seen left), the creator and producer of Search.
The Probes answered to Mr. V. C. R. Cameron (Burgess Meredith), the director of Probe Control. Each agent was electronically linked to headquarters via a sound and telemetry transmitting mini-camera or scanner, which was cleverly concealed as a medallion, ring, or tie tac.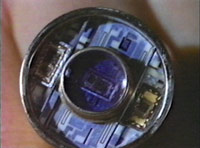 The scanner was able to retrieve signals "off presence" of the agent and give medical telemetry readings of the people our Probe agents would run into. For example, an adrenaline surge indicating a probable lie could be detected by Probe Control and then instantly relayed to the agent who was listening in via a "permanent built-in earjack."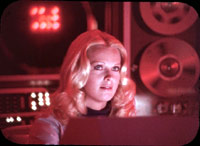 Appearing in the pilot and some early episodes was actress Angel Tompkins (seen left) as a telemetry specialist. Angel was being featured in an issue of Playboy as the pilot (called PROBE) aired.
When the series began, it was easily some 20 or 30 years ahead of its time. This was 1972 when home computers, DVDs, and cellphones were a dream of the future.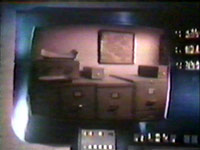 For the average 1970s viewer, the technology may have seemed a bit difficult to identify with. Not so for younger viewers seeking action-adventure with a sci-fi twist, which Search filled adequately while it lasted. This was three years after NBC cancelled the original Star Trek and a few years before the sci-fi boom of the mid-to-late 1970s.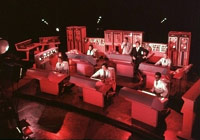 Some memorable episodes include:
"The Bullet" - Lockwood (Hugh O'Brian) is sent to an eastern European country to help a defecting scientist escape to the West. The scientist has developed a formula for toxic bullets, which could tip the balance of power against the U.S. Lockwood ironically becomes the first candidate for the antidote after being shot with the toxic bullets, and is on the run from the state police while slowly dying at the same time.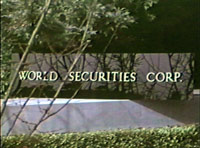 "Operation Iceman" - Bianco (Tony Franciosa) and a team of Probe agents must stop an assassin known as the Iceman from killing his next target, a US ambassador who is leading an important worldwide conference. The Iceman succeeds in outfoxing the agents at every turn and it appears more and more likely that the killer will succeed.
"Short Circuit" - Grover (Doug McClure) is called in to prevent an electronics genius from blowing up Probe Control with a high-tech bomb that wipes out all electronics within one-quarter of a mile.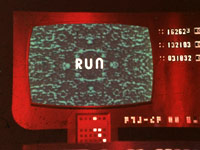 It's argued that the average person today really can't have a private life anymore because the many methods of snooping are little understood. Some might joke that US Attorney General John Ashcroft would love to have a group like Probe Control, but the potential for misuse is there and that aspect was not really explored by the producers of Search. Instead, Leslie Stevens took a more lighthearted approach to the surveillance angle, seeing technology as a positive force that could help humanity. It is interesting to note that Stevens previously produced an Outer Limits episode entitled "O.B.I.T.," which effectively explored the dark side of surveillance in a way which was never attempted by Search.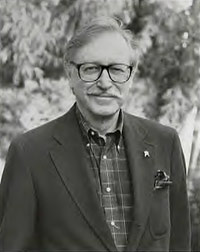 Clearly, NBC did not know how to market Search. They also failed to successfully market Star Trek a couple of seasons earlier. Search was broadcast Wednesday nights at 10:00 pm but should have run at an earlier time to attract a younger audience. After the first 15 episodes of Search were produced by Leslie Stevens and Robert H. Justman (Star Trek, seen right), the series experienced some notable changes midseason.
Leslie Stevens reportedly was compelled to leave the day-to-day production of the series after NBC discovered that he was working a deal with a competing network. Nowadays it is common for TV producers to have projects with different studios and networks, but back in the early 70's, the practice was frowned upon.
The last eight episodes were produced by story editor Anthony Spinner (The Man From UNCLE). It was at this point that certain changes were made to the Probe Control sets and in the supporting cast.

First of all, the Probe Control set changed from its wide open "dark airplane cockpit" look to a brightly lit office look with the addition of a white floor and cinder block walls. The Probe monitor screen, which previously was lit in red, was now blue instead. Next, the five Probe Control technician regulars (Angel Tompkins, et al) were reduced to two.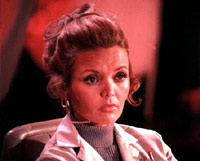 There were changes in the production crew as well. When Stevens departed, Robert Justman and Angel Tompkins also left. This meant that the new producers had to continue the series without Leslie Stevens' vision and it showed. Angel Tompkins was replaced for one episode by Deanna Lund (seen left), who previously appeared in Irwin Allen's Land of the Giants.
Angel Tompkins will be releasing an autobiographical book soon and will go into some fascinating backstage stories relating to Search, her career, and interesting life experiences. Angel continues to act in movies and TV. In 1985 she had a regular role in General Hospital, but many of her fans feel that she never quite had the career she deserved.
READ PART TWO:
What happened to the show?