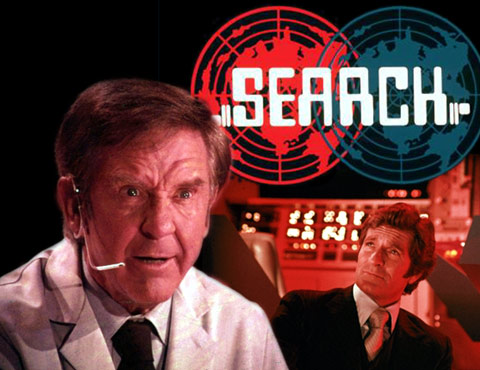 by Don Harden
PART TWO / / Part One Here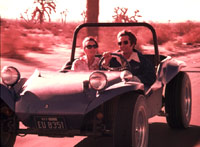 Search never received high ratings against Cannon on CBS. The new producers apparently decided to compete with Cannon by becoming more similar, instead of offering a contrast. Search became less fun, more dramatic, focusing on grittier crime stories being solved by the agent himself with less reliance on Probe Control. The ultimate effect of this made the later episodes dull by comparison to the earlier episodes.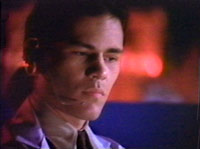 With producers of such cult favorites involved, Search should have had a wide cult following as well, and should have at least turned up in reruns. What happened? For one thing, after Search left NBC, Warner Brothers classified the series as "for export only," meaning it has only appeared overseas since 1973.
Search has aired repeatedly in countries such as Ireland, Australia, Japan, Argentina, and Costa Rica, but the only Search seen in the US since 1973 have been repeats of the two-hour pilot movie guest starring Sir John Gielgud and Elke Sommer. That pilot was made available on videocassette by Unicorn Video, but is now out of print, although tapes sometimes show up in the second hand market.
Nowadays, one season wonders like The Prisoner, The Time Tunnel, Battlestar Galactica, Kolchak-The Night Stalker, Planet of the Apes and others are worldwide cult shows. As there are only 23 episodes (plus the pilot), Search has never been given a chance in reruns.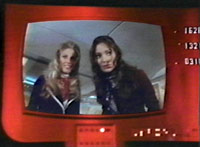 Some famous people got their start on Search. Jaclyn Smith's brief appearance as an airline stewardess in the Probe pilot was reportedly her first acting job. She only had one line, asking Hugh O'Brian and Sir John Gielgud if they preferred white wine or red.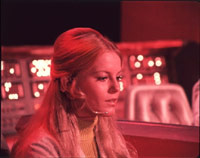 Another "Charlie's Angel" Cheryl Ladd (identified in the credits as Cheryl Stoppelmoor) appeared in about four SEARCH episodes as a Probe technician named Miss Love. She had her own computer terminal and would give reports to Probe Director Cameron whenever needed. In two of the episodes, she had a number of lines, in the other two, she is only seen. She was never like a featured guest star, only one of the background regulars.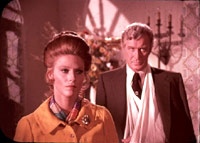 Dabney Coleman, A Martinez, Edward Mulhare, Mary Frann, James B. Sikking, Joanna Cameron, Michael Conrad, William Smith and many others made guest appearances on Search and became more famous later in their careers.
While it is a forgotten series today, those who followed it during its original run still recall it with fondness. Russ Mayberry, one of the directors of the series, once said a few years ago, "You never know where a Search fan is going to turn up."