9:00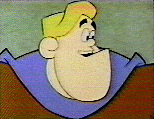 Mighty Heroes / CBS
(debut)
Ralph Bakshi ('Wizards') got his start directing this bizarre animated Terrytoons series.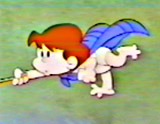 This series followed the misadventures of Diaper Man, Rope Man, Strong Man, Tornado Man and Cuckoo Man - a sort of idiotic Justice League. Ran only this one year.
9:30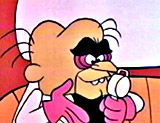 Underdog / CBS
(debut)
This cartoon ran on Saturday mornings with only one year off from 1964 - 1973. Wally Cox was the voice of Underdog, aka meek and mild Shoeshine Boy - forever saving sweet Polly Purebred from the evil grasp of Simon Bar Sinister.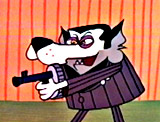 Look for UNDERDOG out now in a special DVD packages!
10:00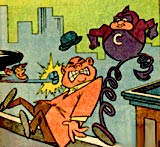 Frankenstein Jr. and The Impossibles / CBS
(debut)
Great Hanna-Barbera cartoon with character designs by master stylist Alex Toth.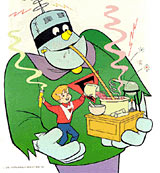 Frankenstein Jr. was a big flying robotic behemoth with a kid sidekick.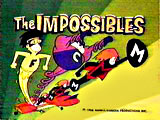 The show also featured the separate adventures of 'The Impossibles', a rock group that could turn into superhero/government agents (now that's a scary thought).
Coil-Man - Hal Smith / Fluid-Man - Paul Frees / Multi-Man - Don Messick.
10:30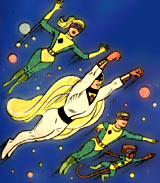 Space Ghost / CBS
(debut)
Space Ghost and his pals Jan and Jayce fight evil aliens in outer-space with the help of SG's invisibility belt and powerful energy beams from his wristbands.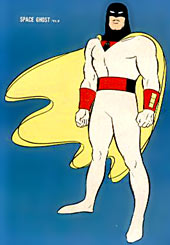 Another Alex Toth designed Hanna-Barbera cartoon. So cleverly illustrated the show shot to number-one against stiff competition - and thirty-some years later the character is even more popular than ever.

Featuring the separate adventures of Dino Boy, a boy lost in prehistoric times (all the superhero cartoon shows of the day split the bill with another feature).
Space Ghost originally ran for two seasons. In 1976, NBC re-ran this show with 'Frankenstein Jr.' but no one was particularly interested.
11:00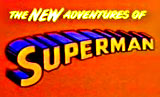 The New Adventures
of Superman / CBS
(debut)
Disappointing but popular Filmation animated series starring the Man of Steel, Lois Lane, Jimmy Olsen and Perry White. The voice of Superman was provided by Bud Collyer, Lois Lane's by Joan Alexander - they were the original voices from the long-running 1940's radio program. Narrator - Jackson Beck.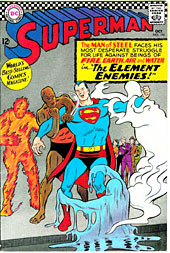 Superboy (Superman as a boy) was featured in separate adventures.The editor of the Superman line of comic books (Mort Weisinger) was story editor on this series while Superman comic book writers contributed stories.
11:30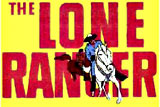 The Lone Ranger / CBS
(debut)
Even worse than Superman, but this half-hour cartoon lasted for three years.
In this low budget production with watercolor backgrounds and moody themes, The Lone Ranger battles 'Wild, Wild West' style villains like Dr. Destructo.
12:00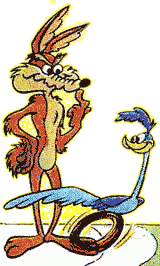 Road Runner / CBS
(debut)
Road Runner goes head to head with Bugs Bunny on ABC - but they'll be joined at the hip for most of the next two decades on CBS.
12:30
The Beagles / CBS
(debut)
Stringer and Tubby were a doggy version of the Beatles. Well, they were a duo actually.
There was a soundtrack album of catchy tunes from Columbia Records.
From the producers of 'Go-Go Gophers' and 'Underdog'. The show moved to ABC for a year of reruns in 1967.
1:00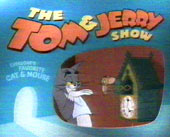 Tom and Jerry / CBS
Reruns of Tom and Jerry classics.
9:00
Local Programming / ABC
Typically shows like 'The Cisco Kid', 'Robin Hood', 'The Little Rascals' and 'Three Stooges' shorts were aired in this time slot.
---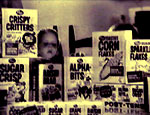 Commercial for Post Cereals promoting a contest that gave away the most popular toys of the day like Spider bikes, the cool Vvvroom motors (a noise contraption that attached to kid's bikes) and Baby First Step Dolls.
9:30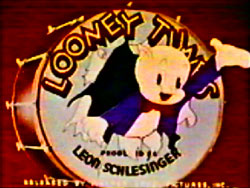 Porky Pig / ABC
Third (and last) season of this venerable cartoon character, along with other Chuck Jones favorites like Bugs, Daffy and Tweety. Bugs Bunny and the Road Runner take center stage over the next few years as protests mount from people with speech afflictions.
10:00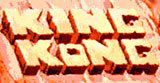 King Kong / ABC
(debut)
First of a three year run for this Japanese produced cartoon. King Kong is friendly here, helping Professor Bond and his kids Bobby and Sue Bond battle adversaries from their lair on Mondo Island.
'Tom of T.H.U.M.B' (Tiny Humans Underground Military Bureau) appeared in separate segments. Accidentally shrunk by a U.S. experiment, Tom and pilot 'Swingin' Jack' fight the evil M.A.D. (Maladjusted, Anti-social, Darn Mean) villains as the Pentagon's tiny secret weapons.
10:30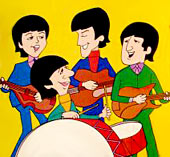 The Beatles / ABC
Second of a four-year run, brightened considerably by classic Beatles' tunes - MTV '66 with lyrics shown at the bottom of the screen. This was the year 'Help!' and 'Yesterday' hit the charts.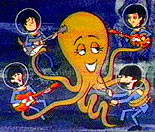 The Beatles were the first living persons to be turned into a network cartoon. Unfortunately, the animated Beatles never evolved like the band and was a total anachronism by 1969.

This was ABC's first Saturday daytime ratings winner ever in 1965 - making the network a player after many years of flops. But in 1966, the Fab Four were beat out by Space Ghost!
The show was renamed The New Beatles (despite offering only reruns) in 1967 then moved to Sunday mornings; that's where Saturday shows went to die in 1968.
11:00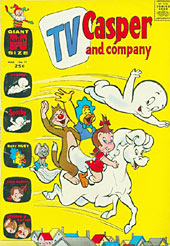 The New Casper
Cartoon Show / ABC For God's sake, how many times can a kid watch Casper walk up to some unsuspecting schmuck and say something nice and have the guy go into hysterics and run off? Several times in each segment evidently.
Based on the very entertaining, decades-spanning comic book series from Harvey Productions, 'Casper' ran on TV from 1963-1969 and featured 'Wendy, the Good Little Witch' with her spirited horse Nightmare and 'The Ghostly Trio' in separate segments.
I wonder how Casper died?
11:30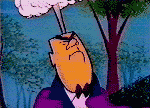 Milton the Monster / ABC
Terrific (but extremely repetitive) cartoon about Milton (the friendly monster with the Gomer Pyle disposition) and his oddball family up on Horrible Hill. At least a third of this program consisted of just the theme songs and intros between features - which were the same every week.
Created by Hal Seeger (Popeye), this was the second of a three year run. Also featured the adventures of: Fluky Luke, Fearless Fly, and others.
Dayton Allen ('Howdy Doody', 'Winky-Dink') provided all of the voices for the Fearless Fly cartoons.
12:00

Bugs Bunny / ABC
More Warner Brothers shorts featuring Bugs, Yosemite Sam, and the rest.
Bugs Bunny ran for two years in prime-time before moving to Saturday mornings for a long, long, long run.
12:30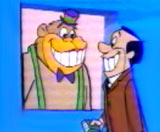 Magilla Gorilla / ABC
(debut)
Hanna-Barbera again co-mingling jungle animals and humans.
How much is that Gorilla in the window? Ask Ogee, the little girl who wants to buy him, or Mr. Pebbles, the pet shop owner who wants to sell the troublemaking Ape.
ABC bought the re-runs to this syndicated show for a one year Saturday run in 1966. Other features included 'Richochet Rabbit' and 'Mushmouse and Punkin' Puss'. Sponsored by Ideal toys.
1:00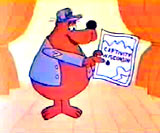 Hoppity Hooper / ABC
Cartoon adventures of a friendly frog and his friends from Foggy Bog, Wisconsin. Another Total TV quality production.
Written by Chris Jenkyns and Bill Scott.
1:30
American Bandstand / ABC

Dance program starring the world's oldest teenager, Dick Clark.
9:00


Super 6 / NBC
(debut)
Ran for three years; the adventures of six super-powered do-gooders available for hire from Super Service, Inc.
"The 'superheroes for hire' were Magneto Man, Granite Man, Elevator Man, Super Scuba and Captain Zammo. In addition to the separate "Super Bwoing" episodes, there was another segment, "The Brothers Matzoriley", which followed comic adventures of a three-headed set of siblings (one tough guy, one coward, one Chinese stereotype) all sharing one body, one set of arms and legs.
"This show had a killer theme song by Gary Lewis and the Playboys of 'This Diamond Ring' fame."
- David Johnson
9:30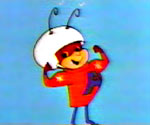 Atom Ant / NBC

"Up and at 'em Atom Ant". Second year of Hanna-Barbera silliness with a (you guessed it) super-powered ant that wore a funny helmet and had a secret identity.
Originally starred the voice of Howard Morris (Ernest T. Bass) as Atom Ant. The H/B studio dominated the Saturday morning schedule during the late-Sixties.
Also seen: The Hillbilly Bears, Precious Pupp, a dog with a raspy laugh just like Mutley, and Granny Sweet, a motorcycle riding grandma.
10:00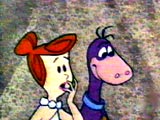 Flintstones / NBC
(debut)
This classic ABC prime-time animated series went off the air in 1966 and moved to Saturday mornings on NBC for three years of reruns.
'The Flintstones' was kind of like 'King of the Hill' only in prehistoric times, you've probably never seen it.
10:30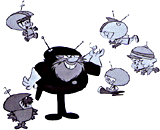 Space Kidettes /NBC
(debut)
Children in Outer Hanna-Barbera Space.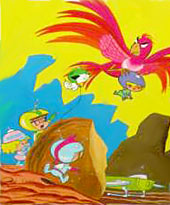 Scooter, Jenny, Snoopy and Countdown are the Kidettes, along with their dog Pupstar, frolic in space battling the evil Captain Skyhooks,

who also narrated the adventures.
Lasted only one season. Voices by H-B regulars Janet Waldo, Don Messick and Daws Butler.
11:00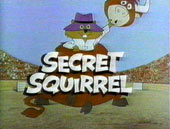 Secret Squirrel /NBC
Second year for the secret agent squirrel loaded down with James Bondian gadgets, trenchcoat and a black mask. Secret's sidekick was Morocco Mole and his boss was Double Q.
In 1965, an hour-long prime-time special entitled "The Secret World of Secret Squirrel and Atom Ant' introduced the characters.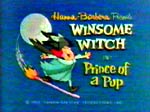 The series featured separate segments with 'Winsome Witch' ("Have Broom, Will Travel") and 'Sqiddly Diddle', aa octopus attraction at the Bubbleland theme park that wanted to be a movie star more than anything. Entertaining Hanna-Barbera mush.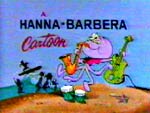 11:30
Jetsons / NBC

Saturday morning without the Jetsons?!?!
Series originally ran for one year in prime time, but was rerun for over a decade on Saturday mornings.
12:00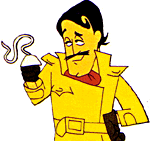 Cool McCool / NBC
(debut)
Private Eye with an animated attitude and a boss named Number One. Starts a three year run in 1966. "Cool McCool was cool, Cool".
Also on board - McCool's Dad 'Harry McCool', an uncool policeman. Created by Batman creator Bob Kane, for whom lightning didn't strike twice.
12:30
LOCAL / NBC
Local Programming.
1966
COMMERCIALS: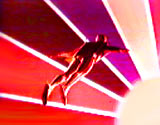 A commercial for Beechnut Sour Stripe Gum that used the super-hero motif that was so popular in '66.
Mattel marketed a thing called Creepy Crawlers in 1966. You can still buy the units today, but I'll bet they are a lot safer now!
Got burned in the hot summer sun? Try Solarcaine topical pain-killing spray.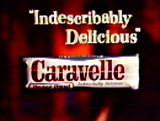 Caravelle was first in a wave of candy bars with more than two ingredients.
Commercials from
Saturday mornings in 1966:

Amazon Prime - unlimited streaming
of your fave TV shows and movies!
Get your FREE 30 Day Trial!
PR4 & PR5 Pages for Advertising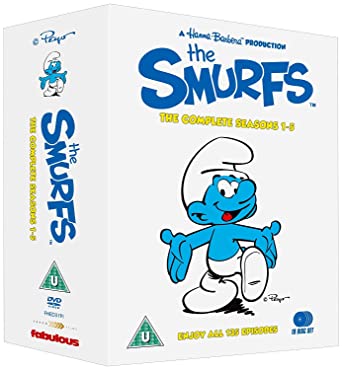 Dateline NBC : The Brutal Murder of
Ed LeBrun, The East Coast Rave King
Saturday Mornings 1966
Superheros and comic characters spring to animated life.

Saturday Mornings 1967
More flying guys in tights to capitalize on the popularity of Batman in primetime.

Saturday Mornings 1968
The Archies was the top cartoon of the day.

Saturday Mornings 1969
Chase cartoons and Krofft puppets H. R. Pufnstuf ruled Saturday mornings.

Saturday Mornings 1970
Live action shows take over Saturday mornings leading to a new golden age.

Saturday Mornings 1971
Harlem Globetrotters and The Jackson 5 are hits.

Saturday Mornings 1972
More musical shows with cartoon versions of The Jackson 5 and The Osmonds Brothers joining the Saturday shows.

Saturday Mornings 1973
Scooby Doo debuts and shoots to the top of the ratings.

Saturday Mornings 1974
Adaptations of former primetime shows are all the rage on Saturdays now.

Saturday Mornings 1975
Far Out Space Nuts, Shazam and Ark II are just a few of the action, sitcom and musical variety shows this season.

Saturday Mornings 1976
Krofft Super Show, and Ark II are just a 2 of the many action, sitcom and musical variety shows this season.

Saturday Mornings 1977
The most unsuccessful Saturday morning line up of the decade - flops everywhere as the networks lost track of what kids wanted to watch.

Saturday Mornings 1978
Superheros, Tarzan and The Bay City Rollers.

Saturday Mornings 1984
Smurfs, Snorks and Dungeons & Dragons.

Saturday Mornings 1986
Galaxy High, Pee Wee Herman, Teen Wolf are all hits on CBS Saturday mornings in 1986.

Saturday Mornings 1988
Mutant Turtles, Transformers and G.I. Joe.

Saturday Afternoon Shows of the 1960s
Relive those lazy Saturday afternoons with episodes of Sky King, Whirlybirds, Highway Patrol, Robin Hood & more!