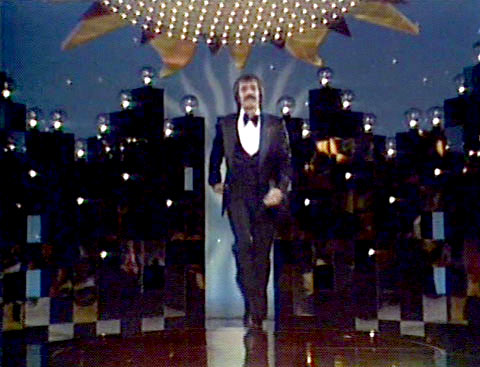 Part Two: SONNY GOES SOLO
by Billy Ingram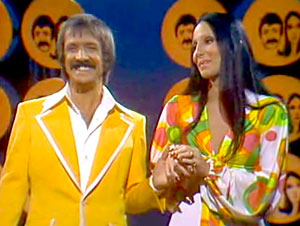 CBS hurriedly signed Cher to star in her own variety series for early-1975, but Sonny signed a deal with ABC that would put him on the air in the fall of 1974 with the same producers, writing staff and all of the regular players and familiar comedy bits from the Sonny and Cher Comedy Hour.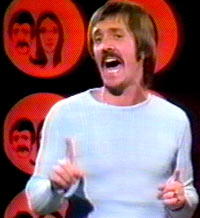 Sonny Bono said at the time "We'll have all the same players," then added, "We'll be missing one, actually."
Network watchers geared up to see what would happen when the Cher show, scheduled for Sunday nights at 7:30 on CBS in February, went up against 'The Sonny Comedy Revue' which was scheduled for Sunday nights at 8:00 on ABC.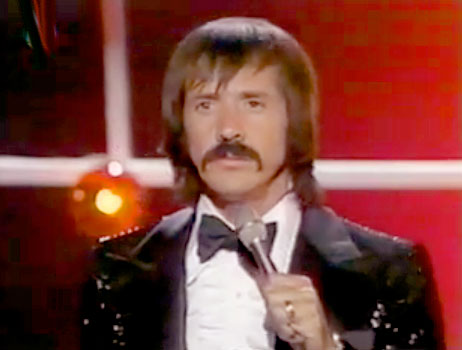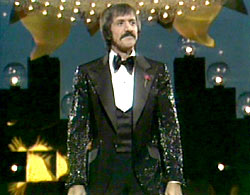 The start of each episode of 'The Sonny Comedy Review' featured a different female guest star like Loretta Swit or Raquel Welch to rib Sonny about how short and untalented he was.
SONNY: "You know, a lot of people look attractive on television, then when you see them in person, they're really nothing. You look terrific in person. You look super. You look great. You look great."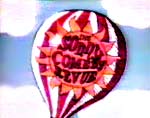 LORETTA SWIT: "Thank you, Sonny. I can say the same for you."
SONNY: "Oh yeah?"
LORETTA SWIT: "Yeah. You really look attractive on television."
When asked the difference between doing her show and Sonny's, Swit quipped, "Well, on one I'm doing MASH and in the other I'm doing mush."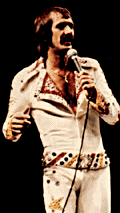 The audience didn't need to be reminded. The program was a dismal failure, partly because the Sonny show started at 8:00, halfway into the running time of the other network shows that started at 7:30, and partly because it was obvious that Cher was the glue that held this act together. And with network promos like this one, it's not hard to see why Sonny's series was doomed from the start.
Most of the popular skits from the 'Sonny and Cher Comedy Hour' were carried over to the Bono show (including 'Sonny's Pizza' and 'The Convict', which featured Sonny as a lifer being visited by his footloose wife, now portrayed by Terri Garr instead of Cher).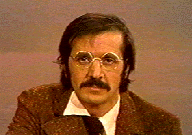 New bits included 'The Newsstand,' quick joke setups revolving around current events and a mime routine with Sonny and the regulars as the French Foreign Legion (as bad as it sounds).
Scripts for the Bono show were uneven at best, the budget was low, good guest stars were scarce and Cher even fought to keep Chastity from appearing on Sonny's show - relenting only in the series' final weeks after the lawyers got involved.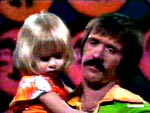 'The Sonny Comedy Revue' was canceled with the December 29 episode, the head to head on-air battle of the former team only came about when Sonny guest-starred a few months later on the show that replaced his - 'The Six Million Dollar Man' (and Cher lost that one).
After the TV show wrapped up Sonny went out on the road with a nightclub act, backed by two legendary backup singers from his Phil Spector days (Darlene Love of The Crystals was one of the girls); that flopped as well. The act was even booed off the stage in Cherry Hill, New Jersey. TV viewers got a look Sonny's solo act when he co-hosted 'The Mike Douglas Show' for a week in 1975.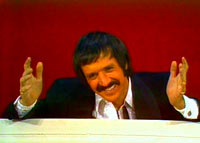 A few Love Boat and Fantasy Island gigs later, it looked like Sonny's days as a TV star were over.

NEXT:
Cher Goes It Alone -
then the unexpected!
Sonny & Cher Comedy Hour
Sonny Comedy Revue
the Cher show
Sonny & Cher Show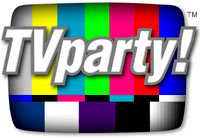 Sonny & Cher Comedy Hour
Sonny Comedy Revue
the Cher show
Sonny & Cher Show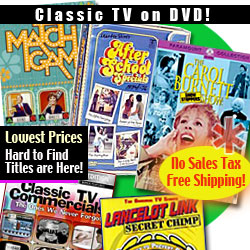 Please consider a donation
so we can continue this work!

Amazon Prime - unlimited streaming
of your fave TV shows and movies!
Get your FREE 30 Day Trial!
PR4 & PR5 Pages for Advertising
Auto huren makes it possible to compare all car rental companies all over the world!
Compare the top sellers of Instagram followers on Buy instagram followers reviews!
An overwiew of guides and gutscheincode with the best tips and tricks to save money! on Ebookers.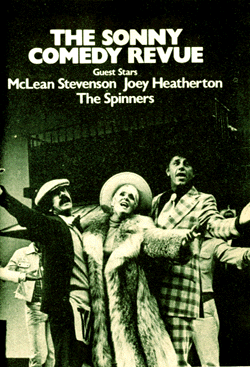 You need this:



Links in this article are MOSTLY TO AUDIO CLIPS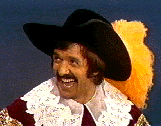 Video clip of
The Sonny Comedy
Review fall preview