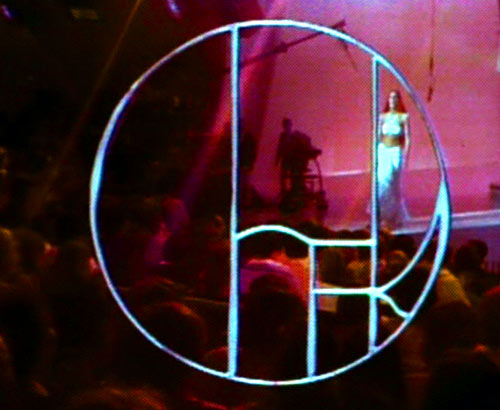 Part Three: Cher Goes It Alone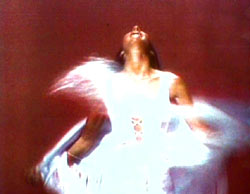 The Cher show debuted on Sunday, February 16, 1975, six weeks after Sonny's show was canceled.
"I'm scared to death" Cher said at the time. "I'm so afraid of that first walk-out. Here I am- alone, naked to the world. What do you think world? Do you forgive me?"
The series was produced by 'Laugh-In' creator George Schlatter; in 1963, he helmed Judy Garland's variety show on CBS, so he knew something about presenting Divas to the world.
Each episode began with Cher draped in the dark, singing low over a lone piano; slowly beginning the opening song. Then, throwing off her wrap as the music picked up tempo, Cher would strut to the front of the stage, revealing her latest navel-exposing Bob Mackie outfit. The audience went wild.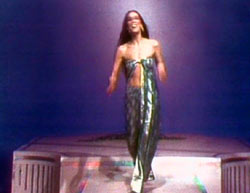 "I attended one of Cher's tapings," TVparty-er Paul Stephen tells us. "It was the show where she took a big spill during the taping of her opening song. Chastity was sitting right in front of me. After a cigarette, Cher finally repeated the song and got it right.
"The spill occurred because she stepped from a fixed platform to a moving platform at a certain point in the song. The crew and Cher weren't "in synch" so when she stepped off the fixed platform, the moving platform wasn't there and down she went. It took 3 hours to tape the opening song!"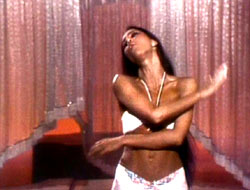 A lot of press was generated in 1975 about Cher's exposed belly-button, it had never been done on television before. Even (I Dream of) 'Jeanie' obscured hers with scarves.
"There were so many things that were censored - ideas and words," Cher said looking back on the show in 1980. "All I know is I got in trouble for showing my belly button, and every time I turned around after I went off the air, all you saw were Cheryl Ladd's boobs."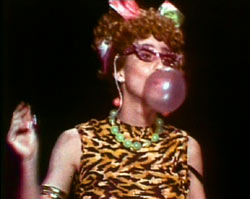 There were other problems. Since the 'Sonny Comedy Review' (which was canceled six weeks before 'Cher' debuted) owned the rights to all of the regular 'Sonny and Cher Comedy Hour' features and characters, only Cher's LaVern character, the leopard leotard diva of the laundromat, could be carried over from the previous series.
Producer Schlatter and his writers had to come up with all new bits - different from the previous show, but not too much so.

For instance, the vamp routines from 'The Sonny and Cher Comedy Hour' were replaced by a Trashy Ladies number, instead of a large cast of supporting players, there would be only one - rotund, (and unknown) comedian Gailard Sartain.
"This will be a personality show, not a format show", Schlatter commented at the time, "We want to capture and spotlight Cher herself, as she really is. My God, do you realize all the things this lady has done for the first time? Four monologues. Four solo sketches - the 'Saturday night' bits. Her first duets with someone other than Sonny - Elton John, Bette Midler. No curtain. No walls. No Sonny. Just the lady. A little perfect jewel in a Tiffany setting."
They succeeded in creating a slick and classy show with an emphasis on music and Cher's mellow side; the first few shows even ended with Cher talking to the audience from her bed (alone) on a Saturday night, trying to show the audience that the star led a dull life in spite of what the tabloids said.
The series got off to a rousing start. "All kinds of things were going through my mind during that opening," Cher told a reporter after the first taping. "For some reason it flashed in my mind the first night I saw Diana Ross all alone on stage, and now it was me instead of Diana. I thought of Sonny not being here, no Sonny to turn to and say under my breath, 'How'm I doing'?' Then it was just me and the piano, and I was so nervous I don't know how my voice got out. Then the full track came up and suddenly I felt good, real good."
The first Cher show.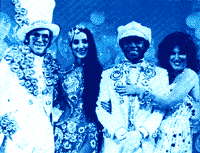 Ratings were high for the first week's show - actually a special - broadcast February 16, 1975 featuring Flip Wilson, Bette Midler and special guest Elton John in a rare prime-time appearance. Cloris Leachman ('Phyllis') and Jack Albertson ('Chico and the Man') both won Emmy Awards for appearing as guest-stars a few weeks later.

Cher with Bette Midler
Even with strong initial ratings, the first season ended with 'Cher' at number 23 overall. In contrast, 'The Sonny and Cher Comedy Hour' finished 8th the year before. It was decided that 'Cher' needed a minor overhaul.

The second season brought on a new orchestra and a more upbeat opening with a new arrangement of the theme song (based, as the first theme was, on Cher's mid-sixties hit "All I Really Want to Do" penned by Bob Dylan).
The second season also brought lower ratings. Cher blamed the audience loss to the summer variety shows that subbed for her - 'Joey and Dad' (produced by her former TV team) and 'The Manhattan Transfer.

Second season opening
The star made a bold decision; Cher would team up with Sonny again and start mid-season with an all-new series. Whether this was entirely her decision (or an ultimatum from the network) was left open for debate.
After all, wasn't this the same Sonny she sued for "involuntary servitude" in violation of the 13th amendment to the Constitution (forbidding slavery) just a year before? The same Sonny that demanded $1.5 million in cash just to get out of her contract with him?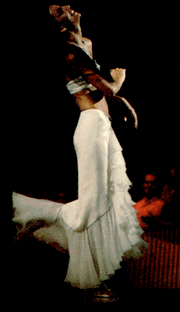 "I made the decision after I'd done four 'Cher' shows last fall. Nothing to do with the ratings," Cher stated to a reporter. "Doing a show alone was more than I could handle. I had to be into everything, from helping on scripts to picking the music. And they had me doing a monologue. That's not like me, to be out there alone making with the jokes."
There were other legal matters that had to be resolved before Sonny and Cher could work together on television again. The couple's former record label was owed an album (which was hastily recorded and never released), and they had to embark on one last tour during the summer hiatus to fulfill another long-standing contract that Sonny signed before the divorce.

With these issues settled, 'Cher' left the schedule on January 4, 1976, leaving CBS to ask the burning question - can a divorced couple successfully host a TV variety show? And will the public stand for it?
PAGE 1 / 2 / 3 / 4
Sonny & Cher Comedy Hour
Sonny Comedy Revue
the Cher show
Sonny & Cher Show