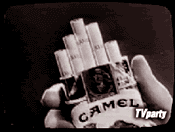 LIGHTEN UP & LIGHT UP
(OR VICE VERSA)
Cigarette manufacturers were one of the first industries to advertise widely on television. They had deep pockets and could afford to gamble on a new advertising medium, footing the bill for a host of early classic television programs. Ironically, in just a few short decades, they were cast away from the medium they helped create.
Almost every television show from the forties through the early-sixties had a primary sponsor each week. To compensate for the relatively low audience numbers TV offered, stars were expected to be seen personally using or endorsing the sponsor's products.
As television expanded its reach and proved more effective as a marketing tool, advertisers lined up to buy spots and main sponsor's were no longer required or desired; not having one big sponsor meant less interference in the content of the program.
Here are a few examples of how smokes were sold using television personalities and cartoon characters.
Topper (1953-1956) was a sitcom that featured the aristocratic Cosmo Topper (Leo G. Carroll) and his piss elegant ghostly visitors George and Marion Kirby (played by Anne Jeffries and Robert Sterling). What else would they be doing with their time off together but smoking?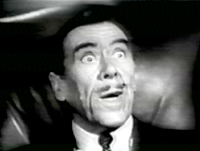 Cosmo really gets into it, he's simply mad about his Camels, "They're mild, the way I like mildness. And they have flavor, the way I like flavor!" It looked more like he was smoking crack!
TVparty-er David Mikelberg tells us, "You mentioned that Leo G. Carroll 'looked more like he was smoking crack' in the Camel commercial. Did you also notice on the credits that the co-writer of that particular episode was Stephen Sondheim? Mama Rose, Sweeney Todd, Cosmo Topper - all just a bit mad. This could explain the look on Carroll's face."
At the end of this particular Topper episode, Anne Jeffries declares that free cigarettes are going out to injured servicemen in veterans hospitals around the country. Now, that's an industry with a heart. Smoke up boys, doctor's orders!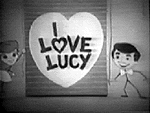 I Love Lucy (1951-1957) was also sponsored by a cigarette maker for a while, Phillip Morris, who promised their customers, "Smoke for pleasure today. No cigarette hangover tomorrow!" That sponsorship meant added scenes of Lucy and Desi smoking in the program's intro and the "Call for Phillip Moooriiiiuuss" kid in commercial transitions.
In this advertisement, Desi asks for a cigarette and Lucy happily fetches the Phillip Morris - "You see how easy it is to keep your man happy?" she confides. You also get to see what the closing to the show really looked like, the heart image we're used to seeing on reruns was created in the late-fifties for the syndication package.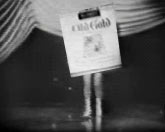 One of TV's first stars was the Old Gold dancing cigarette pack of the early 1950s, a truly bizarre advertising concoction - an oversized cigarette pack with lovely legs that danced aimlessly around in front of a curtain while the announcer promised a taste, "made by tobacco men, not medicine men." Because if you're going to ingest something into your lungs, better it was sanctioned by a North Carolina dirt scratcher than some high falutin' doctor, right?
Jeanne Snow tells us about being a dancing cigarette pack: "My dancing career is so long behind me but the Old Gold commercial keeps coming up in current TV. I was one of the cigarette packs (with Gloria Vestoff who probably replaced Dixie Dunbar) on Stop the Music with Bert Parks in 1950 & 51 - under my maiden name Jeanne Jones (sometimes Jeannie). Harry Salter was the conductor, Jimmy Nygren the choreographer. Other dancers were Louise Ferrand, Bruce Cartwright and Tom Hansen.
"Incidentally, we were NEVER called the Dancing Butts & in my tenure, there was no longer a match box."
From You Tube - a run of 1960's cigarette commercials: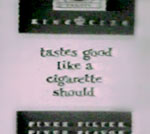 "Winston tastes good like a cigarette should." That slogan, set to music, was one of the first hummable TV commercials, debuting in the mid-fifties and running all throughout the sixties. Grammar teachers and language purists cried foul so Winston answered with a new slogan - "What do you want, good grammar or good taste?"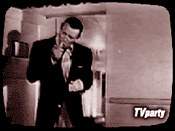 Big movie stars were happy to endorse smokes on TV as well, and the number one celebrity of the era was the Duke. John Wayne appeared for Camel in 1952, speaking highly of the product: "Mild and good tasting pack after pack. And I know, I've been smokin' em for twenty years." This commercial was filmed in conjunction with Wayne's movie Big Jim McLain.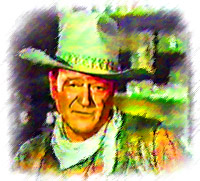 Coincidentally (or not), John Wayne died of lung cancer twenty-seven years after that spot aired; some of the last commercials he filmed were to ask people to stop smoking.
Remember when the government made a big stink about Joe Camel in the nineties? They were outraged that more kids recognized Camel's cartoon carton-pusher than could ID Mickey Mouse. Camels were flying off the shelves and (presumably) into the tiny fingers of young children.
This was nothing new, cartoon characters had been selling cigarettes for decades, particularly on television.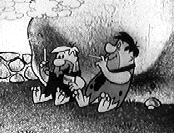 If I told you the original network run of The Flintstones (1960-1966) was sponsored by a cigarette maker and that you could watch the main characters smoking Winstons at the end of the show, you probably wouldn't believe me. This animated series was a prime-time show, considered adult fare in 1960, so I guess nobody thought any better of it.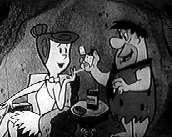 With a large audience of youngsters tuning in at 8:30pm, was this proof that the tobacco companies were targeting younger potential smokers decades before Joe Camel? The Flintstones could also be seen selling beer during commercial breaks, for what that's worth.
Here's the commercial from You Tube:
Steve Byrd tells us, "By the time Pebbles was born in 1963, the Flintstones were no longer pitching Winstons... they were selling Motorolas and Welch's grape juice. No way would Winstons have sponsored a cartoon sitcom with a baby character." Especially since it was in 1964 that the U.S. Surgeon General declared smoking was harmful to one's health.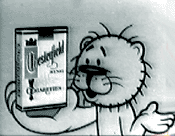 Of course, Fred and Wilma weren't the only cartoon characters making cigarettes appear cute and cuddly in the early-sixties - there were original tobacco company concoctions.
The Chesterfield King and his lovable friends were animated animals that hawked Chesterfield King cigarettes in a stylish set of commercials. The main voices for this spot (and the next example) came from Daws Butler, the guy who gave life to many of the most memorable kidvid characters of all time (like Huckleberry Hound, Yogi Bear, Snagglepuss, Mutley, Quick Draw McGraw and dozens more).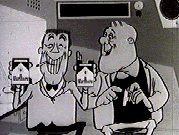 In fact, some of the characterizations he used for these cigarette spots were identical to voices he used for those Hanna-Barbera children's favorites. Then again, how many voices can a guy have?
In another Daws Butler spot, average (cartoon) guys Harry and Juggernaut Jones sold Marlboros from the sports booth. "You get a lot to like in a Marlboro - filter, flavor, pack or box" was the catchy musical jingle everyone was humming.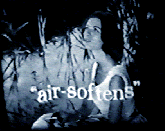 Salem in 1961 promised that, "you smoke refreshed" - you have to admire a product that offers "a breath of springtime freshness" in every puff. We're talking about a cigarette, right?
Since these advertisements were so successful, maybe tobacco companies should consider coming out with a product that actually DOES deliver a breath of spring (instead of future legal liabilities). They proved there was a market for it. Those cardboard scented Christmas trees you see in people's cars could be rolled up and packaged by the carton.
Occasionally, the sponsor's jingle was a famous as the TV show theme song. The Addams Family (1964-1966) was brought to you by Dutch Masters Cigars, with the famous Dutch Masters chorus - "Step up to Dutch Masters, and smile, brother smile!" (After you brush your teeth, please.)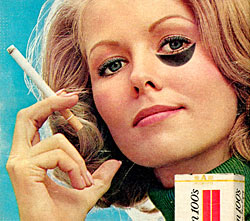 By the late-sixties, cigarette companies portrayed their clients not as addicted but motivated, active and loyal - a man or woman with a black eye would exclaim, "Us Tareyton smokers would rather fight that switch"; a rugged guy imparted, "Me and my Winstons, we got a real good thing," Marlboro smokers were urged to "Come to where the flavor is," while Camel devotees pledged, "I would walk a mile for a Camel."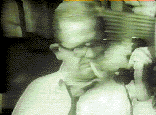 Not surprisingly, manufacturers have always looked for new ways to modify their products and create new brands. A brilliant example would be Benson and Hedges 100s in 1967.
This was one of the most celebrated and effective ad campaigns of all time. Benson and Hedges actually built a brand name (and consumer demand) by making fun of their product, illustrating the distinct disadvantages of smoking a longer cigarette.

It's funny in retrospect to see that lighting up was once considered acceptable behavior at the office, in elevators and other crowded public places. This was before smokers lost their God-given constitutional right to light up any place they liked and became just another oppressed minority crying out for equality.
From You Tube - 1970 (?) commercial for Kools. "Come up to Kools."
The last cigarette TV commercial (for Virginia Slims) was broadcast on the Johnny Carson Tonight Show at 11:59pm on January 1, 1971. It was expected to be devastating for the networks when tobacco ads were banned - but they did all right without them, in spite of immediately losing $220 million dollars a year in revenues.
Now they make more than that from anti-smoking ads!