Lawman
1958-1962
1960 season promotion, this western series was reminiscent of 'The Rifleman', leading actor John Russell even resembled Chuck Connors. Began in 1958 and ran until 1962 on ABC Sunday nights.
Follows the adventures of Marshall Dan Tropp, Sheriff of the wild western town of Laramie. Peter Brown co-starred as his young Deputy Johnny McKay.

The Gale Storm Show
1956-1960
Also known as 'Oh Susanna' when it ran on CBS. This is a promo for the daytime re-runs, circa 1960. The series ran for four years in prime-time.

Travels Of Jamie McPheeters
1963-1964
Did you know that Kurt Russell was a child star? He played the title role in this hour-long Sunday night western adventure about a boy (Russell), his rascally father (Dan O'Herlihy) and the wagon train they travelled with.
The Osmond Brothers were seen as the little Kissel Brothers.
The Rebel
1959-1961
This 1960 spot attempts to position this western series as relevant to "today's youth". We're talking the Beatnick Generation - whatever happened to them?
Nick Adams starred as Johnny Yuma, former Confederate soldier who went from town to town seeking acceptance and finding a hostile reception to his peacekeeping attempts.

Where The Action Is /
A Time For Us
Promo for two ABC afternoon shows from 1965.
'Where The Action Is' lasted two years. The soap opera 'A Time To Us' lasted two years beginning in 1964 (then titled 'A Flame In The Wind').
ABC had nothing but flops in their futile attempts to get an afternoon schedule going in the Sixties, until they picked up a game show in 1968 that NBC canceled - 'Lets Make A Deal'.

It Takes A Thief
1968-1970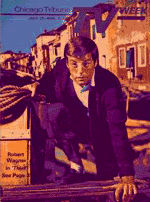 One of those great Universal shows, before they slid into self-parody in the Seventies.
Robert Wagner at his best as Alexander Mundy, a retired theif blackmailed into working for the government to catch other slippery characters. Malachi Throne was SIA Chief Noah Bain and Fred Astaire played Mundy's father in several episodes (he was also a master thief).
Based on a highly-rated TV-movie called Thief that ran during the 1967-68 season.
The Fugitive
1963-1967
Ran for four years starting in 1963, thanks to strong storylines and an unbeatable concept. Dr. Richard Kimble's wife as murdered by a one-armed man, but Kimble is unjustly convicted of killing her. He escapes, running from place to place using assumed identities, searching for the real killer - always just a step away from his pursuer, Lt. Gerard (Barry Morse).
Shows that borrowed the same basic concept include 'Run For Your Life', (and adding a sci-fi flavor) 'The Invaders' and 'The Incredible Hulk'.

Saturday Night
1965-66
"The new year begins tonight. Turn on the excitement!" - ABC fall slogan, 1965
The King Family, Lawrence Welk (with new regulars, The Lennon Sisters) and The Hollywood Place were the Saturday Night offerings. Great if you were already old in 1965!

Voyage To The Bottom Of The Sea, The FBI and The Sunday Night Movie made for a great night of viewing. Intro by FBI star Efrem Zimbalist, Jr. The networks unleashed 33 new shows in 1965, 60% of the network broadcasts were in color - there were 3,600,000 color sets in use.

Monday Nights
1965-66
Inger Stevens introduces an exciting night of television - 12 O'Clock High, The Legend Of Jesse James, A Man Called Shenandoah, The Farmer's Daughter and Ben Casey
Inger Stevens was the beautiful star of 'The Farmer's Daughter', a series that ran from 1963-66. After filming "Hang 'Em High" in 1970 with Clint Eastwood, Stevens was set to star in a new series. Despondent over personal problems, she combined pills with booze to kill herself.
These clips come from
the collection of
Jeff Vilencia.
Thanks, Jeff!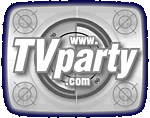 Voyage To The
Bottom Of The Sea
1964-1968

Debuted in 1964 and ran until 1968. Produced by disaster master Irwin Allen.
Noted science fiction author Harlan Ellison was on the writing staff for a short time, but left after attacking an ABC censor during a heated story conference. "He said, "Writers are toadies, you'll do as your told." And I went bananas." Ellison said in 1980, "...I saw blood red and I just wanted him then! I didn't want to have to go around anything, so I just took the straightest route, which was right down the middle of the fuckin' table. ...I tagged him a good one right in the pudding trough and zappo! over he went, ass over teakettle, windmilling backwards, and fell down, hit the wall and Irwin had this big, six-foot long model of the Seaview, which I guess they had used as a miniature on the series, and it came off its brackets and dropped on top of him and just busted this dude's pelvis."

---
"Voyage to the Bottom of the Sea has gotten a bum rap. It was a great show, and had a bundle of spy / intriuge / 'Mission Impossible' type stories in addition to the later monster shows. Even they were made believable, due to the superb acting of the entire cast, especially David Hedison and Richard Basehart. Unfortunately, the show is currently being shown in a 'chopped up' version.
If you could have seen the episodes as originially aired, you would see inter-character personalities, mental anguish, joy, laughter, romance, suspense, drama, and imaginative special effects... Voyage had it all. It was Irwin Allen's masterpiece, but because of just a few bad monster eps (that could have been better) it was judged as a monster of the week show - and that is just not true. By the way, one TV's best writers, William Reed Woodfield, later left Voyage and went to 'Mission Impossible', and his Voyage eps are fantastic!
Please don't give this wonderful show a bad rap because of a few bombs. All series have bombs, but loyal viewers ignore them."
- Sincerely, Carol Foss
Felony Squad
1966 - 1969
Howard Duff and Ben Alexander star - with Dennis Cole as Det. Jim Briggs.
Peyton Place
1964-1969
Steamy prime-time soap that eventually ran three nights a week, but for most of its run just Tuesdays and Thurdays. Launched the careers of Mia Farrow and Ryan O'Neal among others. People still use the term "Peyton Place" to describe a tawdry community or unseemly affairs. Here's your chance to see what the show was like in this fall, 1964 promo.

Off To See
The Wizard
1967 - 1968
Cartoon adventures of Dorothy and the gang frame films that ran theatrically along with nature shows.
This incredible promo shows scenes from 'Clarence The Cross-Eyed Lion', 'Zebra In The Kitchen' and more - these were popular movies for kids from a few years earlier.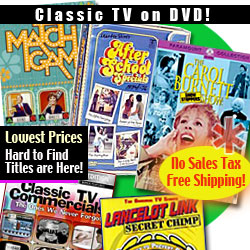 PR4 & PR5 Pages for ads - CHEAP!

Television's Greatest - local & national TV kid shows

Batman TV Show on DVD
TV on DVD
Holiday Specials on DVD
TV Commercials on DVD
TV Shows on BLU-RAY
Everything you're looking for is here: