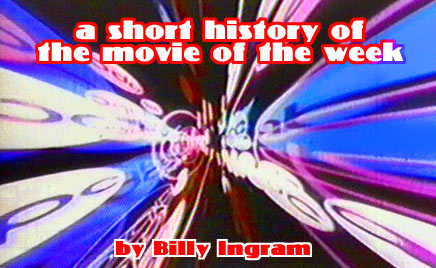 PART TWO

In part one, we learned the origin of the movie of the week concept - strong promotion, bold storylines and tautly edited teasers with eye-catching graphics is what brought the audience back each week.
HERE'S THE STORY BEHIND THE
MOVIE OF THE WEEK THEME
FROM THE GUY WHO CREATED IT

"I'm amazed that you know more about my work than I remember!
"I'm writing the foreword for a new book on motion graphics, the publisher wants to use some of my early work as illustrations. I designed and produced the ABC Movie of the Week opening and I wanted to include it because it was a breakthrough at the time. All I have left are early black and white tests. I found your site while I was searching for the actual date of the piece - I found much more than I expected!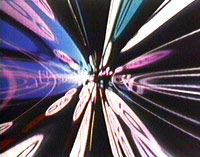 "The info I can give you on Movie of the Week is from my perspective at ABC. I was head of On-Air Advertising (promo) at the time and Barry Diller had this idea for made-for-television movies, He named it "Movie of the Week" and created a new television format. He asked me to come up with a special title treatment for this new concept, and I enlisted someone I'd recently met, Doug Trumbull, whose last job was '2001, A Space Oddysey'.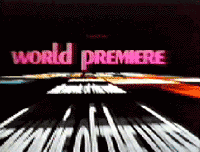 "Doug had come to the office looking for work after working on 2001 for several years in England. I hadn't seen the movie, but he had the out-takes of the "Stargate" sequence with him. When I saw them I knew there had to be a way to transform Doug's brilliant abstractions into something that used typography. It worked and set the path for television graphics that followed.
"I also produced the theme ("Nikki") and I liked your comment about the lushness of our version. For your files, I produced the track, Harry Betts arranged and conducted.
"My recollection of the song is that I ran across it on a Bacharach album and that it hadn't been a megahit . I liked the melody a lot but I imagined it in a much more heroic arrangement for the movie title. I made a deal with Burt for its use and re-recorded it with the Harry Betts arrangement. I can't believe that it was over 30 years ago!"
- Harry Marks
---
EXAMPLES OF THE ABC MOVIE
OF THE WEEK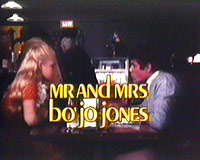 Mr. and Mrs.
Bo Jo Jones / 1971
Ground-breaking Wednesday Movie of the Week starring Desi Arnaz, Jr. as a young, unmarried father-to-be and the resulting tension with his fiance's wealthy, uncaring family.
Unwed pregnancy was a subject that had rarely (if ever) been explored on television. One viewer tells us: "I can remember when I was 14 and "Mr. & Mrs. Bo Jo Jones" aired. The movie was set in the '50s, about a teenager who accidentally got his girlfriend pregnant so he quit school & married her because it was the "right" thing to do.

"There was a scene where the girlfriend had some sort of accident & was crying real loud and shouting & my mother came in the room and yelled to 'turn it off!!' I was really getting into it then, and I was really mad!
"I remember it originally aired just before a 'wave of nostalgia' hit the country. I had never seen anything set in an earlier era - and I had never heard of a pregnant teenager before!" (We sure have a mess of them now!)
(Links are to real player clips)

When Michael Calls / 1971
This popular suspense teleplay centered around a woman's dead son who continues to call her from beyond the grave. She probably complained that he never called when he was alive, but she's not too thrilled about it now! This MOTW starred Ben Gazzara, Elizabeth Ashley and Michael Douglas.

Also seen: a promo for 'The Screaming Woman' (starring Ed Nelson and Olivia De Havilland), about an old lady that discovers a girl buried alive under her lawn. A good example of how well crafted these spots were - if you saw them the first time around, you will remember them vividly today.
In general, TV-movies (and even most major motion pictures) are shot to create exciting trailers, not good films. They just need two minutes of good footage to achieve that, so most of the focus is on getting those key scenes. The rest is perfunctory. You can just sit there and suffer through the rest of the movie for all the producers care!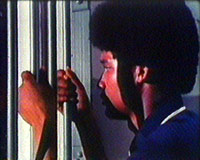 Trouble Comes To Town / 1972
What was the terrible "trouble" that came to menace this peaceful southern town? A massive hurricane, earthquake or incurable disease? No, a black teenager has come to town.
Lloyd Bridges starred in a racial-tension drama(?) that attempted to show the flipside of Mayberry.
This teleplay imagined (in the most superficial terms) what would happen if an inner-city black kid moved into a white-cracker hick town. Explosions and jail time, apparently. And dialogue like, "You know about that colored man saving my life in the war? Well he's got a kid, expectin' to come live with me." and "Blacks and the honkies don't live together?"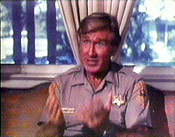 Fact was, outside of larger cities, inter-racial neighborhoods were extremely rare in 1972 (especially in the South) so films of this type struck a chord with black and white audiences alike. A lot of these race-based movies of the seventies would be embarrassing, if not downright inflammatory, to watch today!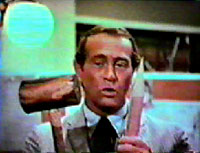 Night Stalker / 1972
Chilling story of loser newspaper reporter Carl Kolchak (Darren McGavin), a guy who uncovers a vampire living in Las Vegas - but no one will believe him. 'Night Stalker' is considered one of the most effective horror movies ever filmed and, to this day, stands as one of the top rated TV-movies of all time.
Produced by Dan Curtis (Dark Shadows), there was a sequel ('The Night Strangler' in 1973) and a short-lived series called The Night Stalker followed in 1974. The second film was also a hit, unfortunately, Curtis wasn't involved in the TV series - star Darren McGavin was the producer, and the chill was gone. So was the show by the next fall.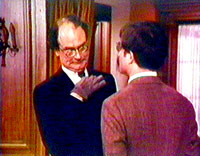 Call Her Mom / 1973
Charles Nelson Reilly (Ghost and Mrs. Muir, Match Game) starred as a university's Dean of Students who wants a fraternity on campus shut down, although given his position and circumstances I can't understand why!

His ultimatum: unless the frat boys hire a house-mom to curtail their excesses, the frat house is history. So the guys hire the coolest frat mom they can find - sexy waitress Connie Stevens.
This is unacceptable to the Dean, but it all works out when the university president falls in love. With Connie. Charles Nelson Reilly was not amused.
This sort of stuff was crowd pleasing fare - by 1973-74, 20 of the top 25 rated TV-movies of all time were ABC MOTWs.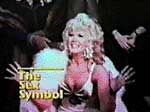 The Sex Symbol / 1974
Connie Stevens also starred in a messy melodrama that earned high ratings the next year. In this tearjerker she played an insecure superstar (ala Marilyn Monroe) whose past wretches up to her, precipitating late night drunken phone calls to an uncaring daddy. Co-starring Shelly Winters, this TV tome is a minor cult camp classic.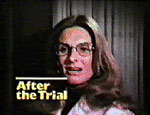 Here is a cluster of previews for the Movie of the Week in 1974.
The plots feature the usual disastrous situations that were so popular in the 70s - like earthquakes, planes falling from the sky and finding out your husband is a cold-blooded murderer.
By the fall of 1974, the TV-movie hit a saturation point, with up to 60 tele-films a year being broadcast on the three networks. ABC was running out of hot-button subjects, having covered everything from demon-possessed trucks terrorizing the highway, dying football players, prison rape, the memories of a 100 year-old black woman, army deserters and homosexuality (another first).
Eventually, ratings began to cool. ABC dropped the Tuesday/ Wednesday Movie of the Week in 1975, but kept pumping out original films to mix with theatrical releases on their Sunday and Friday movie nights.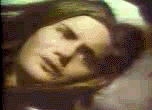 By the late-seventies, TV-movies began to focus more on rare diseases and odd afflictions - as in this promo for The Best Little Girl in the World (1979). Starring a young Jennifer Jason Leigh, this dramatic film introduced bulimia to the American home audience.
By 1980, there were more TV-movies broadcast each year than theatrical releases - but the ABC MOTW was long gone. There was never again a weekly original movie series on the big three networks.
---
"I really enjoyed the ABC Movies of the Week. It brought back some memories. My first job out of school was as a master control engineer at a small ABC-TV affilate. That was in the bad old days when we didn't even sign on till noon. No GMA and signed off right after Monday night Football.

"Anyway, I worked Tuesday and Wednesday nights and put the movies on the air. I'll never forget those animated intros. I had never seen anything like it before, even the music. It was so cool. Shortly after that Happy Days & Laverne & Shirley etc. premiered and ABC became a competive network and, a lot of the fun was lost. Later I moved up the ladder and worked at several larger markets. Most of the stations were ABC. It was never the same."
- Jeff Moulton