by Dr. Billy Ingram / noted Cher-ologist
Several years ago, I went on a mission into thrift shops and used record stores to find albums released by Cher that aren't available on CD.
I've culled the best (and, of course, the worst) samples from the most obscure out-of-print Cher recordings. I have to warn you, tho - these songs started to grow on me, I find myself listening to some of these albums for pleasure now.
If these sound clips sound like they're recorded from old, scratchy records, it's because they were!
FAIR CHER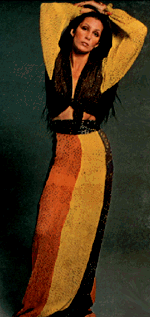 Cher has been scoring hits since the mid-Sixties, but there were lean times in her recording career - here are some highlights from the Seventies and early-Eighties as Cher jumped on to each new musical fad while searching for an audience.
As a duo, Sonny and Cher had several top 40 tunes in the Sixties before the hits - and the money - dried up in 1967. They made a huge comeback (with All I Ever Need Is You) right after their TV show debuted in the summer of 1970.
Snuff Garrett produced their comeback album and also produced several solo albums for Cher that generated top ten hits like Gypsies, Tramps and Thieves, The Way of Love and Half-Breed among others beginning in 1971.
One of Cher's solo albums in 1973 (produced by Sonny Bono) didn't hit. Bittersweet White Light was a collection of fully orchestrated, lushly-arranged classic torch songs that Cher had performed on The Sonny and Cher Comedy Hour - with some innovative synthesizer riffs blended in. The Bonos started in the music business with producer Phil Spector, and this album demonstrates a heavy 'Wall of Sound' influence.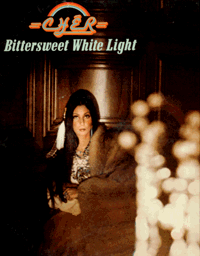 There were some fine cuts on Bittersweet White Light, even if most of the arrangements were way over the top. One of the best numbers was the opening cut on side one, By Myself - another standout was a reworking of the standard More Than You Know.
Sonny liked the gimmicky tunes Snuff Garrett produced - and the millions of dollars they produced - but Cher reportedly hated them and wanted to record more mature material. Unfortunately for her, the soulless Snuff Garrett album Half-breed was a monster hit in 1973, while the vastly superior Bittersweet White Light died on the vine. Unpopular, but definitely one of Cher's best efforts.
As a team, Sonny and Cher stopped charting in 1972; their 1973 release, Mama Was a Rock and Roll Singer Papa Used to Write Her Songs (Part 1), only made it to number 73.

Dark Lady
The top-40 hits continued for Cher through 1974 when the Snuff Garrett LP Dark Lady (actually the best of the bunch) delivered singles that reached number 1 (Dark Lady) and number 27 (Train of Thought). Sonny and Cher divorced that same year, ending their professional ties and television show - for a while.
In control of her career for the first time and with a long run of hit LPs behind her, Cher turned to Phil Spector for her very first recordings without Sonny's influence. Spector produced some incredible tunes that went ultimately unreleased, including a slow, mournful remake of the Ronnie Spector classic Baby I Love You, a duet with Harry Nilsson, and this cut, A Woman's Story (found on a British import collection of wonderful material Spector produced with several of his favorite vocalists like Dion and Darlene Love).
Why were these sides not released? The record company felt that Spector's style was too old fashioned for 1975. Perhaps that was true, but this collection holds up very well today - it's all old now!

After her split with Sonny in 1974, Cher signed with David Geffen's new operation at Warner Bros Records. The first release, Stars, was an eclectic mix of seventies' folksy-rock tunes, written by people like Neil Young, Jimmy Cliff, Jackson Browne, Eric Clapton and Janis Ian.
Stars was an attempt to warm up Cher's image, to make her less icy and more real. The result was a fine album by any measure, especially when you consider that, up until this point, Cher had mostly been portrayed in public as a wisecracking, singing, dancing Barbie Doll come to life.

Geronimo's Cadillac from a Flip Wilson Special.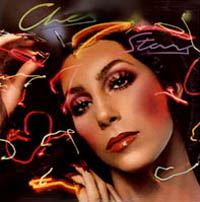 Stars was a very successful album artistically - consisting of lesser-known tunes by the best songwriters of the day. Cher began singing in a deeper octave and the bluesy material was well-suited to her newly emerging personality. The lush-life orchestrations and intricate arrangements were provided by the legendary Jimmy Webb who had produced hits for The Fifth Dimension and Art Garfunkle. Webb also wrote a bombastic new tune for the album, Just This One Time, released as the first single.

Love Enough from Stars.
Reviews were good, but sales were light despite lots of promotion - including Cher on the cover of the National Enquirer every week (with 'boyfriend' David Geffen on her arm much of the time).
When Cher covered The Way of Love in 1973, many reviewers commented on how odd it was that she was singing about losing the love of another woman. Was Cher trying to say something, or merely singing the song the way it was written? Geffen must have thought this sexual ambiguity would enhance Cher's image, there is at least one love song on Stars that Cher directs to a female.

Part of Love Hurts from the Cher show.
READ PART TWO:
A string of flops, then...
Disco Cher, New Wave Cher, Rave Cher!