Kirby is popularly acknowledged by comics creators and fans as one of the greatest and most influential artists in the history of comics. - Wikipedia
---
---
Examples of Jack Kirby art: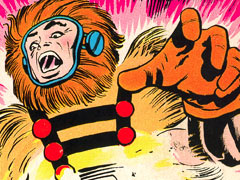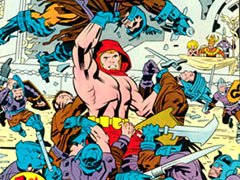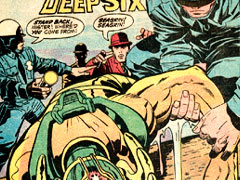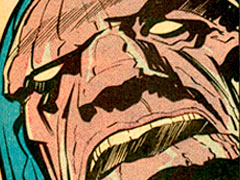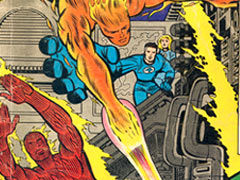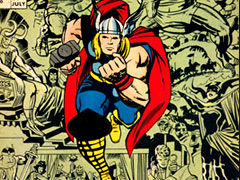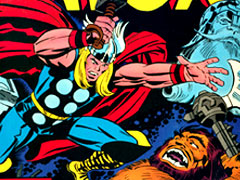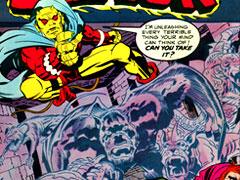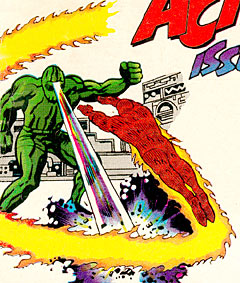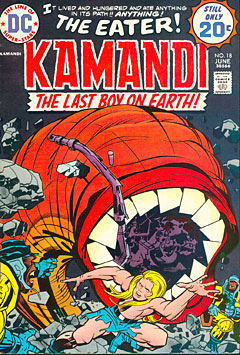 Just a few characters created or co-created by Jack Kirby: Fantastic Four, Mighty Thor, Human Torch, Nick Fury and other related characters copyright and TM Marvel Comics Group.
The Demon, Kamandi, Atlas, Forever People, New Gods, Darkseid and other related characters copyright and TM DC Comics.
"Artist, writer, architect, inventor, visionary: Kirby was all of them and more, the ultimate comic-book techno-wizard, a pop-culture Leonardo da Vinci who explored our collective fantasies on the palette of his imagination. His art was so primal that it spoke to millions of readers around the world, cutting across all barriers of age, language, sex, and culture. He will be with us as long as comics endure."
- Jim Steranko
---
DON'T MISS:
Mark Evanier's
incredible Jack Kirby site!
---
The Kirby estate launched the Jack Kirby Museum and Research Center in 2005.

The Jack Kirby Museum
and Research Center
---
EXCELLENT PUBLICATION :
The Jack Kirby Collector

One of the most abundantly creative Americans of all time, the genius who brought us Captain America, The Fantastic Four, The Hulk, X-Men, The Avengers, Mighty Thor, Silver Surfer, New Gods (and on and on...) died in 1994. Yet his spirit lives on.
If you're not familiar with Jack Kirby, there is no way, in this space, we can encapsulate his stellar career. He was a giant talent that transcended the comic book medium. Filmmakers too numerous to mention (like Bryan Singer and George Lucas) acknowledge the influence Kirby had on their work while movies, television shows and video games based on his characters have grossed hundreds of millions of dollars just in the last decade.
The big budget Fantastic Four, Hulk, and Iron Man movies were a huge box office winner in starting in 2005 and there are cinematic versions of The Avengers and Captain America currently in production. Because of the working conditions that existed then, the Kirby estate is unlikely to see any money from these films, just as Jack was denied proper renumeration and credit for these types of productions during his lifetime.

This interview was conducted by John Hitchcock (seen right) on June 1, 1985 at a Greensboro, NC comic book convention.
The video and audio are severely degraded but still offers us a rare glimpse into a man who's brilliant career was winding down. For the first time in over four decades there were no new Jack Kirby comics on the market; his Captain Victory and the Galactic Rangers and Silver Star for Pacific Comics were cancelled the year before.
During this period, much of the work that the 67 year-old artist was involved with was for the Ruby-Spears studio, creator of Saturday morning cartoons like Thundaar, the Barbarian (1980-84).
Also in the summer of 1985, Jack Kirby was becoming embroiled in an infamous battle with Marvel Comics to get his original artwork from the 1960s returned. An unsatisfactory settlement was reached in 1987.
JOHN HITCHCOCK TELLS US:


It was quite a thrill to be asked to interview Jack Kirby back in 1985. I was really nervous about the whole thing, to be honest with you. But Kirby was a very honorable, kind man and a true legend. I was welcomed warmly by him the first time we met.
Kirby was a simple man that struggled with everyday life but put him in front of a drawing board and he was a true genius at telling an action story. It's no exaggeration to say that Jack Kirby is the greatest character creator in comic's history.
Prior to the interview, I read everything I could find about Jack Kirby and comic book history; I wanted to be prepared from a historical perspective.
It didn't hurt that I had been collecting comics for over twenty years. Matter of fact, Jack Kirby and Steve Ditko were the first artists that I could identify by their drawing style.
The day of the panel, about seventy people sat waiting for the interview. These folks were huge fans from the area, fired up to see and hear Jack Kirby.
Just as I was about to begin, Jack's wife Roz Kirby pulled me aside to talk with me. She said there were two things I needed to know before the interview started.
First, I could not mention Marvel Comics.
This really threw me for a loop! How could you do an interview with Jack Kirby and not mention Marvel Comics? Thinking fast, I asked her if it would be all right to talk about the characters. She said that was fine; just don't bring up Marvel and the returning of artwork.
It was well-documented that Kirby was fighting with Marvel Comics over this issue at the time and I had no real intention of bringing up something that would upset the Kirbys or their fans.
Second, if Jack gets stuck on a question, just hit him or yell at him. It would be OK.

Now, I am sorry, but I was not going to be yelling at Jack Kirby over any question. Believe me, the fans would have revolted if I said a cross word to this man.
There were a few times that Jack really didn't want to answer a question I asked - so he would just talk about whatever came into his mind. Looking back, that was fine with me.
Now you know where my mind was before this interview started.
- MORE LATER!
TV Shows on DVD
Holiday Specials on DVD
TV Commercials on DVD
1970's TV shows on DVD
1960's TV Shows on DVD
---
Everything you're looking for is here:
Shop Amazon's New Kindle Fire