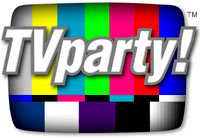 December 14, 1969
---
1969 TV shows on DVD here!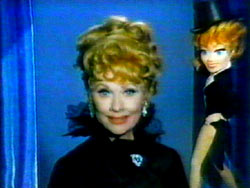 TOP TWENTY
1969-70 TV Shows
1. Laugh-in
2. Gunsmoke
3. Bonanza
4. Mayberry, RFD
5. Family Affair
6. Here's Lucy
7. Red Skelton Hour
8. Marcus Welby
9. Walt Disney
10. Doris Day Show
11. Bill Cosby
12. Jim Nabors Hour
13. Carol Burnett Show
14. Dean Martin Show
15. My Three Sons
16. Ironside
17. Johnny Cash Show
18. Beverly Hillbillies
19. Hawaii Five-0
20. Glen Campbell Goodtime Hour
---
Use for video clips:



Click on links for video
(Some video encoded
for our low bandwidth
friends.)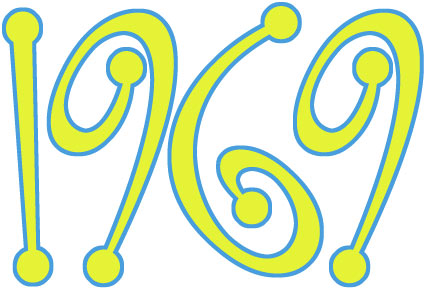 1969 TV Shows
Another complete waste of time from TVparty!
by Billy Ingram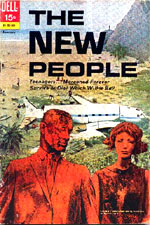 The war in Vietnam, the Manson murders, Woodstock, men on the moon, the Chicago Eight trial, the My Lai massacre, protest marches - America was in turmoil as the decade hurtled to a close.
1969 was a year of transition for TV viewers. Broadcasters were seeking a younger audience without, hopefully, alienating the old folks.
Gone were the caped superfreaks and space aliens, television was becoming more reflective of society, more 'relevant' and 'realistic.'
/ / / Classic TV Blog / / / TV Shows on DVD / / / TV Show Reviews / // / TV on BLU-RAY
NBC saw the nature of television changing and promised 100 specials for primetime in 1969-70. The network envisioned the future as, "a series of specials rather than series interrupted by specials." They also felt confident that a new drama based loosely on Easy Rider, Then Came Bronson, would be a monster hit for them.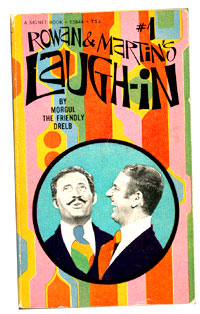 With so many dramas and specials on the schedule, pundits began to wonder - is the sitcom dead? Top ten stalwarts like The Beverly Hillbillies, Green Acres and Bewitched were in ratings freefall.
The musical comedy format was in full flower - Rowan & Martin's Laugh-in was number one and there were seven variety hours crowding the top twenty in 1969.
What Batman was to 1966, Laugh-in was to 1969 - a year that saw the release of Laugh-in books, LPs, toys, games and there was even a Laugh-in magazine.
Part 1 of the ABC Fall Preview for 1969-70.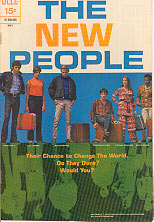 :PROGRAM PROFILE:
The New People
1969-1970
On The New People, a planeload of young people crash land on an abandoned tropical island that had been set up as a nuclear test site. Conveniently, there was an ample stock of food, cars and homes built in anticipation of a test blast that never happened.
Tension came about as the survivors set out to create their own progressive, liberal, anti-establishmentarian society. In a typical episode, island rebel Stanley campaigns against building a water line for the girls' showers fearing "an emerging power structure." In another, electing an armed peace officer causes the New People to debate "law and order, gun control and the role of police in society."
Developed for TV by Rod Serling (The Twilight Zone), the show was cancelled on January 12, 1970. There was a comic book version of The New People published by Dell that hit the stands, ironically, right after the show left the air. That lasted two issues.
Everything old is new again - the ABC series Lost was loosely based (purposely or not) on this one season wonder.
BABY
DADDIES: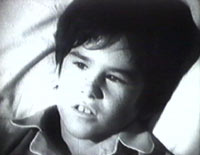 The Courtship
of Eddie's Father
1969-1972
Starring Bill Bixby as single dad Tom Corbett and Brandon Cruz as his son Eddie. Miyoshi Umeki played Mrs. Livingston, the housekeeper and James Komack was Tom's boss Norman Tinker. Jodie Foster was also seen in several episodes.
"I think I've got more than most kids," Eddie tells his housekeeper in episode four. "Most kids just have a father father. I have a father who's my best friend." Awwwww.
Komack was the producer of this show and several hit shows in the seventies like Welcome Back Kotter.
This was one of many programs with widowed dads this year including: Family Affair, Mayberry RFD, Beverly Hillbillies, Nanny and the Professor, My Three Sons, To Rome with Love and Governor and JJ.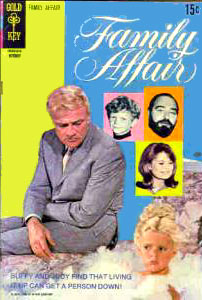 Shows centered around widowed women with children included: Here's Lucy, Doris Day Show, Julia and Ghost and Mrs. Muir.
'Traditional' two parent families were a rarity on TV in 1969 but there was no such thing as a show about a divorced person - nor had there ever been.
---
DID YOU KNOW:
Characters from My Three Sons (in its ninth year) and To Rome With Love (in its first year) could be seen occasionally crossing over to each other's shows.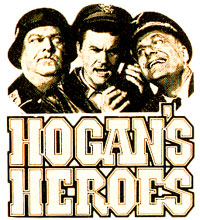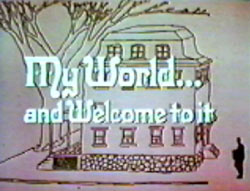 :PROGRAM PROFILE:
My World and
Welcome To It
1969 - 1970

Combining live-action and animation had been attempted only once in primetime (The New Adventures of Huck Finn in 1968) and only rarely in motion pictures when My World and Welcome To It was launched on NBC, September 15, 1969.

Smartly-written with a superb cast of familiar faces, My World and Welcome To It was sitcom life enhanced by the writings and scribblings of New Yorker humorist James Thurber (who died eight years before this show aired).

In this dark (for TV) comedy, John Monroe (William Windom), cartoonist for Manhattanite magazine, escapes his dull reality through the power of his daydreams; acting out, in his mind, bizarre notions and fantastic what-could-have-beens.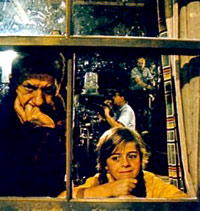 NBC had so much faith in this series they slotted My World to kick off Monday nights at 7:30, preceding the number-one show in the nation, Laugh-in. Competition on the other networks consisted of a reinvigorated Gunsmoke on CBS and The Music Scene on ABC.
Ratings were light but the series developed a strong fan base and lots of critical acclaim; My World won the 1970 Emmy Award for Best Comedy while William Windom was named Best Actor in a Comedy.
Acclaimed or not, production was halted after a single season of 26 episodes.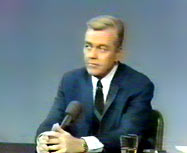 :IN SYNDICATION:
The Joe
Pyne Show

This ninety-minute syndicated gabfest was taped at the KTTV-11 (now FOX-11) studios, located in the recently defunct Metromedia Square.
Perched on a set awash in cigarette smoke, Joe Pyne hosted a wide assortment of colorful visitors, anyone who had a weird story (like being abducted by aliens or having encountered Bigfoot) or possessing an extreme point of view (for instance, against the war or for Women's Lib).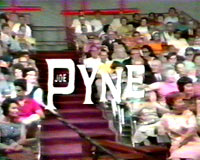 Pyne would often start out an interview with an insult to get his targets off-guard and flustered. One of the most famous tales about The Joe Pyne Show involved the wooden leg he earned from service in WWII.
An exchange between Joe Pyne and musician Frank Zappa went like this:
Pyne: "So I guess your long hair makes you a woman."
Zappa: "So I guess your wooden leg makes you a table!"
Guests in 1969-70 included Christine Jorgensen who famously underwent a sex change operation in 1952 and author Gabriel Longo.
---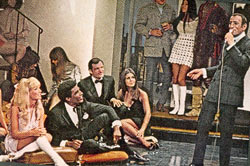 Playboy
After Dark
In January of 1969, with Playboy magazine sales topping 5.5 million a month, Hugh Hefner (then 42) once again entered the television arena with Playboy After Dark, a 26-week color version of his earlier series, Playboy's Penthouse (1959-1963).

The party format was carried over to good effect, with an elaborate $35,000 penthouse set built for the series on a CBS Hollywood soundstage, complete with sunken living room and curvaceous bar.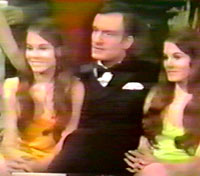 20 girls and 19 guys (guess who got TWO girls) provided the atmosphere and served to mingle with the guest stars.
Guests in 1969-70 included Bill Cosby, Bill Medley, Kay Stevens, Rev. Malcolm Boyd, Iron Butterfly, The Blossoms, Cannonball Adderly, Lou Rawls, Jimmy Webb, Bill Dana, Don Adams,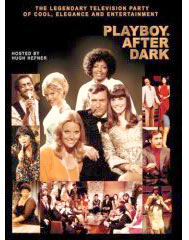 The Checkmates, Carla Thomas, Joe Williams, Sammy Davis, Jr., LeRoy Neiman, Tony Bennett among many others.
One of the most progressive and entertaining shows of the decade, Playboy After Dark lasted two seasons. NOW on DVD!
Amazon Prime - unlimited streaming
of your fave TV shows and movies!
Get your FREE 30 Day Trial!
PR4 & PR5 Pages for Advertising
:PBS:
The Corporation for Public Broadcasting announced the start of the Public Broadcasting System (PBS). Previously it was known as NET - National Educational Television.
Sesame Street debuted in November, 1969. Critics hated it, calling it useless and complaining that it didn't teach effectively. One pundit declared, "in terms of innovation, it stands on par with the dunce cap."
---
:THE FUTURE?:
RCA announced the first affordable home video player / recorder - SelectaVision - would be available in stores by 1972.
---
:COMMERCIALS: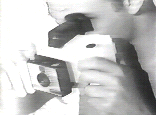 Polaroid Swinger
You gotta love these lyrics: "Meet the Swinger, Polaroid Swinger. It's more than a camera, it's almost alive, it's only 19 dollars and 95."
Jerry Lee Lewis Coke Commercial - [audio] Jerry Lee is known as a raucous rocker who virtually ended his career by marrying his cousin - eventually making his comeback as a country artist. This commercial finds "The Killer" in rock mode for a version of "It's The Real Thing" for Coca-Cola.

1969 McDonald's commercial.
"You deserve a break today!"
: MORE RELEVANCE ON TV: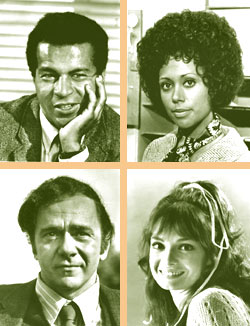 :PROGRAM PROFILE:
Room 222
1969-1974
Lloyd Haynes, Michael Constantine, Denise Nicholas and Karen Valentine starred as the faculty of Walt Whitman High School.
Room 222 changed the nature of television - a hit show that tackled problems relevant to the times. Busing, prejudice and drug abuse were the focus of early episodes.
It wasn't long before network schedules were crowded with 'relevant' program, but none lasted as long or had half the impact of Room 222.
On the opening episode, Pete Dixon discovers his brightest student is registered illegally at Walt Whitman, he had been assigned to the ghetto high school. (In many communities in 1969, busing to achieve school integration was just getting underway.)
Valentine's perky character Alice Johnson (above, bottom right) started out as an inept student teacher that eventually graduated to full teacher status, becoming the central focus of the show by the last season.
None of the regulars found another successful TV series in their future, except Denise Nicholas (left) who appeared on In The Heat Of The Night from 1989-1994.
Exteriors for Room 222 were shot at Los Angeles High School.
:ENDING
AFTER A LONG RUN:
The Jackie Gleason Show (8 years), Daniel Boone (6 years), Hollywood Palace (7 years), Petticoat Junction (7 years), Get Smart (5 years), It Takes a Thief (3 years), The Flying Nun (3 years), The Dating Game (4 years), The Good Guys (2 years).

First hit season for the Brady Bunch.
Year 5 for Green Acres.
I Dream of Jeannie leaves the air in 1970 after 5 years following a move to Tuesday nights.

:WESTERNS:
Although Bonanza and Gunsmoke remained at the top of the ratings in 1969-70, Westerns were beginning their fast fade from the TV landscape. Five years earlier there were a dozen horse operas on the schedule, a decade earlier there were twenty-seven.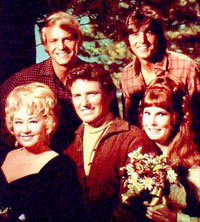 Here Come The Brides
Last of two years, this comedy-drama moved to Friday nights in 1969. This show launched the careers of heart throbs Bobby Sherman and David Soul. Thanks to the TV exposure, Sherman scored his first hit record in 1969 and the theme song to Here Come The Brides, Seattle, was also a hit record.
Bonanza
Year eleven, and Bonanza was running out of steam. John Wayne called these shows "drawing room westerns" because so much 'action' took place on interior sets - because of the low budgets.
Gunsmoke
Fifteenth year for this superior CBS western.
The Virginian
Last year, the show returned in a new format as The Men From Shiloh in 1970.
ALSO SEEN: Daniel Boone, Lancer, The High Chaparral.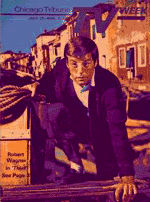 :PROGRAM
PROFILE:
It Takes A Thief
(1968-1970)
Year two. Robert Wagner was at his best as Alexander Mundy, a retired thief blackmailed into working for the government to catch other slippery characters.
Malachi Throne was seen as SIA Chief Noah Bain and Fred Astaire played Mundy's father in several episodes (he was also a master thief). Often filmed on location in places like the Isle of Capri.
---
MOVIE OF THE WEEK: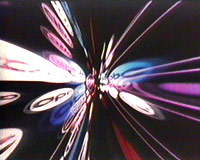 Year one for ABC's Tuesday Night at the Movies, the first regular series of movies made especially for television. It was an enormous gamble and a big hit.
This first season included: Seven in Darkness with Milton Berle and Dina Merrill as blind plane crash survivors; Wake Me When The War is Over with Eva Gabor and Ken Berry; The Immortal with Christopher George; and others. The Immortal was picked up as a series in 1970.
Janet Leigh, Sammy Davis, Jr., Ray Milland, Robert Hooks, Ralph Bellamy also starred in 1969 tele-films.
---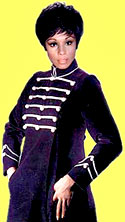 :PROGRAM
PROFILE:
Julia
(1968-1971)

The first TV program to star an African-American woman since Beulah went off the air in 1953.

Diahann Carroll starred as a widowed nurse raising a young boy (Marc Copage as Corey) while coping with an irascible boss.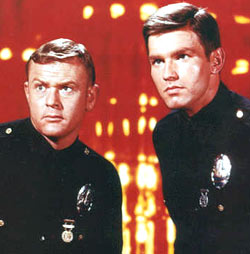 :THE COPS:
ADAM-12
"One Adam-12, one Adam-12, see the man at Figueroa and Main."
The female police dispatcher that punctuated this show was an actual LAPD dispatcher. A producer noted, "We selected her over a professional actress because, regardless of research, no writer can phrase a radio call to a police unit as well as someone who works communications."
This was the second season for the Jack Webb (Dragnet) produced drama which lasted until 1975, starring Martin Milner (Route 66) and Kent McCord (Ozzie and Harriet).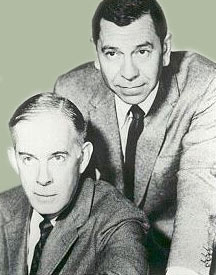 Dragnet 1970
1969-70 was the last of four seasons for the second, color incarnation of Dragnet; the original version debuted in 1951. Starred Harry Morgan (M*A*S*H) as Officer Bill Gannon and the show's producer Jack Webb as Detective Sergeant Joe Friday.
These guys mostly investigated robberies, burglaries, auto thefts and forgeries with the occasional drug bust (concluding with the inevitable monotoned lecture from Joe Friday).
Hawaii Five-0
"Book 'em, Danno, Murder One!" Jack Lord, James MacArthur and the islands of Hawaii were the stars of this police drama. CBS set up permanent filming facilities in Hawaii for this program; after Hawaii Five-0 was cancelled Magnum P.I. took its place.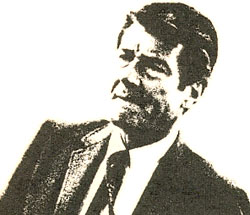 THE F.B.I.
This series, loosely based on real stories from the FBI case files, ran from 1965-1974 on ABC Sunday nights. At the end of most episodes, one of the FBI's ten most wanted criminals would be profiled.
Efrem Zimbalist, Jr (as Agent Lewis Erskine) and Phillip Abbott (as Agent Arthur Ward) were the only two regulars to last the run of the series.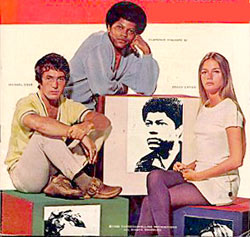 Mod Squad
Just missed making the top twenty this year. This show always sported 'relevant' themes like gangs, narcotics, slum lords and racists; the first episode of this season centered around an illegal abortion ring (in fact, all abortions were illegal in 1969).
Starred Clarence Williams III, Michael Cole, Peggy Lipton (as the "one Black, one White, one blond") and Tige Andrews (as their gruff boss).
Guest stars during 1969-70 included Ed Asner, Margot Kidder, David Cassidy, Richard Dreyfuss, Sammy Davis Jr., Maurice Evans and other notables.
How much money did a TV star make? Michael Cole was paid $1,500 an episode when Mod Squad debuted in 1968. By 1970 he was earning $5,000 per.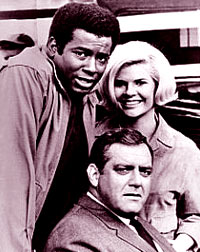 Ironside
Get this - a guy with the last name "Ironside" gets struck by a bullet and is rendered wheelchair bound. This was the third season.
Mission Impossible
Fourth of seven years, there were major changes made this season. Stars Barbara Bain and Martin Landau left the cast while Leonard Nimoy joined up as part of his contract with Universal after the cancellation of Star Trek in 1969. Lee Meriwether was seen as a semi-regular.
Typical 1969 episode: Paris (Leonard Nimoy) impersonates the son of a deposed freedom fighter from an eastern European dictatorship in order to bust up a commie youth cult.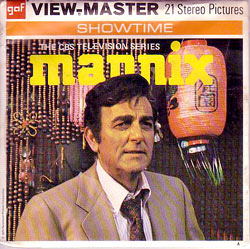 Mannix
Third season for private investigator Joe Mannix (Mike Connors) and his secretary Peggy (Gail Fisher).
Robert Reed was seen both on Mannix and on The Brady Bunch. Created by Richard Levinson and William Link (Columbo).
MORE 1969 TV:
Nanny and the Professor, Cosby's first sitcom, the late night wars, big flops, variety shows and the complete network daytime schedules!