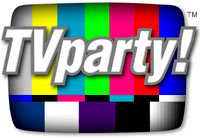 Crazy
Guggenheim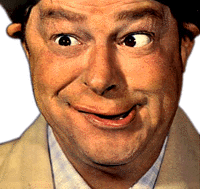 "How about a clip of Crazy Guggenheim from The Jackie Gleason Show. I can still see him with his screwed up face saying things, but I can't remember what his line was.
"I was just a little kid when the show was on but it is one of my all-time favorites. And, boy could that guy sing!"
- Charles Grunewald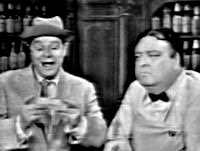 Crazy Guggenheim, played by Frank Fontaine, was one of my favorites as well. He was part of the regular "Joe the Bartender" sketches that would end Jackie Gleason's American Scene Magazine series (1962-1966). This is the series that preceeded the Miami Beach Jackie Gleason Show.
Gleason would start the routine by talking into the camera (to the unseen 'Mr. Dunahey') and then call drunken "Crazy" from the back room.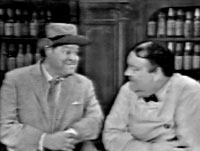 The skit would usually end with Fontaine dropping completely out of character and singing a traditional (often Irish) tune with his beautiful bassatto voice. Fontaine would deliver a stunningly moving musical performance every time - a truly unique, not completely forgotten television character.
I WAS THERE...
"Well, I saw 'You're In The Picture' too. From the control room at some CBS theatre for I had bought the program. I, or rather my company, was the sponsor.
"Jackie and the people at William Morris, his agency, had put the production together. Together with CBS, they pitched the program to me and a few others at Liggett & Myers. I remember thinking that the show could be risky for it was quite removed from anything that Gleason had done and the premise of celebrities sticking their heads through a painted plywood board and quessing what historical character they were supposed to be was pretty shaky.
"But I think I thought that since Jackie Gleason was at the peak of his career, he could pull off a silly game show with the same success Groucho Marx was enjoying on NBC.
"It was, as Erickson writes, a huge bomb! Everybody knew it. Gleason, William Morris, CBS, and, for sure, Liggett & Myers. The real question after the first show was what do we do now.
"I don't remember who came up with the idea for the second show, probably Gleason himself. Nor do I recall that CBS wanted to continue with the game show. If they did, they didn't tell me and I can add if they had they would have done so without this sponsor.
"I should have known that things would go wrong when at the first script rehearsal, the first meeting for the show, Gleason asked before the start, "Who is the GREAT ONE?" A chorus rang out, "You are!". That began an association with the greatest egotist I have ever known."
- Cope Robinson
Rudolph the Red Nosed Reindeer
---

Television's
Most Forgotten Show?
One thing's for sure
- it was a true mega-bomb!

"Probably the most forgotten show of all time was one that I was fortunate enough to see the only real episode of. It was a live game-type show and starred Jackie Gleason. It was called You're in the Picture.
"The actual show aired the first week, it was a huge bomb, but unlike today they didn't have anything "in the can" to put on the next week. What they did the second week was have Jackie Gleason sitting at a desk just talking and being rather hysterical, I thought. The third week he was back and informed us that although the first week had been a bomb, the second week was a hit and they considered just alternating between the two. They just would have to figure it out with the sponsors (who would sponsor the bomb and who would sponsor the hit).
"Anyway, a neat piece of TV history and trivia that I'm glad I was in on. Jackie's not with us anymore but a lot of his work carries on (this series not included)."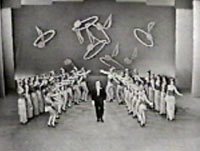 - Steve Erickson
---
First, a little history:
The original 'Jackie Gleason Show' ran on CBS from 1952-1955 as a traditional hour-long variety show. In 1955, the show was pared to thirty-minutes and featured 'The Honeymooners' exclusively (these are the reruns you see today). The show returned to an hour format in the fall of 1956 for one season.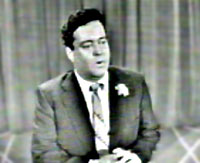 "The Great One" (as he was known) returned to television in October of 1958 in a live, thirty-minute variety show - but Gleason stopped production after a three-month run stating: "Anytime quality has a deadline, it's got to deteriorate. You can strive for quality week in and week out, but you won't often get it because it can't be manufactured within a specific time."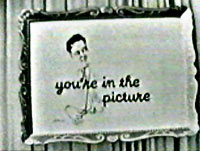 Gleason made his next TV project a game show, reasoning that this would be a more relaxed working environment. Besides, games were big ratings, and Groucho was having tremendous success as a host on NBC with You Bet Your Life.
DISASTER!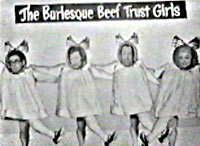 You're in the Picture was added to the CBS schedule on January 20, 1961, to replace the poorly performing sitcom 'Mr. Garland', Friday nights at 9:30. You're in the Picture was a poorly conceived game show that went over like a lead balloon. How's this for a premise - celebrity contestants stick their heads into a painted scene, and they have to guess what the scene is, or what historical figure they represent by asking the emcee questions.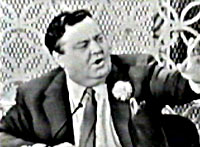 Jackie Gleason was the host of this live broadcast, (he even helped develop the show) and the celebrity contestants for that first (and only broadcast) episode included Jan Sterling, Keenan Wynn, Aurthur Treacher, and Pat Carroll.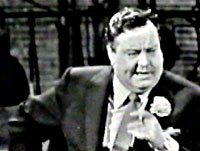 After the embarrassingly bad show aired, Gleason convinced CBS to let him go on the next week and apologize to the home audience. This would give the production a chance to re-tool, it was reasoned, and get 'You're in the Picture' back on in a new and improved format.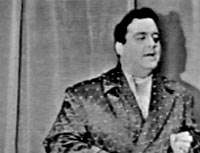 Gleason went on the air the next week live and apologized all right - "Honesty is the best policy. We had a show last week that laid the biggest bomb! I've seen bombs in my day, but this one made the H-bomb look like a two-inch salute." He filled the half-hour with extemporaneous stories, explaining in detail his mistake in ever letting the show reach the air, all the while distancing himself from the fiasco. At the end of the show, Gleason promised to return the next week, "I don't know what we'll do, but I'll be back".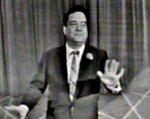 The critics flipped for the half-hour public apology, praising the comedian's breazy, spontaneous wit, and the audience loved the idea of a big star admitting he had made a mistake.
In truth, Gleason had no intention of doing the game show ever again, instead he decided on a one on one talk show format. This was something the network was dead set against, but they were forced to let Gleason have his way since he made his statements on live television.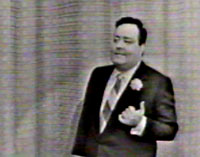 For the next eight weeks, Jackie Gleason played host to stars like Bobby Darin, Jane Mansfield, and his comic partner Art Carney, in a talk show format under the title 'The Jackie Gleason Show'.
An angry and embarrassed CBS pulled the plug on the series after eight weeks. One reason they were angry - the network wanted to salvage the game show concept. There was another episode of 'You're in the Picture' shot on tape (very expensive in those days) to use during the re-run season, but it had to be scrapped after Gleason so thoroughly trashed the concept on that second show.
Jackie Gleason returned in 1962 with a variety show on CBS that had a highly successful nine-year run.
---
Here's Jackie on The Johnny Carson Tonight show in 1985. It was Gleason's only sit down with Carson - fitting, seeing as how Johnny stole one of his most famous bits (Art Fern) from The Great One. In this interview they discuss You're In The Picture.

Here's part 2 of that interview:

Part 3 - boy, do I miss Carson's smooth style.
---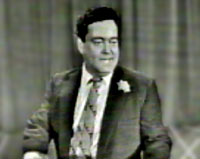 "Fantastic site! One bit of trivia omitted from your background info on Jackie Gleason's ill-fated "You're in the Picture" was the marvelous scheduling of the program. I recall seeing it as a child.
"If you notice the date of the show was January 20, 1961 -- the evening of Kennedy's inaugural. If I remember correctly, the main reason I was watching it was because the other channels were covering the Kennedy Inaugural gala. Probably 9 year old kids like me were the only ones watching. (As a 9 year old I remember I didn't think it was that bad!).
"I now live in Jakarta, Indonesia, by the way, and so truly appreciate your site as a link with home." - A Reader
---
What better way to spend a few minutes than to laugh with Jackie Gleason? In 1964, he opened his show with a Jig to honor St. Patrick's Day.

My favorite part of Gleason's American Scene Magazine (1962-1966) was Crazy Guggenheim played by Frank Fontaine. The big surprise of these Joe the Bartender sketches came at the end where (most times) Fontaine would sing with that thrilling voice of his.

Gleason reprised his role as Joe the bartender on a 1974 Julie Andrews special with Julie as Liza Doolittle.

Two legends on one stage - Gleason and Groucho team up, from 1967.
Please consider a donation
so we can continue this work!

Amazon Prime - unlimited streaming
of your fave TV shows and movies!
Get your FREE 30 Day Trial!
PR4 & PR5 Pages for Advertising