All links from this article are to streaming audio clips.
---
THE NEW DICK VAN DYKE SHOW HERE
MORE ABOUT DICK VAN DYKE IN THE 1970s
TV Guide's Van Dyke & Company Page, with TV Listings, Photos, Videos, Exclusive News and More.
---
Access our extensive catalog
of classic TV shows on DVD!
---
"I am glad that SOMEONE has given "Van Dyke & Company" it's due. One sketch had a gorilla that pulled a robbery. There was shock in the community. One man said, "The gorilla? He's a great guy! Never would do a robbery." A woman said she was emotionally involved with the gorilla and was horrified to hear that he was a criminal. Another fellow said, "I don't think he did it. Actually, there are a couple of penguins that live in my complex. Maybe they did it."
"There was also a thrillseeker who rode a. . . Roller Coaster!
"Also, Dick Van Dyke did a sketch about an archetypal sitcom called, "Honey, I'm Home" and wondered how it would be handled in different timeslots. Van Dyke started eash segment by walking in the door and saying, "Honey, I'm Home!". For the 8:00 timeslot, the wife said dinner would be ready. For 9:00, the wife was in the arms of another man. For 10:00, a man greets Van Dyke and tells him dinner will be ready.
"When John Denver was a guest, Van Dyke played a man who was out of sync, up to and including footsteps! When Carl Reiner was on, as they hurled adjectives at each other, the other would act it out."
- Brian Phillips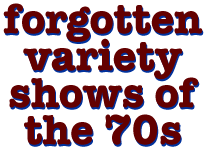 Writer/Producers Allan Blye and Bob Einstein had a lot of success with 'The Sonny and Cher Show', but when the singing duo split and Sonny's variety show failed to ignite, they took the same basic format and revamped it for a number of different stars.
'Joey and Dad' (Heatherton), Lola Falana and others had short but entertaining runs. In 1976 at NBC, Allan Blye and Bob Einstein were chosen to head Dick Van Dyke's return to series television after two successful series.
"I never had the chance to do a variety series, so I'm going to spread myself out." Dick Van Dyke said before embarking on his new show 'Van Dyke and Company', "I'm not afraid to try anything on this. I'm too old to care about ratings. I say, let's simply please ourselves. If it's to be fifteen shows and out, so be it, and I'll go home and go sailing and the hell with television."
The show premiered on Monday night September 20, 1976 and featured regulars Andy Kaufman, Pat Proft, Marilyn Sokol, the LA Mime Company with guest-stars Chevy Chase and Flip Wilson.
This was a very good series, despite the awful mime routines and depressing theme song, with genuinely funny regular sketches like 'The Bright Family' (they weren't), in-jokes about the network, and intros like "And now, here to help my ratings, KC and the Sunshine Band!".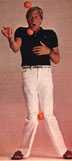 Dick Van Dyke cancelled his previous series, 'The New Dick Van Dyke Show', just two years earlier when it was a solid top ten hit for CBS, but NBC cancelled this series after only fifteen airings (in three different time slots).
Despite this, 'Van Dyke and Company' won the Emmy Award for Best Variety series in 1977. Blye and Einstein tried again next year with the excellent 'Redd Foxx Show', but that show lasted only 13 episodes.
Dick Van Dyke took another stab at the variety format when he joined 'The Carol Burnett Show' cast in 1977 (replacing Harvey Korman), but he angrily quit that show in December of the same year.
---
Part of the opening monlogue from the first show.
Dick Van Dyke can't remember
what night Van Dyke and Company is on.

Slap the cap for extra sound clips from these shows just for you!
READ ABOUT THE NEW DICK VAN DYKE SHOW HERE