Your favorite classic television shows from the golden age of TV!
New in the TVparty TV Blog!


Dan Schneider Video Interview #135:
The Death Of Saturday Morning Television
Interview with Billy Ingram and Timothy Burke via Skype, using Litecam.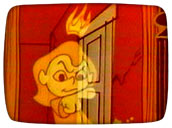 Christmas Specials of the 60s & 70s
TVparty-ers reflect on their favorite Christmas TV memories - from the Norelco Santa, Hardrock, Cocoa and Joe, Mr. Magoo, Bing Crosby and all the rest. What were your favorite holiday specials?
Read and watch more...


Rodney Dangerfield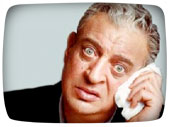 Rodney Dangerfield knocked them dead in Las Vegas with his rapid fire delivery and drop dead funny jokes. He might just be the most hilarious entertainer of all time in the eyes of many who saw him live. He broke out on The Ed Sullivan Show in the 1960s and soon became known for his "I Don't Get No Respect" routine, a genius hook for a comedy bit.
Read and watch more...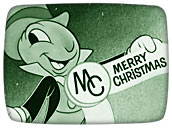 Disney's Merriest Christmas Special!
Glowing like a color console yule log and glistening not with tinsel but with animated delights, "From All of Us to All of You" was a not-quite-annual Yuletide TV gift, Disney style. Though many animated specials celebrated Christmas, this special-like 1958 episode of the Disney TV hour predated those cartoon extravaganzas by years (the first, Mr. Magoo's Christmas Carol, debuted in 1962, while A Charlie Brown Christmas premiered in 1965). This specially-produced Disney program was the first to bring newly-produced, prime-time animated Christmas festivities to the electronic hearth.
Read and hear more...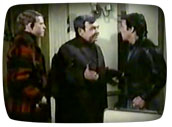 Classic Sitcom Christmas Episodes
Families, not television, is what Christmas is all about. But can we help it as children growing up in America that many of our warmest family Christmas memories are wrapped around watching something on television?
Read and watch more...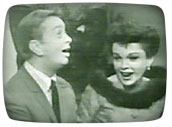 The Judy Garland Christmas Show
In the good old days (which weren't) you could look forward to a crowded slate of network Christmas variety specials starring the biggest stars left over from the radio days - people like Edgar Bergen, Bing Crosby, and Bob Hope. Well into the seventies, you also had yearly programs with singing stars (like Andy Williams and Perry Como) that were TV favorites but no longer had their own shows.
Read and watch more...


1970's Christmas TV Shows
Journey back to the polyester decade to see what boomer kids were watching during the Holidays with loads of video clips from classic shows, many unseen in decades.
Read and watch more...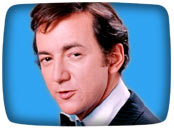 The Last Days of Bobby Darin
"I never saw Bobby impolite or even distant from any fan. He was always unfailingly gracious and accommodating even to people I would consider pesky and some on the edge of reality. Bobby never slighted any of them, sometimes even inviting them backstage to his dressing room and talking to them in his underwear while he was changing clothes."
Read and watch more...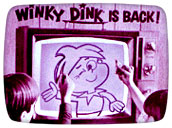 Winky Dink and You
"I used to watch Winky Dink... I had the kit, but I would intentionally draw the wrong things. When Winky needed a ladder to get out of a hole, I would draw a cover on the hole. When he needed a parachute, I would draw an anvil to pull him down, etc. I would tease my younger sister and tell her that I was making Winky die! Whenever she left the room crying, I would laugh and laugh. Winky was cool!"
Read and watch more...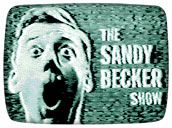 Sandy Becker!
"Anyone who grew up in New York in the 50's and 60's had to know Sandy Becker. He shaped a lot of our personalities. Along with Hambone, Norton Nork, and The Old Professor, I remember his lovable puppets, Geeba Geeba and Marvin Mouse. Sandy Becker was one of a kind. He really seemed to care about his audience and about the welfare of the younger generation. We could sure use a Sandy Becker today."
Read and watch more...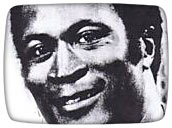 My TV Dads
I realized how important fathers truly were. And I didn't have one. In television terms, my father had been written out of my life when I was three years old, like James had been written out of "Good Times," although my father hadn't been killed off. One day, he simply went away and didn't return. Too bad life isn't more like television, or else there would've been a sassy maid in my home to help guide us children, but in real life most families can't afford a live-in maid.
Read more...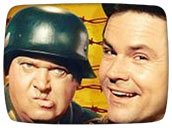 Classic TV on DVD - Archived Reviews!
Tom Jones, Twin Peaks, Stargate Atlantis, Voyage to the Bottom of the Sea, Dallas, Men Behaving Badly, Captain N, Hootenanny, ER, Wanda Sykes, Adventures of Superman, Battlestar Galactica, F Troop,
and so many more hot DVD releases.
And they're all deep discounted - for you!
Read more...
Classic TV Shows on DVD?
An extensive catalogue of every classic program available on DVD! See what's available today - with big discounts for you!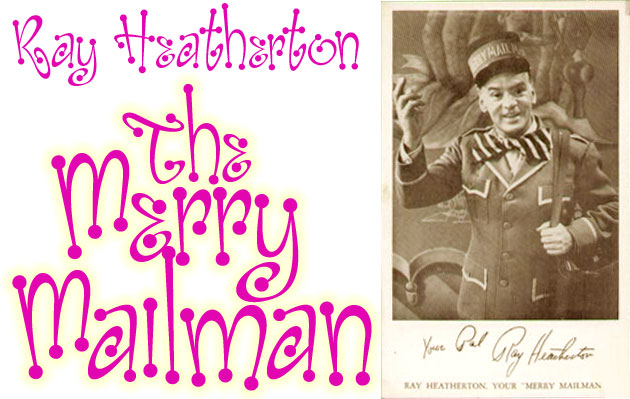 ---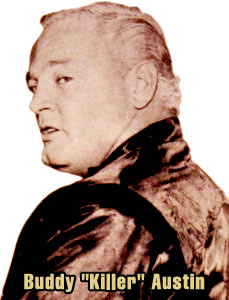 1980's TV Wrestling - Greats and Near Greats!
NOW WITH ADDED RARE VIDEO!
John Hitchcock's look back at the heart of Mid-Atlantic Wrestling - with grapplers known and unknown. Wahoo McDaniel! Ric Flair! Dusty Rhodes! Jim Cornette! Magnum TA! Buddy "Killer" Austin! Johnny Weaver! Johnny Valentine! Harley Race! Dick Murdock! Jimmy Garvin! Nikita Koloff!
Have you ever heard of these guys?!?
Read and watch more...
---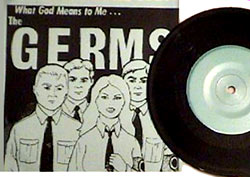 1980's PUNK ROCK
In the early-eighties, young people in Los Angeles were flocking to makeshift clubs in droves to see new, up and coming bands. Live new music, not DJs, was what they craved. These writings provide a sketchy look at the underground club scene in Los Angeles during the time that groups like X, Missing Persons, The Go-Go's, The Minutemen and Wall of Voodoo entered the public consciousness.
Read and see more...
'TVparty is hands down the
best site on the Web for classic TV.'
- Discovery Channel
Please consider a donation
so we can continue this work!

TVparty! is CLASSIC TV
Our 20th year online!
NEW SECTION:
More Modern TV Shows!


TV DVD REVIEWS:
Adam-12 / Godzilla movies
Doris Day Show / Gangbusters
Gunsmoke / Decoy / Victor Borge
- Peanuts 1960s Specials
NEW! TVparty Classic
Television Blog!
Welcome to TVparty.com the internet's premier classic TV Web site featuring your favorite television shows from the golden age of entertainment!
---
- Terminator: The Sarah Connor Chronicles
- Thank You Mr. President - Helen Thomas At The White House
Nation's Most Loved Online Bingo Adverts
---
YOU'VE BEEN WANTING THIS!
Amazon Prime - unlimited streaming of your fave TV shows and movies! Get your FREE 30 Day Trial!
---
TV's Greatest Games! Remember the game show boom of the 1970s? We have all your favorite shows!
binary trading at binaryoptionrobotinfo.com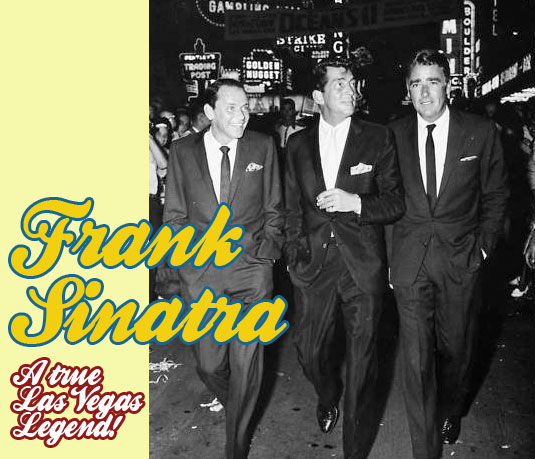 Learn more about playing the best progressive jackpot slots for real money at the best USA online casinos listed on PlaySlots4RealMoney.com
---
MORE CLASSIC TELEVISION:
Gene Roddenberry
1950's TV Shows
1960's Classic Television
1970's Variety Shows
Classic Local TV Shows
Saturday Morning TV
Free website monitoring donated by UptimePal.
Our huge catalog of
Classic TV Shows on DVD
Now you can own your favorite classic television programs!
---
Classic TV on DVD!
- I'm Dickens He's Fenster
- Designing Women Season 5

---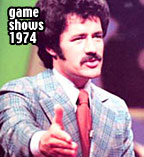 FEATURED CLASSIC TV
GAME SHOWS:
Hollywood Squares
TV Shows on Blu-Ray
TV never looked so great!
---
TV Blog: Tommy Bond / Discovered George Carlin Routine / John Wayne Loves America / Kenneth Williams / Filthy Rich /2 Questions with Kathy Bates / Sonny & Cher Outakes / My Mother the Car / 1973 CBS Fall Shows /1970's TV Game Show Fails / Vivian Vance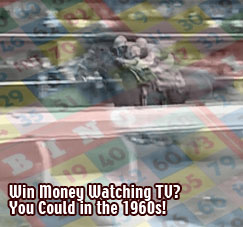 TVparty! Advertising
Privacy Policy
---
- Voyage to the
Bottom of the Sea
---
---
OTHER TV ODDITIES
Saturday Morning Serials
1970s TV Shows
Gene Roddenberry
After Star Trek
Camp Runamuck
---
COMIC BOOKS ON TV
---
"A twisted walk
down memory lane!"
- Sharon Edry, TV Guide
"Top Five Sites! Interviews and articles... are must reads."
- London Sunday Times
"It's too good to be true. Put together by Billy Ingram, TVparty.com has gossip, scandal, sex, singing, dancing, action, drama and celebrities with their 'original parts.''
- LA Times
"An ingenious tribute that elevates the TV past to artlike proportions. Site guru Billy Ingram has compiled features both over-the-top and museum worthy, blissful nostalgia for those born in the '40s or the '80s." A+
- Entertainment Weekly
"Get the inside scoop on all your favorite classic TV shows at TVParty."
- USA Today