Your favorite classic television shows from the golden age of TV!
New in the TVparty TV Blog
This is my latest for O.Henry magazine - one of the most remarkable Hollywood stories of all, its never been told until now. Just as movie star Jayne Mansfield was speeding towards washed-up status she takes an unlikely gig in an unlikely southern city that turns everything around. Back on top, soon things begin to unravel again leading to her near decapitation death just four years later! Read: The Last Days of Jayne Mansfield.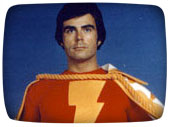 Why Did They Fire TV's Captain Marvel?
"It was a precedent setting case at the Screen Actor's Guild, and Filmation had to pay me for all the shows they didn't use me on, plus residuals. Still, these clown's actions doomed a marvelous show. It wasn't John Davies' fault that he was suddenly thrown into the part of Captain Marvel. It was a rush job. I was fired at 1:00 PM that day, and he was out on the set at 3:00 PM. That's pretty darn fast, I'd say. One of the Execs' reasoning was "The kids'll never know the difference." Riiight. John's a fine actor, but he's no more Captain Marvel than I am Wonder Woman."
Read more...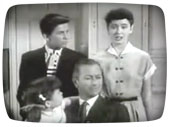 1950s TV Thanksgiving
Jump back in time for a nostalgic look at Thanksgiving as it was portrayed on TV in the nifty fifties.
Read and watch more...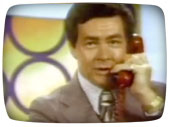 Dialing For Dollars?
Many a housewife in the 1960s, and well into the mid-1970s, would be sitting at home eating Bon Bons when the phone rang and a familiar voice asked, "This is Charlie Harville from Channel Eight's Dialing for Dollars calling. Do you know the count and the amount?" If fair maiden was watching the morning or afternoon movie she would know that the "count" was the number spun on the wheel early in the program, and the "amount" (what she could win) would be the money accumulated since the last winner.
Read more...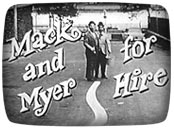 Interview with a Show Business Legend
The creator of Mack & Myer For Hire was Mickey Deems, a true keeper of the old-school flame of classic comedy. Mickey, who is alive and well and living in California, was kind enough to share with us some of his memories of this wonderful forgotten comedy series.
Read more...
The Lone Ranger!
The Lone Ranger character originated on radio in 1933, and the program followed the exploits of a former Texas Ranger roaming the West atop his steed Silver and with his faithful Indian sidekick, Tonto, alongside him. Three actors lent their voice to the Lone Ranger during its radio days, and two more played the part in 1930s movie serials. Clayton Moore brought the role to television. The show first aired Sept. 15, 1949, on ABC.
Read more...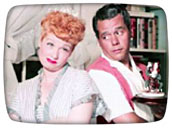 Lucy: Reconsidered
An episode-by-episode review of all 180 plots of the classic series (a content analysis as the highfalutin' academics might call it), in the end presents a very different image of this beloved series and a surprising reassessment of a central character we all thought we knew so well.
Read and watch more...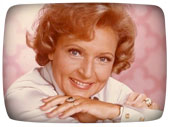 The Betty White Show
Traditionally, the 'Queen of Television' title goes to Lucille Ball but since she's gone I believe the mantle has been passed to Betty White; no other TV star has enjoyed so much success over the last 60 years. But her 1970s sitcom never really got off the ground.
Read and watch more...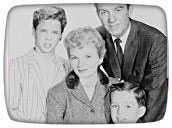 TV Moms Reunion
Every generation identifies with a particular TV family. In the 1950s it was "Ozzie & Harriet" and "Father Knows Best". For me and other baby boomers, it was "Leave it to Beaver." For some kids growing up in the 1970s it was "The Brady Bunch" while, a decade later, "The Cosby Show" provided a role model for youngsters of all ages and races. For Kathryn Morris, star of the hit CBS drama "Cold Case," it was "Family Ties."
Read and watch more...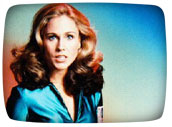 Anatomy of My TV Crushes
I was 11 years old when I had my first television crush. I'd just learned at 10 that I wouldn't be allowed to marry my mother—apparently, that sort of thing is not only frowned upon, it's also illegal—so it was time to move on, time to find a new woman. It didn't take long for me to pick a replacement. My new crush was on television every Saturday night at 8:30.
Read and watch more...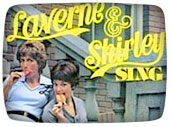 They Made an Album?!?
Yes, most of us are already aware that the likes of William Shatner, John Travolta and various "Brady" kids have all had their dreams of musical greatness and have all put out albums of their warblings at one time or another. But… they are far from alone in the world of surprising others who have also attempted to parlay their notoriety or fame in one field into the world of the recording arts.
Read and hear more...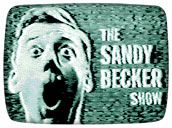 Sandy Becker!
"Anyone who grew up in New York in the 50's and 60's had to know Sandy Becker. He shaped a lot of our personalities. Along with Hambone, Norton Nork, and The Old Professor, I remember his lovable puppets, Geeba Geeba and Marvin Mouse. Sandy Becker was one of a kind. He really seemed to care about his audience and about the welfare of the younger generation. We could sure use a Sandy Becker today."
Read and watch more...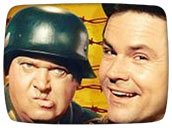 Classic TV on DVD - Archived Reviews!
NEW:
Tom Jones, Twin Peaks, Stargate Atlantis, Voyage to the Bottom of the Sea, Dallas, Men Behaving Badly, Captain N, Hootenanny, ER, Wanda Sykes, Adventures of Superman, Battlestar Galactica, F Troop,
and so many more hot DVD releases.
And they're all deep discounted - for you!
Read more...
Classic TV Shows on DVD?
An extensive catalogue of every classic program available on DVD! See what's available today - with big discounts for you!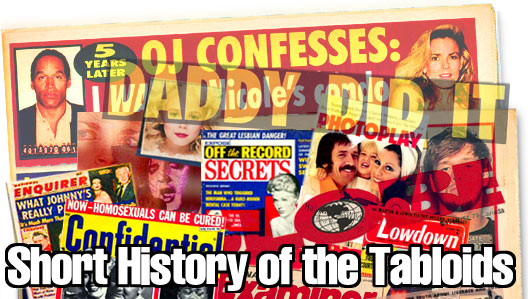 ---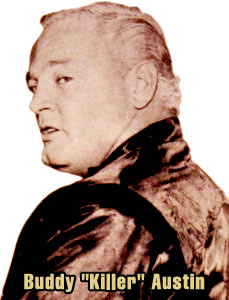 1980's TV Wrestling - Greats and Near Greats!
NOW WITH ADDED RARE VIDEO!
John Hitchcock's look back at the heart of Mid-Atlantic Wrestling - with grapplers known and unknown. Wahoo McDaniel! Ric Flair! Dusty Rhodes! Jim Cornette! Magnum TA! Buddy "Killer" Austin! Johnny Weaver! Johnny Valentine! Harley Race! Dick Murdock! Jimmy Garvin! Nikita Koloff!
Have you ever heard of these guys?!?
Read and watch more...
---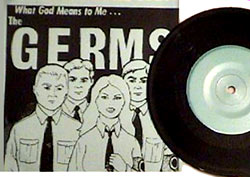 1980's PUNK ROCK
In the early-eighties, young people in Los Angeles were flocking to makeshift clubs in droves to see new, up and coming bands. Live new music, not DJs, was what they craved. These writings provide a sketchy look at the underground club scene in Los Angeles during the time that groups like X, Missing Persons, The Go-Go's, The Minutemen and Wall of Voodoo entered the public consciousness.
Read and see more...
'TVparty is hands down the
best site on the Web for classic TV.'
- Discovery Channel
Please consider a donation
so we can continue this work!

OF INTEREST TO CLASSIC TELEVISION LOVERS!


This great new oral history of the Go-Go years in Las Vegas and beyond is no gamble.


Get together with friends and gamble using BTC with CoinRoyale casino.
TVparty! is CLASSIC TV
Our 20th year online!
NEW SECTION:
More Modern TV Shows!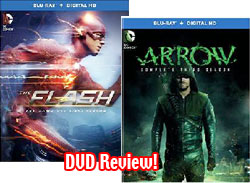 NEW! TVparty Classic
Television Blog!
Welcome to TVparty.com the internet's premier classic TV Web site featuring your favorite television shows from the golden age of entertainment!
Amazon Prime - unlimited streaming of your fave TV shows and movies!
Get your FREE 30 Day Trial!
---
MORE CLASSIC TELEVISION:
Gene Roddenberry
1950's TV Shows
1960's Classic Television
1970's Variety Shows
Classic Local TV Shows
Saturday Morning TV
I love Time To Break
Our huge catalog of
Classic TV Shows on DVD
Now you can own your favorite classic television programs!
---
Classic TV on DVD!
- I'm Dickens He's Fenster
- Designing Women Season 5

---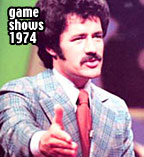 FEATURED CLASSIC TV
GAME SHOWS:
Hollywood Squares
TV's Greatest Games! Remember the game show boom of the 1970s? We have all your favorite shows!
TV Shows on Blu-Ray
TV never looked so great!
---
TV Blog: Will Ferrell Old Milwaukee Beer Commercials / Classic TV Promos / Ed Wynn / Silent Star Marion Mack / Rudy Ray Moore / Natalie Wood Mystery / What I'm Watching / Auditioning For Game Shows / Louie / George Reeves Suicide / Dark Shadows / Tommy Bond / Discovered George Carlin Routine / John Wayne Loves America / Kenneth Williams / Filthy Rich /2 Questions with Kathy Bates / Sonny & Cher Outakes / My Mother the Car / 1973 CBS Fall Shows /1970's TV Game Show Fails / Vivian Vance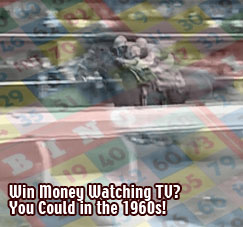 TVparty! Advertising
Privacy Policy
---
- Voyage to the
Bottom of the Sea
---
---
OTHER TV ODDITIES
Saturday Morning Serials
1970s TV Shows
Gene Roddenberry
After Star Trek
Camp Runamuck
---
COMIC BOOKS ON TV
---
"A twisted walk
down memory lane!"
- Sharon Edry, TV Guide
"Top Five Sites! Interviews and articles... are must reads."
- London Sunday Times
"It's too good to be true. Put together by Billy Ingram, TVparty.com has gossip, scandal, sex, singing, dancing, action, drama and celebrities with their 'original parts.''
- LA Times
"An ingenious tribute that elevates the TV past to artlike proportions. Site guru Billy Ingram has compiled features both over-the-top and museum worthy, blissful nostalgia for those born in the '40s or the '80s." A+
- Entertainment Weekly
"Get the inside scoop on all your favorite classic TV shows at TVParty."
- USA Today