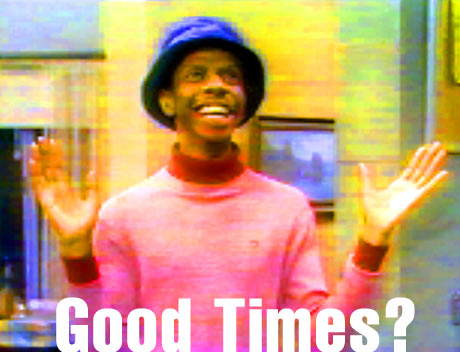 by Billy (Dy-no-mite!) Ingram
Good Times PART 1 / 2 / 3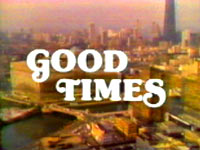 Good Times was a rare breed of television show - a spin-off of a spin-off. 'All in The Family' begat 'Maude' and 'Maude' begat 'Good Times' - but as it was conceived, 'Good Times' was one of the most original shows on the tube in 1974 (and one of the funniest).
Debuting on February 1, 1974, the series starred Esther Rolle in the part she originated on the hit show 'Maude' - the sardonic maid Florida Evans. Dramatic actor John Amos ('Roots') was again cast as Florida's other half (he was seen on 'Maude' occasionally as husband Henry, now re-named James).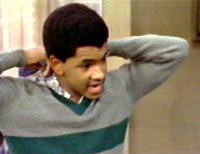 Cast as the youngest son Michael (the militant in the family) was Ralph Carter - he was appearing in the hit Broadway musical 'Raisin' before (and right after) 'Good Times' hit the airwaves.
Sister Thelma was played by BerNadette Stanis with Ja'net DuBois ('Love of Life') appearing as sassy neighbor Willona Woods.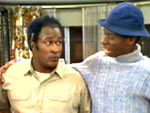 Cast as older brother JJ (aspiring comic strip artist and painter) was Jimmie Walker, a little known stand-up comic who got his big break on 'The Jack Paar Show' in 1972.
'Good Times' was a ratings smash right away, the 17th most popular show of the 1973-74 season. The concept was daring - relevant, controversial topics tackled with humor, but from an African-American perspective. (Forget that all of the first season writers were white and Jewish - close enough.)
During the first season busing, bullies, guns, gangs, prejudice and black on black crime provided fodder for thoughtful and hilarious episodes. These were topics previously unexplored on television. John Amos was particularly strong as the head of the household, and the exchanges between JJ and sister Thelma are some of television's funniest moments.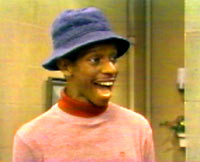 But the reaction that JJ Evans (Jimmie Walker) got was overwhelming - and unexpected. The studio audience went into convulsions on his first entrance, before he even opened his mouth. On the second episode, he uttered the phrase that paid. From then on he was "Kid Dyn-o-mite!" - and the series was his.
Television critics had a field day describing Jimmie Walker to their readers. Newsweek said: "His beanpole body suggests a vitamin deficiency, his Silly Putty face flaps around a set of buck teeth that could have come from a joke store," TV Guide said. "He has the neck movement of an automatic sprinkler, and the bulb-eyed glare of an aggravated emu, all supported by a physique that resembles an inverted 6-foot tuning fork." I wish I could write like that!
Walker's popularity quickly led to a six-week engagement in Las Vegas, a hit motion picture ("Let's Do It Again"), a best-selling comedy album ("Dyn-o-mite!"), t-shirts, belts, socks, pajamas and even a talking doll (I'll let you guess what the doll said when you pulled its string).
When the series was moved to Tuesday nights in the fall of 1974, it did even better in the Nielsen ratings, landing solidly in the top ten as the show's writers relied more and more on JJ's antics to carry the show - often deferring dialogue to a simple notation in the scripts: "JJ reacts".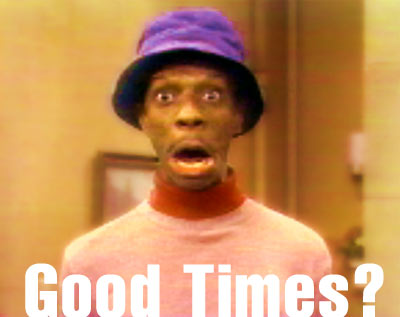 GOOD TIMES
PART TWO: Ester Rolle gets fed up and quits.
AND: The TRUTH behind John Amos' firing!
Good Times
PART 1 / 2 / 3