Andy Kaufman Interviewed by Orson Welles / 1982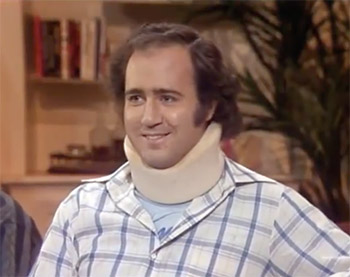 by Billy Ingram
The sitcom Taxi was one of the funniest of the late-seventies, in a way it was the last of that era's classic sitcoms in the Mary Tyler Moore Show style. Taxi originally aired on ABC from September 12, 1978, to May 6, 1982 before moving to NBC for a final lackluster season.
The breakout star from the start was Andy Kaufman, last seen on Saturday Night Live and as a regular on Dick Van Dyke's short-lived variety show on NBC, Van Dyke and Company.
As funny as Andy Kaufman was, he curiously referred to himself as a "song and dance man."
This talk between legendary film director Orson Welles and Andy Kaufman is possibly one of the straightest interviews Andy ever gave. If not for the neck brace, he would have been totally out of character. Orson is guest hosting a 1982 Merv Griffin Show that aired during the daytime from 1962-1987.
Andy was in a neck brace at that time made necessary because of a wrestling match he had with Jerry Lawler after Kaufman insisted wrestling was fake. I mean, it is phony, but as Kaufman discovered, it very much isn't at the same time.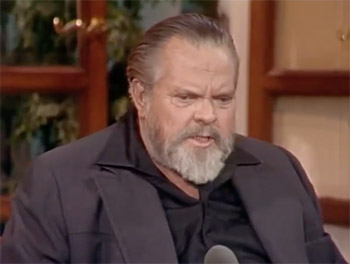 Orson began by saying that Taxi, "kept television from being a criminal felony."
ORSON (to audience): I think it's a wonderful show Taxi. Don't you like it? He also made, a very considerable name for himself before a Taxi ever happened as a comedian. And he's a man of many personalities and surprises. God knows what he has in store for us now, Mr. Andy Kaufman. (To Andy): They wanna know how your head is.
ANDY: It's healing very
ORSON: Well. It's healing very well. Yeah. You want to talk about wrestling? Don't you?
ANDY: Why you don't like wrestling?
ORSON: No. But I heard you talking about wrestling on another talk show. Yeah. So I thought it'd be nice to talk about you.
ANDY: Okay. I could talk about it if you want… wrestling. If you'd like, I'll talk about anything you'd like to talk about.
ORSON: I'm, I'm fascinated. I'm fascinated by all the characters you do. And the other night I saw on Taxi, a scene taking place in your, in the native country of whatever, wherever it is, John Del Livia of the basic character you play on Taxi, what is the name of that country?
ANDY: There's no name.
ORSON: That's better that way.
ANDY: Latka Land if you want.
ORSON: Yeah. All right. What was so great about it? (To audience): Did you see that scene? It was a whole, uh, it was like a whole feature movie in six minutes of life and death in, in Lower Slobonia. What was so great about it was how that you played it very straight and with tremendous sincerity, as though you, you were, you had Ibsen on your hands and not a lot of comedy writers and it gave it a very curious resonance and it was, uh, one of the best things I've seen in a long time.
ANDY: Thank you.
ORSON: Yeah, it really was. And all those characters are great. I don't, I wanna know why it is that you go and wrestle with people, but you can act so well.
ANDY: I always liked wrestling, um, uh, until this happened. Yes. Now I don't like it anymore.
Following this is a funny exchange when Orson Welles asks Andy Kaufman where the voice of Latka and his standup routine came from. When Andy says, "You hear a lot of strange voices in New York," Orson replies, "You don't hear that one!"
Come to think of it, Merv was one of, if not THE, richest man in America by the 1970s, why didn't he throw Orson Welles a few bones to finish his film projects? They were great friends after all.

THE EIGHTIES: EARLY EIGHTIES NETWORK PROMOS / TV 1986 / WOODY HARRELSON AS WOODY ON CHEERS / FALCON'S GOLD: CABLE TV'S FIRST MOVIE / BILL & TED'S EXCELLENT ADVENTURES SITCOM / CREATORS & CAST OF IT'S A LIVING THAT HAVE PASSED AWAY / MOST UNEXPECTED MOMENT IN TV HISTORY / NORMAN LLOYD TRIBUTE / ORSON WELLES INTERVIEWS ANDY KAUFMAN / FALCON CREST / 1981 CHARLES GRODIN INTERVIEW / THERE ARE FUNNY EPISODES OF MAMA'S FAMILY - HONEST! / HANGING WITH SEAN PENN 1986 / 1985 GEORGE CLOONEY INTERVIEW! / IT'S A LIVING / EDDIE MURPHY AS JAMES BOND? IT ALMOST HAPPENED! / AUNT BEE'S DYING WORDS TO ANDY GRIFFITH / THE GOLDEN PALACE / MARRIED WITH CHILDREN'S ED O'NEILL & AMANDA BEARSE'S LONGTIME FEUD / PAUL McCARTNEY vs MICHAEL JACKSON / HOW NBC GOT ITS GROOVE BACK / 1980's WCW WRESTLING / ALAN ALDA DISCUSSES THE M*A*S*H FINALE / I WAS ALMOST CUJO IN THE STEPHEN KING MOVIE / 1986-87 TV SEASON / 1988-89 TV SEASON / 1990-91 TV SEASON / 1991-92 TV SEASON / WHY SHELLEY LONG LEFT CHEERS? / JASON ALEXANDER BEFORE SEINFELD / PEOPLE vs JEAN HARRIS / TROUBLED 1980-81 TV SEASON / "KISS MY GRITS" FLO HAD HER OWN SHOW? / CULLY HOLLAND / ONE SEASON WONDERS... THAT GOT RENEWED! / DWIGHT SCHULTZ ON WORKING WITH GEORGE PEPPARD / DEMPSEY & MAKEPEACE / THE BAXTERS / G.L.O.W. / FRIDAYS / GREATEST AMERICAN HERO / Great 1983 Carson Tonight Show / EARLY '80s TV COMMERCIALS / LOST MOVIE POSTERS /RICH HALL /FILTHY RICH/1980's TV WRESTLING STARS / TV DADS / FOX'S JOAN RIVERS / CHEVY CHASE DEBACLES