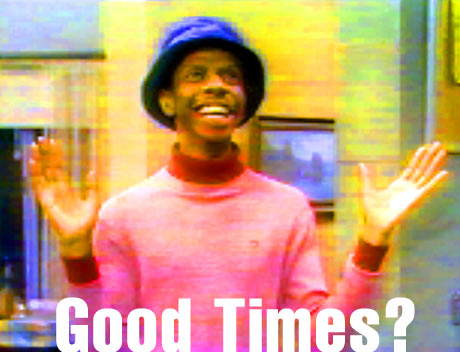 by Billy (Dy-no-mite!) Ingram
PART 1 / 2 / 3
PART TWO: / Times turn bad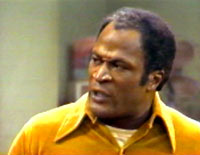 Esther Rolle and John Amos were furious that the direction of their show had turned to what they believed was offensive comedy.
"The writers would prefer to put a chicken hat on J.J. and have him prance around saying 'DY-NO-MITE,'" John Amos blasted. "And that way they could waste a few minutes and not have to write meaningful dialogue."
The lead actors were led to believe that the program would be more serious in nature, that the characters on 'Good Times' could provide positive role models for young people in similar surroundings. For that very reason, it was Rolle's insistence at the beginning that the Evans be a two parent family. CBS wanted a sitcom about a single mom.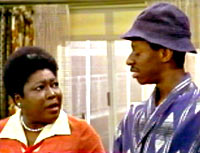 "He's eighteen and he doesn't work," Rolle commented to Ebony Magazine about the JJ character in 1975. "He can't read or write. He doesn't think. The show didn't start out to be that. Michael's role of a bright, thinking child, has been reduced. Little by little - with the help of the artist, I suppose, because they couldn't do that to me - they have made J.J. more stupid and enlarged the role. Negative images have been slipped in on us through the character of the oldest child."
STORY CONTINUES AFTER THIS AD
---
---
Esther Rolle was already used to controversy by the time 'Good Times' aired.
When 'Maude' debuted in 1972, there was an uproar when executive producer Norman Lear cast a black woman in the role of the maid - it was time to bury these stereotypes, not create a new generation of them, critics complained. But Lear was looking for a character that could provide a credible counterpoint to Bea Arthur's 'loveable' liberal, someone of color that could comment on timely racial conflicts.
(When Rolle signed to do 'Good Times', Lear didn't dare immediately cast another black woman as Maude's maid, so the part went to acclaimed British actress Hermoine Baddeley.)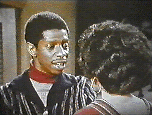 For his part, Jimmie Walker stayed above the fray, concentrating on his nightclub act instead. "I'm no actor," he told TV Guide. "I'm a comic who lucked into a good thing. What the show has done for me, with all that exposure, is get me where I'm goin' a lot quicker."
When the 1975-76 season rolled around, both Amos and Rolle threatened to quit if something wasn't done about the show's shifting focus and negative images. Both actors were given fat raises to stay, but Amos still held out until the eleventh hour, and writers were prepared to do away with his character in case he chose not to return.
Typical plots during the 1975-76 season: the family throws a rent party for a neighbor, a hood wants to exhibit JJ's paintings and James brings home a gun for his family's protection even though Florida's dead-set against it.
Ratings dipped as the show competed with the monster hit 'Happy Days' on ABC, so Johnny Brown ('Laugh-In') joined the cast as Bookman, the useless building superintendent, providing another comic foil to play off of the Evan's family.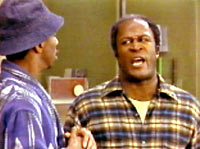 In the fall of 1976, John Amos left the series. "I did not quit the show but was in fact fired," the acclaimed stage and screen actor tells TVparty. "I was informed by phone that I was considered a disruptive factor and that my option would not be picked up for that season or any other episodes."
John Amos can be found on the web at www.halleyscomet.com, promoting his excellent one man show currently on tour.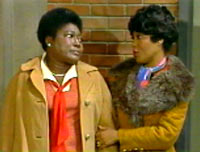 The character of James was written out with the explanation that he was going to work in a garage in Mississippi, but was killed in a car accident before the family could join him. With no strong male character, dramatic actor Moses Gunn signed on to be Florida's new love interest, Carl Dixon.
JJ became even more of a focus for the series, and this (may have) lead to Esther Rolle's abrupt departure from 'Good Times' in 1977. The official explanation was that the actress was ill and unable to return to the show. A new storyline was created that had Florida marrying Carl over the summer - while they were on their honeymoon, the couple decided to stay down south for Carl's health.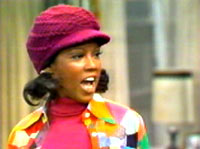 The Evan's family went from a two-parent family to a no-parent family, with good neighbor Willona looking in on the kids every once in a while. A new character was introduced for the 1977-78 season - Janet Jackson (yes, that Janet Jackson) as a sassy tike named Penny - Willona's newly adopted daughter. JJ got a job as an artist for an ad agency so he could finally support the family. Ironically, it was the departure of the lead actors that ultimately forced the JJ character to grow up.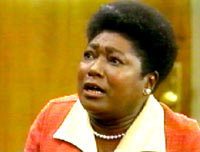 With ratings sliding, Esther Rolle returned to 'Good Times' in the fall of 1978, with a promise from the network that the JJ character would be toned down. She didn't want his antics totally eliminated, she told a reporter - "But they can be real. I think there's a happy medium here somewhere." Nothing was made of the supposed wedding, or of Florida's new husband. She simply came back alone.
If Rolle's return was supposed to improve things for the Evan's family, it didn't. The first plotline for the 1978 season - JJ loses his job at the ad agency and gets involved with drug dealers to support the family.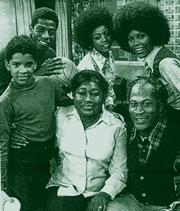 It was too late to save the Evans family, anyway. The show had lost its balance (and most viewers) during the previous year. The series was removed from CBS' schedule in December 1978, but returned in April, 1979.
In a rare move, a final episode of the series was aired with everyone getting what they wanted - including JJ, who finally sold his comic strip.

PART THREE:
Controversial episodes and
the death of Ester Rolle!
Good Times PART 1 / 2 / 3