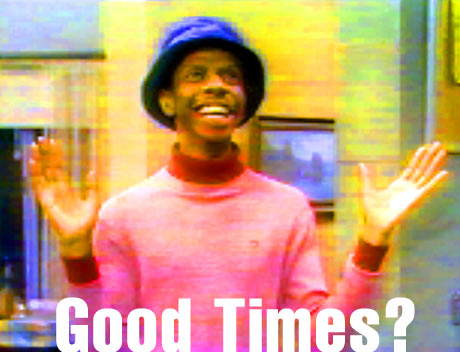 by Billy (Dy-no-mite!) Ingram
& You, the TVparty Viewer
PART THREE: Controversial episodes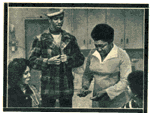 Esther Rolle won an Emmy for her role in the TV movie "The Summer Of My German Soldier" in 1978, and won acclaim in 1979 for her dramatic turn in the television adaptation of Maya Angelou's classic "I Know Why The Caged Bird Sings".
She passed away in 1999, leaving her career memorabilia (including an Emmy and her 'Good Times' scripts) to the African-American Research Library in Ft. Lauderdale, Florida.

BRIAN PHILLIPS ADDS:
1. It is true that Hermione Baddeley was hired after Esther Rolle. However, Lear did indeed cast another Black woman as the Findlay's maid after that. She was Marlene Warfield, who played Victoria Butterfield, a West Indian woman. Roscoe Lee Browne played her class-conscious color-struck father. I believe that Mrs. Naugatuck (Baddeley) married J. Pat O' Malley's character, Bert Beasley.
2. The episode that Mike Eiland is recalling earned a "Close-Up" in TV Guide. The line he is thinking of is Michael's. It was, roughly: "The test said, Cup and ___, so my friend put, "Cup and Table", because at his house they don't have any saucers between the table and the cup. There was a news report done about this around the same time which asked how would suburban children fare with inner-city terms. Neither my brother nor I knew that a "Deuce-and-a-quarter" was slang for a Buick Electra 225.
3. Another controversial episode was one that had J.J. concerned that he may have contracted a Venereal Disease (Thelma: You got V.D.? J.J.: You don't have to broadcast it on the six o'clock news!). It turns out that he didn't. "James at 16" also tried to ease controversy over his spending a night with an exchange student with another episode about his concern about contracting VD.
4. Janet Jackson's character was introduced to address child abuse (she followed J.J. home one day because she had a crush on him). She was in a single-parent home and her Mother had both burned her with an iron and had also broken her arm. Willona adopted her after that.
5. To address Ed Hum, another character that got very popular was Fish (Abe Vigoda) on Barney Miller, who eventually got his own series. Vigoda's departure may have been inevitable; it was reported that he wanted the name of the series changed to "Barney Miller and Fish"!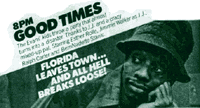 Mike Eiland adds:
"I thought your "Good TImes" article was very informative. I do remember the show - especially the first three seasons (February 1974 to September 1976). I'm a little lost after that. I remember losing interest once John Amos left. He was my favorite character in the show. I glimpsed the show from time-to-time (post-John Amos), but the stories couldn't hold my interest and that family situation was somewhat confusing. I liked the family intact.
"I do remember the show as very "All in the Family"-like, handling controversial topics, but the African-American viewpoint was really good to hear on TV. The comedy tempered it somewhat (just like at the Bunkers') but at least it was said. Blacks and whites and their problems going to school together, upper-class blacks looking down on middle and low-income blacks. I had never heard those addressed on TV before - let alone a TV comedy. Thank goodness Norman Lear had a track record with his previous shows or "Good Times" probably wouldn't have made it to TV - especially on the conservative CBS-TV network.
"I am thoroughly convinced that the statements on "Good Times" were so strong that our local TV station had a problem with it - one episode in particular. I can't remember the whole plot, but the family was questioning the validity of certain types of school testing - with questions like "cup and ___(saucer)" for lower-income children. The argument was that most ghetto children didn't have both cups and saucers in their homes, so "cup and ____" was something they couldn't answer.
"I never saw the episode, but read the plots in TV Guide before watching. The first time it aired our local CBS station aired a Billy Graham Crusade, which was scheduled. When it came up for a rerun, our local station aired an episode of "Match Game P.M." It was not scheduled. I called the station and they flatly stated "technical difficulties." My letter went unanswered.
"So that is the one episode of "Good Times" I've never seen. Not even in the reruns, which have never aired locally. I've caught them on cable from time-to-time but my luck had me seeing post-Amos episodes.
"I think the controversy of the J.J. character clouds the great, great first three seasons of the show. I really liked J.J. and really saw him as a "Fonzie" that caught viewers by surprise. Both Fonzie of "Happy Days" and J.J. were secondary characters that shot ahead of the main stars but that was nothing new. It was the sensitivity of African-American viewers that was not totally respected for the sake of ratings. Without J.J., the show would have been too dramatic - like "All in the Family" without Carroll O' Connor."

Good Times
PART 1 / 2 / 3