LISTEN NOW:
PART ONE - 13:46 minutes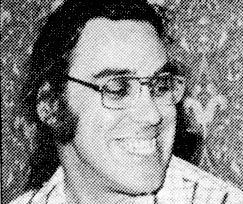 TVparty! presents a rare recording of a radio interview from 1973 with comic book industry pioneer Phil Seuling (seen left). Unfortunately, the sound quality is not so good, coming from a beat up old cassette tape.
Bored as a kid, I would take my father's old crystal radio and tune in far away stations looking for interesting talk shows, almost all of which were local endeavors at that time.
In the summer of 1973, I happened upon Lacey Listens, a weeknight talker on WBT in Charlotte, NC and was hooked - there was something about the young host Bob Lacey's easygoing style and informed interview technique that kept me tuning in.
Because I was a big comic book nut, I wrote to Bob Lacey and suggested some people that might make good interviews. Much to my surprise he had them as guests on the show. Artist Carmine Infantino, then the head of DC Comics, was one I remember - and I recently stumbled upon this recording of an interview with Phil Seuling.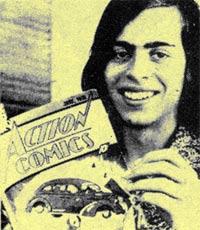 This broadcast occurred right after a fellow named Mitchell Mehdy (right) made national news when he bought Action Comics number one for a little over $1,800. He was the laughing stock of the nation, but today that single comic book sells for hundreds of thousands of dollars!
At the time of this interview, Phil Seuling was building a very successful mail order business selling back issues of comic books - something few people had thought to do before him. He also organized the first New York comic book convention in 1967; this became a yearly event and a smart business move that helped make Seuling a very wealthy man.
The value of classic comics grew by leaps and bounds between 1970 and 1974. On his salary as an English teacher for the NYC public school system, Seuling amassed one of the most valuable collections in the world.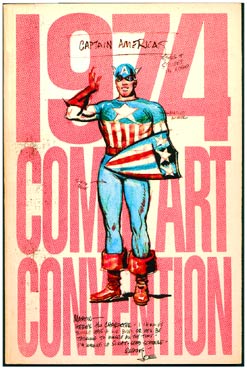 In Bob Lacey's interview, Phil talks of buying his first batch of old comic books and suddenly realizing the potential market.
Seuling quotes the worth of Big Little Books at five dollars at most - and is astonished when an old lady calls up to say she was offered ten dollars each. But then, Phil made a fortune buying comics for next to nothing and selling them for a mint.
By the 1980s, Seuling headed a thriving comic book distribution network that supplied the newly emerging comic book specialty shops around the country - in the process creating the so-called 'Direct Market' that is the standard distribution method today.
Phil Seuling passed away in the 1980s from Liver Cancer.
Today the interviewer, Bob Lacey, is the co-host of the very popular Bob and Sheri Show, heard in syndication nationally. This is absolutely the best morning show out there - I never thought I'd say this - but I actually listen every weekday to the program and I hate commercial radio. I was listening for several months before I made the connection - this is the same Bob Lacey I listened to as a kid!
- Billy Ingram
---