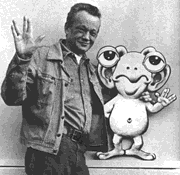 This was the last letter I received from Wally Wood. He moved to Van Nuys, California shortly after he wrote this letter to try to sell
The Wizard King
as an animated project.
On November 2, 1981, apparently despondent over his failing eyesight and kidneys, Wally Wood took his own life.

I was very fortunate. I "knew" Wally Wood from a distance of pen and paper. I never met him face to face, had a cup of coffee and asked him to sign a copy of Weird Science # 22.
But I did know of his frustrations and much more importantly to me, his drive and excitement to succeed and his optimism for the future.
- John Hitchcock, 1997
Photo above by Mike Zeck -Wally Wood in 1979.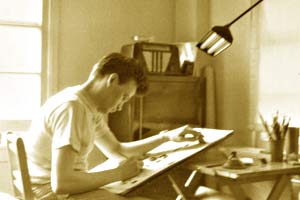 Give now to
the Wally Wood
Scholarship Fund:
Mark Dawson, Director
Visual Arts Foundation
212 - 228 - 6505
Email: mdawson @ adm.schoolofvisualarts.edu
Annually awarded to a promising fourth year student enrolled full time in a BA program specializing in illustration or cartooning. (Wally Wood was an alumni of SVA.)