TV COMMERCIALS ON DVD
Product Description:
This 2-DVD set with 17 clips, is an invaluable resource for researchers, librarians, students and historians on the evolution of TV Commercials.

A collector's item, this 2-DVD set is a must have for all those interested in the birth of Television advertising in the 20th Century Advertising on the radio was well established when television made its debut in the 1940s.

That's when TV commercials gradually took over from radio commercials. Since then, television commercials have become the most effective, pervasive, and popular method of selling products. The first TV commercial in the United States was broadcast on 1st July, 1941, and aired just before a baseball game. It cost the company just ten dollars to run. Before the advent of the videotape, most television commercials were broadcasted live. However, with advancing technology, commercials would be produced either on film or on tape.

The programming was intended to capture the attention of the audience, keeping viewers glued to the television set After World War II, the pace of life quickened and this was reflected in the TV commercials. Back in the 1950s and 1960s, the average length of a television commercial was one minute. As the years passed, they became 30 seconds long, and today a majority of commercials run in 15-second increments (often known as "hooks"). Most of these clips have been produced by The Jam Handy Company.

The brilliant black & white industrial films for America's giant corporations, such as General Motors, preserve the finest classic image of America available anywhere. The Handy Collection is a testament to the industries & dreams that made America great and the image of the American dream, as interpreted by the Handy films, are truly the dream of products that everyone in America could own, or want to own, at that time.

This set runs around three bucks a disc, for ten hours worth of programming. That sounds to me like a pretty decent bargain. So what if they're 'downloadable' from another website? I actually have a job, so I don't have time to sit and burn blank DVDs that would cost more than this set did to begin with.

The 'wow' factor, or the "I had one of those" phrase comes to mind quite often, especially in the disc involving toy commercials. In addition to the toy disc, you get a disc of cigarette commercials, celebrity commercials, a 'miscellaneous' disc, a disc of car commercials, and a disc of food and beverage commercials.

Looking for those great, unforgettable classic commercials you grew up with? Here are the best DVD collections out there!

Just click on the products to order!

---

Product Description:
It is difficult to imagine life without a TV and even more difficult to have a TV program without a "commercial break."

Every program, every channel spices up viewing time with TV ads as never before. It is a 'win-win" situation for the TV channel, for the company sponsoring the ad and the ad agency and often for the viewer as well.

When TV commercials were first introduced, there was a novel quality about them. They introduced you directly to the products and explained their use and functioning.

The audience was captivated by the information provided, which was cleverly designed to whet one's appetite, and those "hooked" went out to buy.

Presented in this 2-DVD set are 40 TV commercials, which make this a veritable bounty for the adman, student or professional dealing with advertising, for it takes one through the pages of advertising history. By knowing the past one builds a solid foundation for the future and I am convinced that anybody who owns and examines the rare clips on this DVD will be suitably rewarded.

Product Description:
"Available wherever toys are sold!" "Inside specially marked packages!" "Brought to you by...!" Magical phrases to those anyone who grew up in the '60s and '70s. Toy makers had magical names, like Ideal, Kenner, Hasbro, Wham-O, Mattel, Marx, and Remco – names woven into the very fabric of our childhood.

Who can forget Slinky, G.I. Joe, Malibu Barbie, Hot Wheels, Silly Putty, Creepy Crawlers, Avalanche, Fascination, Gaylord, Play Doh, Mystery Date, Super Ball or Mr. Machine?
Breakfast was fun, too (especially before everybody started worrying about sugar, carbs and calories).

TV was filled with commercials for yummy-sounding breakfast foods like Sugar Smacks, Cocoa Puffs, Count Chocula, Maypo, Super Sugar Crisps, Quisp, Nestle's Quik, Ovaltine, Malt-O-Meal, Frosted Flakes and countless others.
Here on one great DVD are dozens of the most fondly remembered toys, games and breakfast foods from our childhood.

PLUS: CELEBRITY COMMERCIALS - a fun-filled assortment spotlighting superstars and sports figures, as well as future stars before they skyrocketed to fame, pitching products and making public service announcements. Truly a treasury of classic commercials!

Classic TV Commercials - Over 100 Classic Commercials

Product Description:
Studebaker Lark DeSoto car plug with Groucho Marx Corvair Auto 57 Chevy with Bob Hope & Dinah Shore 58 Edsel Roadrunner For Plymouth Barracuda DX Gasoline 1954 Lincoln Continental New Lincoln is like Hi-tech TV Studio Johnson's Car Wax with '58 Chevy Laurel & Hardy for Standard Gas Hamm's Beer Schmidt Beer with MASH guy Schlitz Beer with Galvin McLeod Hamm Beer Grain Belt Beer with Pizza Schmidt Beer with Big Jim Mr. Chrisitan for Old Miluakee Laurel & Hardy for Hamm's Beer Grain Belt Beer with Hot Dogs Ed McMahon for Budweiser Phillip Morris L & M Cigarettes Tareyton Silva Thins Parliament VW With King Kong Phillips Gas with Gayle Sayers AMC Matador Automobile VW Van with Frankenstein Toyota Corolla with Frankenstein Simonize Car Wax with 3 Stooges Texaco with Jack Benny Mt. Clair Chesterfield Carton Chesterfield Health Report Chesterfield Twin Pack Chesterfield Carton Chesterfield King Size Chestterfield New Low Price Phillip Morris Cigarettes Lucy and Desi for Phillip Morris....Last 1 Phillip Morris Cigarettes with Ed, Lucy & Desi Camel Cigarettes with Ed Wynn & Three Stooges Camel Cigarettes Drive Safely at Night Drunk Drivers go to Jail Yes on Prop 15 Keep TV Free Liberty Bonds Airforce With Superman Stunt Men Medical Check Up American Red Cross with Gary Cooper Crack Kills with Clint Eastwood Cancer Research with Gale Gordon Christmas Seals with John Wayne Bi-Cenntennial Bonds with John Wayne Christmas Seals with Sinatra Saving Bonds with Bugs Variety Club Charity with Danny Thomas Christmas Seals with James Cagney John Wayne for Cancer Check Up # 1 John Wayne for Cancer Check Up # 2 John Wayne for Cancer Check Up # 3 Mark Hamill for March of Dimes Chief Iron Eyes Cody Litter *Famous commercial with Crying Indian Great Western Bank....Sutter's Mill Great Western Bank....Sequoia Trees Great Western Bank....Last Day of Vacation

NEW!

Product Description
From the Liner Notes:"Now fot the first time on DVD Johnny Legend presents classic double bills of his infamous "Mania" series.Volume one contains the critically acclaimed CommercialMania featuring the greatest weirdest and most mind-boggling TV ads of all time!Plus the delightfully absurd TV-Mania a compilation of old pilots and forgotten broadcasts including an all-kiddie western acted by children and dubbed by adults; an episode of "Suicide Theatre" starring DeForest Kelley; fads that fizzled like the "Belly Bongo"; and "Up on Cloud Nine" a wacky sitcom about a plane that's aboutto crash!"
Runtime: 120 mins

Product Description
Those classic ads from yesterday are back once again for your ultimate viewing pleasure. This DVD is entirely devoted to commercials for kids. It was a different time back then, and advertisers didn't really concern themsleves with silly things like product safety or truth in advertising.

So sit back, relax and enjoy loads of commercials not interrupted by irritating regularly scheduled programming!

And now a word from our sponsors... Cheerios Kids Frosted Flakes Frito Corn Flakes Kool Pops for Frosty Fun Rasin Bran comes alive Frankenberry Vereal Cheerios free car offer Mountain Dew Quisp Breakfast Cereal Wheaties Cereal Hershey's Chocolate Milk Powder Shasta Cola Coca Cola...Come on in Shasta Cola ala Robert Crumb Coke...It's The Real Thing Jeno's Pizza Rolls with the Lone Ranger & Tonto Bugs Bunny & Monkees for Kool-Aid Frosted Flakes with Tony The Tiger 7-Up with Teen Angel 7-Up first one 7-Up Uncola Comparison Alpha Bits with Frankenstein Screaming Yellow Zonkers Frankenberry Cereal Shasta Orange with Frankenstein Weinerschnitzel Hotdogs with Frankenstein Jeno's Pizza Witch Doctor Tang With Bugs and Daffy Coca Cola Cowboy Colgate Tooth Paste With Howdy Doody Flintstone Vitamins American Red Cross with Shirley Temple Secret Sam Spy Kit Gung Ho Commandos Lionel Trains Quick Shooter Cowboy Hat Galloping Blaze Rocking Horse Shrunken Head Toy Snub Nosed 38special Tommy Burst Machine Gun Creepy Crawlers Kids Rock 'Em Sock 'Em Robots Mr. Kelly's Car Wash Spy Attache case GI Joe Action Figures American Flyer Toy Train Action Baseball Voice Control Airport Steve Canyon Jet Pilot Helmet Ideal's Mr. Machine Product Reel for Gilbert Toy's 1963 Line Barbie Shirley Temple Doll Chatty Cathy Doll Rin-Tin-Tin Toy Giveaway Bonanza Action Figures Johnny Reb Cannon Tiger Joe Tank Action Playsets (Space, Army, Cowboy) Kellog's free Superman Glider Remco Drive-In Theatre Slinky Silly Putty Etch-A-Sketch Toys of the Future product reel Space Console Frisbee and Hula Hoop Barbie's Color and Curl Creepy Crawler's Toy Zoom-it from Mattel Malibu Barbie Toy Boat Space Patrol giveaway Space Patrol Binoculars Wrestle Around from Ideal


Great Songs from TV Commercials

1. Ain't Got No-I Got Life (Live) - Nina Simone
2. Someone To Watch Over Me - Frank Sinatra
3. Ain't No Sunshine - Al Jarreau
4. Beautiful People - Melanie
5. Jeepers Creepers - Louis Armstrong
6. Ring Of Fire (Live) - Johnny Cash
7. Stand By Me - Ben E. King
8. Stand By Your Man - Tammy Wynette
9. I Don't Want To Set The World On Fire - The Ink Spots
10. To Know Him Is To Love Him - The Shirelles
11. Samba Pa Ti - Lex Vandyke
12. I'd Like To Teach The World To Sing - The New Seekers
13. You Made Me Love You - Harry James
14. Mad About The Boy - Dinah Washington
---
Search for what you want:
We are the leading the world in providing best actualtests - pmp exam prep - certification and pass4sure - scjp - practice test prep solutions. Our incredible offers for selftestengine - sat exam - practice test and pmp exam prep passguide are accessible at reasonable prices; our real tests is very rare in IT world.
---
DC Comics
on DVD here!
Superman on DVD!
Batman on DVD!
The Flash on DVD!
Super Friends on DVD!
Superman Doomsday on DVD!
Smallville on DVD!
---
MORE GREAT CLASSIC TV
COMMERCIALS ON DVD: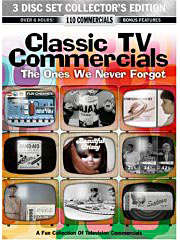 GREAT DEAL!
3 Disc Sets!
$9.99!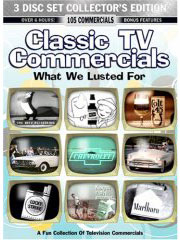 ---