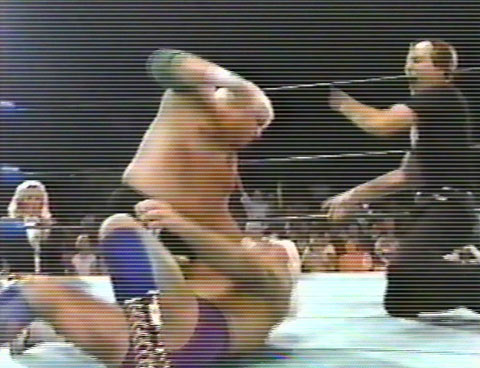 "UNDIVULGED CRIMES,
UNWHIPP'D OF JUSTICE"
"When the mighty fall, the jackals come to call." Shakespeare first wrote those words some four hundred years ago, but Dusty Rhodes came to know all too well what they meant in modern times.
The American Dream had a score to settle in 1986 with Heavyweight Champion Ric Flair. But no card was scheduled between these two bitter enemies the night they rumbled unexpectedly down in Dixie.

Conveniently, Dusty defeated his scheduled foe before the bell was even rung. He called out over the audience for Ric Flair to enter the ring, daring him to come forward and face his fury.
The audience was with Dusty all the way, they chanted Flair's name until the champion was forced to respond. "To be the man," Ric Flair would say, "you've got to beat the man."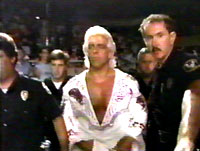 Flair "walked that aisle" confidently, dressed in what looked like one of Mae West's beaded nightgowns. He was ready to do battle, agitated and fed up with the relentless taunts from Dusty.
Hardly able to contain his excitement as Flair entered the ring, Dusty kissed his true love Baby Doll for luck as Flair passed his championship belt over to the referee.
This match would count.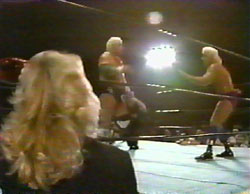 The impromptu match-up didn't go well for the champion from the start. Beaten badly by Dusty, frustrated and desperate, Flair even lunged at Baby Doll to try to get at Rhodes.
The Coliseum erupted in turmoil when the Four Horsemen rushed the ring to sabotage Dusty's brief moment of triumph and a general melee ensued as the program abruptly left the air that night.
The next time Dusty was in the same arena with the Four Horsemen, he was fury personified - daring them to come out from the dressing rooms and face him in the ring. Ole and Arne Anderson, along with Tully Blanchard, answered the call together and hammered Dusty to the mat before his teammates could come to his rescue.
With so many recent humiliations and stunning losses for Dusty Rhodes, Baby Doll could see from the sidelines that her goal of being the girlfriend of a World Champion was evaporating from sight.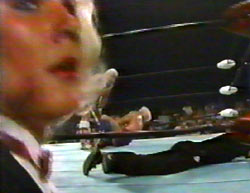 It was a dream she was determined to have come true - but at what cost, she must have asked herself.
As Dusty lay stricken on the mat with his opponents demolishing him (again), Baby Doll's mind was surely racing toward the future. She was born to be the doll of champion, she reasoned, and Dusty was facing his greatest challenge ever, an upcoming match with his arch-rival Nature Boy Ric Flair.
It was time to work her special brand of magic and take control of her destiny.
READ PART FIVE: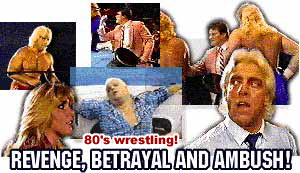 The worst was yet to come...
---
1980's TV Wrestling Greats
1980s TV Wrestling :
Part One: Ric Flair
Part Two: Dusty Rhodes & Tully Blanchard
Part Three: Jim Cornette & Baby Doll
Part Fou: Ric Flair vs Dusty Rhodes

Part Five: Betrayal!
TV Wrestling DVDs
TV Wrestling DVDs