YOU NEED:

Top 20 TV Shows
1986 - 87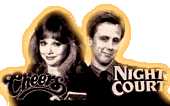 1. The Cosby Show
2. Family Ties
3. Cheers
4. Murder, She Wrote
5. The Golden Girls
6. 60 Minutes
7. Night Court
8. Growing Pains
9. Moonlighting
10. Who's The Boss?
11. Dallas
12. Newhart
13. Amen
14. 227
15. Matlock
16. NBC Monday Night Movie
17. CBS Sunday Movie
18. NFL Monday Night Football
19. Kate and Allie
20. NBC Sunday Night Movie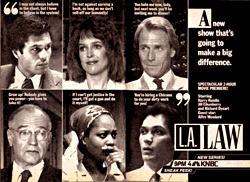 Worst Show
of the Season
The Charmings
Friday nights at 8:00
Mar 1987 - Feb 1988
Snow White and Prince Charming come to live in modern times in this brainless 'Bewitched' rip-off that miraculously lasted a year. I had a clip here, but their lawyers made me take it down - this show is actually available for syndication!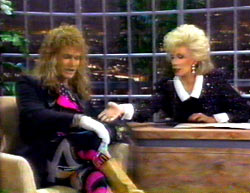 Program Profile
The Late Show
Starring Joan Rivers
Monday-Friday
FOX / 1986-87

This was the first show on the brand new FOX Network.
Joan Rivers left The Tonight Show (where she was the permanent guest-host when Carson was off) to star in her own talk show opposite former employer Johnny Carson.
The guest list for the first episode included David Lee Roth, Pee Wee Herman, Cher and Elton John - it easily beat a re-run of the Carson Show that night. Even with Rivers' career in red-hot overdrive, and massive cross-promotions, the show was a high-profile, expensive flop for FOX.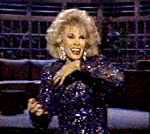 But ratings fell quickly when River's show had trouble booking guests. 'The Tonight Show' refused to book any guests who appeared on the competition.
After months of floundering with various formats, including a dreadful mock newscast, FOX got out of the late-nite game - until 1993's mega-disaster 'The Chevy Chase Show'.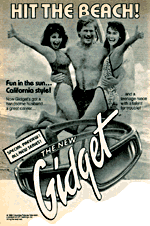 The New Gidget starred Caryn Richman and was a pleasing update of the 1965 series.
Also seen - William Schallert as Gidget's dad, he appeared on the original series.
The New Gidget ran from 1986-1989 in syndication.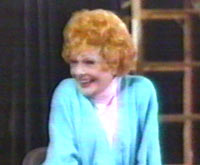 Program Profile
Life With Lucy
Saturday Nights at 8:00
Sept - Nov 1986 / ABC

Lucille Ball (in Kabuki makeup) played Lucy Barker, an energetic, health conscious grandmother who comes to live with her daughter, son-in-law and their two kids in South Pasadena.
Back to play the heavy was 80 year-old Gale Gordon ('Mr. Mooney') as Lucy's ex-husband's partner Curtis McGibbons. It was the old Lucy formula updated (hardly at all) for the eighties.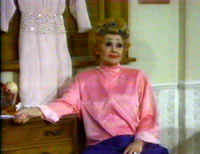 The ovation that the 72 year-old comedienne got on her first entrance went on for so long that most of it had to be edited out when the show was aired.
"Life With Lucy on Saturdays may be pivotal to the success of the whole line-up" ABC's VP for scheduling said in 1985, "People will surely watch the premiere, but the few weeks after that will be critical."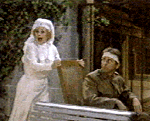 The premiere episode reached number 23 for the week, shocking industry insiders who expected a top ten first outing.
Life With Lucy was cancelled after only three months (8 episodes total) due to anemic ratings that kept getting worse and worse as the weeks wore on.
Four episodes were filmed that were never shown during the original network run.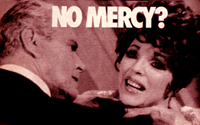 Program Profile
Dynasty
Wednesday nights at 9:00
ABC / 1981-1989
Dynasty's ratings peaked during the 1984-85 season by portraying rich women as conniving, back-stabbing hedonists in Nolan Miller gowns. The 84-85 season found Alexis (Joan Collins) in jail for murder, Fallon driving off into oblivion before her wedding, and the whole cast machine-gunned down at a Royal wedding in Moldavia. Numbers started to slide the next season, when even more outrageous plotlines were explored.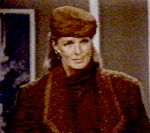 During the 1985-86 season, Krystal Carrington (Linda Evans) was kidnapped by Sammy Jo (Heather Locklear) and replaced by a double who is slowly poisoning Blake (John Forsyth). Sexually confused Steven Carrington finally got another boyfriend, (Blake killed his first one in the first season) a local prosecutor who goes after the Carrington family businesses - and Alexis' sister Caress comes to town after writing an unflattering book called 'Sister Dearest'.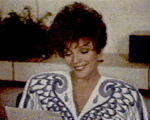 The 1986-87 season opens with Blake in financial ruin as Alexis prepares to take over. This drives him to the edge and he tries to strangle his ex-wife Alexis while his evil brother cheers him on. Sammy Jo gets married and joins the catfight crowd as her role grows over the next two years to attract younger viewers.
This was Dynasty's first season out of the top twenty, and the last season for The Colby's, a spin-off that debuted the previous season.

1986
Saturday Mornings
On CBS: Teen Wolf (cartoon based on the movie), Wildfire (a cartoon horse), The New Adventures of Mighty Mouse by Ralph Bakshi and Pee Wee's Playhouse debut to immediately become the number-one rated Saturday morning line-up of the year.
Network Specials
Carol, Carl, Whoopie and Robin
Carol Burnett teams with Carl Reiner, Whoopie Goldberg and Robin Williams for a special variety hour. The highlight has Robin and Carol performing a skit as written, and then again with Robin Williams improvising.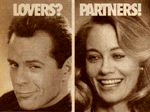 Program Profile
Moonlighting
Tuesday nights at 9:00
ABC / 1985-1989
ABC was on a long losing streak, and Moonlighting was one of the few hit shows the network had. Too bad the stars and producer didn't get along at all, and the production company was unable to produce episodes on schedule. This led to lots of reruns, and the quick demise of the series. By then, Bruce Willis was a big movie star, and didn't need a TV series any longer. Willis won the 1986-87 Emmy award for best actor in a drama.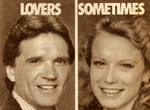 The network couldn't get enough 'Moonlighting' episodes to air, so they just cloned the show as Jack and Mike and put it on right after 'Moonlighting'.
Commercials
"I've fallen and I can't get up!"
and "Where's the Beef?" are the big ones.
Tony the Tiger was still going strong after three decades.
1986 will be
remembered for:
David Brenner flops in a late-nite slot, Crime Story begins a two year run (from the producers of Miami Vice), Sidekicks features ten-year old Ernie Reyes, Jr. as a karate-kicking superkid, with Gil Gerard and Keye Luke. Sledgehammer and Starman are two promising series, Sledgehammer got picked up, Starman didn't.

Alf becomes a surprise top-ten hit for NBC. Bobby Ewing shows up in the shower, back from the dead, on Dallas.
Valerie starts a second season - without the show's star, Valerie Harper, who quit in a salary dispute. She was replaced by Sandy Duncan and the series was renamed The Hogan Family, running five years. Harper won a huge lawsuit for a share of the profits of the long-running series.
ABC's fall season tag line was "We Belong Together" while CBS wanted you to "Share the Spirit".
Other
Notables:
Ellen Burstyn had a wonderful show but short run because of the poor lead-in; the series followed Life with Lucy.
Head of the Class, Designing Women, My Sister Sam, LA Law began their first seasons.
Small Wonder was a popular syndicated sitcom about a robotic six year-old little girl that spoke in a clipped monotone like the robot from Lost in Space.

Mike Hammer, Hill Street Blues, Amazing Stories, Scarecrow and Mrs. King, A-Team, Gimme A Break, Simon and Simon were all cancelled in 1987.
Max Headroom debuted at the end of the 86-87 season and holds the distinction of being the only TV program based on both a British TV show and a series of Coke commercials.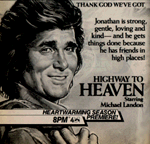 Highway to Heaven, Kate and Allie, Newhart, Magnum PI, Miami Vice, Golden Girls, 227, My Two Dads were also popular.
Here's a video look at ABC's daytime schedule.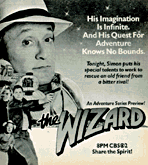 The Wizard lasted one season, but attracted a cult following. Starred dwarf actor David Rappaport as a toymaker/inventor who solved crimes for the government.
Despondent over a relationship, Rappaport committed suicide in 1990.
TV on DVD
Holiday Specials on DVD
TV Commercials on DVD
TV Shows on BLU-RAY