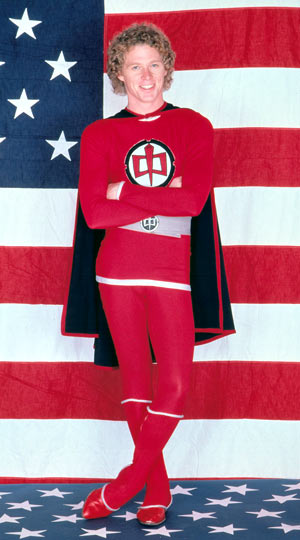 by L. WAYNE HICKS
Of all the movie projects now in the Hollywood pipeline, among the most interesting is the big-screen treatment of the 1980s TV show "The Greatest American Hero."
"The Greatest American Hero" aired from 1981 until 1983 on ABC, serving as a relatively small footnote in the annals of television history and another line on the long resume of the show's creator, Stephen J. Cannell.
Cannell is best known for creating or co-creating more than 40 TV shows. "The Rockford Files," "Hunter" and "The A-Team" are among the best-known. But he's also created some unappreciated gems, including "Tenspeed & Brownshoe," which starred Ben Vereen as a con man and Jeff Goldblum as a would-be private eye, and "The Greatest American Hero."
"The Greatest American Hero" blended so many genres it's hard to pigeonhole, although the show was nominated for an Emmy Award for comedy in its first year. Part science fiction, part action, part comedy, "The Greatest American Hero" offered a glimpse into the life of a man suddenly given enormous powers.
Schoolteacher Ralph Hinkley, given a special suit by aliens, found himself impervious to bullets, able to fly and infused with super strength - but only while wearing the suit. Unfortunately, Hinkley (played by William Katt) lost the instruction book to the suit, so his attempts to use his powers - especially flight - often ended badly.
Helping Hinkley in the fight against crime were an FBI agent, Bill Maxwell (Robert Culp), and his attorney girlfriend Pam Davidson (Connie Sellecca).
STORY CONTINUES AFTER THIS AD
---
---
The show wasn't without its critics, notably Warner Bros., which DC Comics, publishers of Superman. Warner and DC sued ABC and Cannell, claiming copyright infringement. In one promo leading up to the March 18, 1981, premiere of "Greatest American Hero," Katt stood in front of a mirror admiring his red suit. "It's a bird! It's a plane! It's Ralph!" Warner and DC lost the fight. The court ruled that Hinkley, with his flailing arms while flying, was "sufficiently dissimilar" to the more graceful Superman, whose owners had sought an injunction against ABC airing the show.
Cannell has left the television grind for the life of a novelist. He's written 10 novels so far. Big-screen treatments are in the works for two earlier books, and for two of his series, "The A-Team" and "Greatest American Hero."
During a telephone interview, Cannell talked about plans to bring Ralph Hinkley to the silver screen.
Hicks: Are you working on the "Greatest American Hero" movie?
Cannell: Not on that or "The A-Team." I actually didn't want to be the writer of either one of those because I've written so many as television scripts. Since you've got to redevelop them as feature films and you need to come to them with a fresh perspective, I thought it was better to get other writers involved, so that's what we're doing.
Hicks: Out of all the things you've done, why make "The Greatest American Hero" into a movie?
Cannell: A producer came to me. He loved the show and he thought he could set it up and asked me if I would give him the right to do it and I said yes. I didn't think much would come of it and he set it up at Disney. Now there's quite a bit of excitement about it.
Hicks: Are you excited about it?
Cannell: Oh, yeah. I always thought it was a great idea, full of special effects and there's comedy in it. It's a character comedy. What the show always was about wasn't so much about the superpowers as about human foibles. When we were doing the stories on "Greatest American Hero," we weren't sitting around saying, "Let's do a story about terrorists who put botulism in the water supply in Los Angeles." What we would do is we would say what's a funny emotion, what's a funny human emotion? We'd be thinking around, a bunch of writers in a room and somebody says, "You know what I think's a funny emotion? Hypochondria. All writers all hypochondriacs because we have these huge imaginations. You get a little bump on your arm and it's, "Oh, fuck, I've got cancer." Hypochondria is a funny emotion. Somebody said wouldn't it be funny if there were some terrorists who put botulism in the water supply and Maxwell goes down to the FBI and gets every shot available to man to protect him but he doesn't offer them to Hinkley. Now they're up there together and he's going, "Well, you've got the suit" and Hinkley goes, "Yeah, but I don't know if the suit's going to protect me" and these guys are spending the whole hour checking their tongues for swelling. The whole thing was a rip on hypochondria and the reason it was nominated for an Emmy the first season, not in drama but in comedy, because that's all we were doing.
I remember a script called the Best Death Scenario. What it was about was everybody was going up except Maxwell, who was going backwards. Hinkley gets made an assistant vice principal at the high school. Pam gets made a partner at her law firm. And Maxwell is moving in the other direction. They move him off the agent floor. He's now got a cubicle in the basement. It was all about what our dreams are, what we want for ourselves, what's important in life. Yeah, there was a crime story that was going on and we had our heavies and we had our superheroes, but what the hour was really about was that. That's what we were trying to do. That made the show really fun to do because we were all looking at that - not at the crime story, but what is the character story. I want to make sure we do that in the movie. I don't want the movie just to be some guy in red pajamas running around committing all kinds of great heroic acts.
Hicks: You have to have the humor in there as well.
Cannell: Yeah. Yeah.
Hicks: Who do you see as being cast in this?
Cannell: I don't know. We have to get a script first. Who would be on my dream list? Adam Sandler, maybe. Somebody like that.
Hicks: When are we going to see this movie?
Cannell: The vagaries of the motion picture business being as they are, who can tell?
Hicks: Was this an easy show to get on the air?
Cannell: It was actually easy enough to get on the air, hard to keep it on the air. What happened was ABC asked me. Marcy Carsey and Tom Werner, they're huge half-hour producers, but at the time Marcy and Tom were in charge of creative development at ABC, so I was working for them. I went in and Marcy said to me, "We would love to have you do a superhero show." I said let me think about it. I've learned never to say no in a meeting. I thought about it. I thought the only way it would be fun to do it would be if I were the superhero. Somebody like me. What would happen to my life if a spaceship came down and gave me a suit? What would happen to my life? I would be destroyed, especially if it was a little spandex outfit with little Speedo trunks and a cape and shit. How do you walk around in public like that? I went back to Marcy and Tom and I said I would do it if the superpowers could be in the suit and not the guy. I don't want him to be from Krypton. I don't want him to be from a star far away. I don't want the powers to be in him so when he takes this suit off, he's just you or me. I want him to be very ordinary. That's why I made him a teacher. I didn't want him to be a heroic type guy.

READ PART TWO:
More about the Greatest American Hero and
Stephen J. Cannell